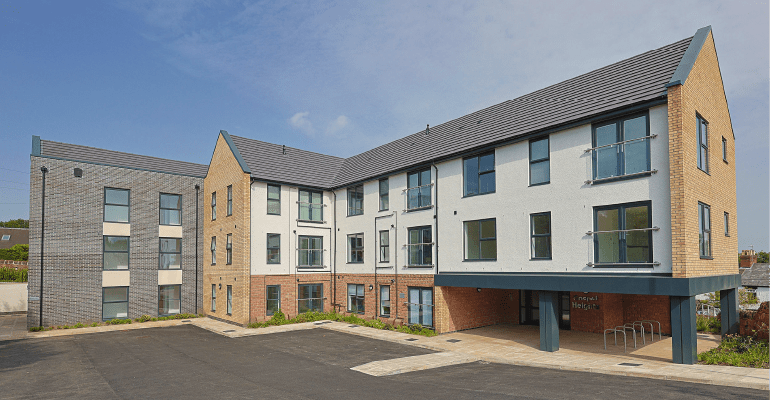 Wirral Church Given New Life as Affordable Housing
.
A derelict church on the Wirral has been given a new lease of life after being transformed into 23 apartments, with five available to purchase on a shared ownership basis.
Auxesia Homes acquired the five low-cost home ownership apartments in Heswall, after securing a £600,000 bridging loan from specialist lender Together.
Shared ownership allows buyers to purchase a proportion of their home, while paying rent to the housing association which owns the remainder.
Apartments start from £47,500 for a quarter share of each apartment providing a "more affordable option," for home-buyers at a time of high interest rates and squeezed affordability, said Lily Crossland, Sales Manager at Auxesia Homes.
The apartments form part of a wider block of 23 properties known as Gospel Heights, which now stands on the site of the 100-year-old Gospel Hall, in Pensby Road, which was demolished after becoming derelict and unused.
Ryan Blair, Chief Operating Officer at Auxesia Homes, said: "Our collection of stunning apartments at Gospel Heights provides a unique opportunity for buyers, who ordinarily may have not been able to purchase their own home, the chance to own a beautiful property at an affordable price."
Auxesia Homes, which has been operating across the North West and Yorkshire since 2018, approached Together to secure the funds it needed. The Manchester-based specialist lender has a £6.4billion loan book and provides secured loans to businesses and individuals.
Ryan added: "Having worked with Together since 2018, we have a fantastic relationship with their team who are always personable, approachable and deliver what we need on time.
"We look forward to continuing to work with them as we endeavour to grow our pipeline across the region, providing more good quality affordable homes for public service workers, where possible.
"Two of the apartments have already sold, with our first new home owner already moved in. The remaining three remain available to purchase on a shared ownership basis from £47,500, representing a 25% share."
Alex Bodie, Head of Social Housing at Together, said: "The town of Heswall has a rich and longstanding history, dating back further than the Doomsday book.
"It's known for great shopping facilities and has a fantastic coffee shop culture; the perfect place to for aspiring homeowners to settle down and get on the property ladder.
"We look forward to continuing our work with Registered Provider of social housing Auxesia Homes and bringing affordable properties to the market for those who need them."