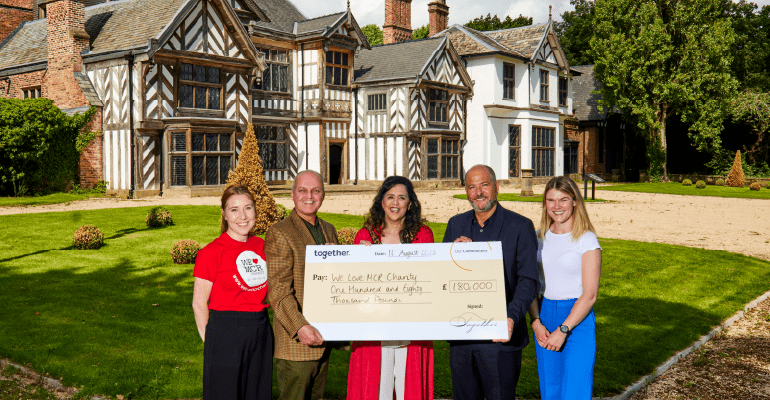 £180k donation to protect and improve Manchester's green spaces
.
Cheadle-based lender Together has announced it will be donating £180,000 to charity We Love MCR. The donation will be used to upgrade Wythenshawe Park to support local community projects.
The We Love MCR Charity award grants to the City of Manchester's communities and young people. They support ambitious young Mancunians in taking their next steps to success, and support communities across Manchester to improve lives in their neighbourhoods.
£150,000 of the donation will be dedicated to revamping Wythenshawe Park over a number of years. The works will provide a safe, fun outdoor space for children of all abilities to enjoy.
£30,000 will be used to support the Stronger Communities Fund, which Together are supporting, to protect and improve open spaces. The donation has already supported brilliant projects throughout the city, including allotment projects, a green alley way project and a children's gardening club.
This donation is the start of a long-term project between Together and the charity.
Marc Goldberg, CEO Sales & Distribution said: "I am truly proud of our partnership with We LOVE MCR Charity, it is perfect for Together. Collaboratively, we will be able to really provide something longstanding for many to benefit from.
"It will be great to see how this project evolves and how our colleagues can play their part through the volunteering opportunities it will provide."
Cllr Yasmine Dar, The Lord Mayor of Manchester and The Chair of the We Love MCR Charity adds: "As the Chair of the We Love MCR Charity, we are thrilled to receive this generous donation from Together!
"This contribution will empower the We Love MCR Charity to enhance accessibility at Wythenshawe Park and bolster Manchester's vibrant community groups in their efforts to revitalize local green spaces.
"Our ability to make a difference centre on the funds we can secure, and this partnership with Together marks a thrilling step towards making our remarkable city even more extraordinary."
All content factually correct at the time of publishing.
Articles on our website are designed to be useful for our customers, and potential customers. A variety of different topics are covered, touching on legal, taxation, financial, and practical issues. However, we offer no warranty or assurance that the content is accurate in all respects, and you should not therefore act in reliance on any of the information presented here. We would always recommend that you consult with qualified professionals with specific knowledge of your circumstances before proceeding (for example: a solicitor, surveyor or accountant, as the case may be).
Lending decisions are subject to an affordability/creditworthiness assessment.
Any property used as security, including your home, may be repossessed if you do not keep up repayments on your mortgage or any other debt secured on it.