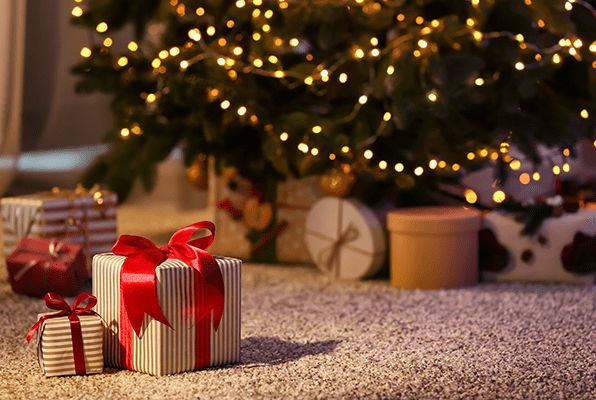 Bah humbug! Frugal Brits are ditching Xmas pressies to spend more on their homes
.
More than a quarter of British couples plan to spend their Christmas cash on their home rather than each other, a new survey has revealed.
They are forgoing lavish gifts for their nearest and dearest to cover other expenses such as paying off some of their mortgage, moving house, or buying appliances or furniture.
The survey of 2,000 UK couples by specialist property lender Together* revealed 28 per cent of couples had agreed with their spouse or partner not to exchange presents this year – to prioritise spending on their house instead.
Alan Davison, head of personal finance at Together, said: "From the results of our poll, it looks like many homeowners are tightening their belts when it comes to splashing out on this year's Christmas gifts, instead using their hard-earned money for a house move or covering extra mortgage payments.
"While it could be argued that a quarter of the people we surveyed are hardly getting into the festive spirit, it may be they are thinking of their long-term future by investing any spare money they have in bricks and mortar."
Of those Brits who'd agreed to spend on their home, the highest proportion - 41 per cent - said they'd spend the money on DIY or giving their home a makeover, while 35 per cent said the cash would go towards bigger home renovations.
More than a quarter (27 per cent) plan to splash out on appliances, 24 per cent on carpets and furniture and a fifth (20 per cent) would use the cash for mortgage payments.
Spending on garden improvements, buying new heating systems, bed linen and a painting were also given as preferable alternatives to spending on Christmas pressies.
Regionally, home-owning couples in London were most likely to spend on their property (44 per cent) compared to just a fifth (20 per cent) of those in Northern Ireland – the lowest UK region.
Together's survey also looked into the Christmas pressie spending habits of people across the country. The results revealed the average spend was £165.38, while nearly a quarter (24 per cent) would fork out between £50 and £100 on a gift for their significant other.
The poll was published as last month's overall retail figures from the Office for National Statistics (ONS) showed households are being cautious in their spending.***
All content factually correct at the time of publishing.
Articles on our website are designed to be useful for our customers, and potential customers. A variety of different topics are covered, touching on legal, taxation, financial, and practical issues. However, we offer no warranty or assurance that the content is accurate in all respects, and you should not therefore act in reliance on any of the information presented here. We would always recommend that you consult with qualified professionals with specific knowledge of your circumstances before proceeding (for example: a solicitor, surveyor or accountant, as the case may be).
Lending decisions are subject to an affordability/creditworthiness assessment.
Any property used as security, including your home, may be repossessed if you do not keep up repayments on your mortgage or any other debt secured on it.