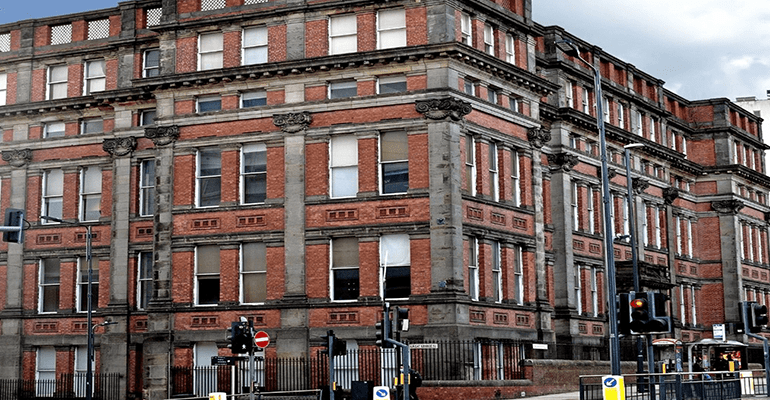 First £1million-plus penthouse apartments planned for Leeds city centre
.
A developer has bought an historic building in Leeds and submitted plans to create the city centre's first £1million-plus penthouse apartments after securing finance from Together.
Award-winning Priestley Homes, which specialises in the regeneration of historic buildings, aims to transform 2 Great George Street – a Grade II-listed former Victorian school – into 76 luxury apartments.
The £31million regeneration and new-build scheme will be a major development for Leeds and the first to bring £1million-plus penthouses to the market. Together provided a multi-million-pound loan for Priestley to purchase the building.
Ritchie Watson, lending director, said: "We've previously partnered with Priestley Homes on several of their award-winning schemes.
"They are renowned for delivering exceptionally high quality and innovative projects, and we are proud to be able to provide the finance for them to create these luxury apartments in a prime area of Leeds city centre."
Each 3,000 sq. ft. penthouse will offer city views, floor to ceiling glazing, luxury fittings, a private roof garden with hot tub, an indoor and outdoor kitchen bar area.
The building will feature luxury one, two and three-bedroom apartments throughout, with the two-bedroom apartments on the lower floors offering up to 1,500 sq. ft. of living space.
They will all be completed to the highest specification, ensuring the history of the building is retained. They will have large, original windows, designer fixtures and fittings, underfloor heating, and the latest smart home technologies.
Nearly half of the apartments will have their own outdoor area, with the addition of a communal roof-top garden, creating a social hub for all residents. The development will also feature a private, on-site residents' gym and concierge facilities.
Located in the city's Northern Civic Quarter, just off Millennium Square, 2 Great George Street sits within a major regeneration zone and cultural hub known for its grand Victorian architecture.
The building dates to the 1900s when it was home to an all-girls' school. In 1972, it became the new City of Leeds School, which later moved location in 1994 to Hyde Park. Following the move, the site was adapted to offices for Leeds City Council, with staff continuing to work there until 2018.
Plans submitted three years ago to convert the former school into a 173-bed premium lifestyle hotel were not finalised. Since then, the council offices have sat empty. Priestley Homes' plans will regenerate the derelict property, creating a thriving residential community.
Nathan Priestley, chief executive officer of the Priestley Group, said: "As a Leeds-based business, it's great to be able to re-energise one of the grandest buildings in the city centre and transform it into must-have homes. We excel at breathing new life into heritage buildings with ambitious plans that are meticulously realised.
"Most of the development in Leeds city centre is allocated to student housing and PRS schemes. We believe there is a huge shortage of truly magnificent homes for owner-occupiers that give a taste of individuality and elegance; something that we will set out to deliver at 2 Great George Street.
"More attention is being directed at Leeds as an economic powerhouse in the North, with major organisations such as Channel 4 investing in the city. Demand for these properties is guaranteed to be strong when we launch the homes to market."
The Priestley Group has a strong track record of heritage building restoration, with its award-winning Hanover House scheme in Leeds as well as Conditioning House in Bradford. Together provided a commercial mortgage for the Bradford project.
All content factually correct at the time of publishing.
Articles on our website are designed to be useful for our customers, and potential customers. A variety of different topics are covered, touching on legal, taxation, financial, and practical issues. However, we offer no warranty or assurance that the content is accurate in all respects, and you should not therefore act in reliance on any of the information presented here. We would always recommend that you consult with qualified professionals with specific knowledge of your circumstances before proceeding (for example: a solicitor, surveyor or accountant, as the case may be).
Lending decisions are subject to an affordability/creditworthiness assessment.
Any property used as security, including your home, may be repossessed if you do not keep up repayments on your mortgage or any other debt secured on it.