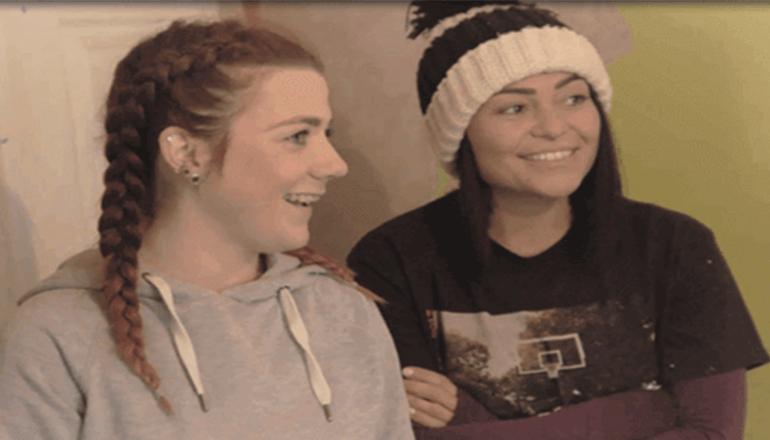 Friends reunited: surprise for old school mates in property renovation challenge
.
A reality TV contestant was reunited with an old school pal for the first time in a decade – just hours before they bought a £51k house together.
Sherri-Leigh was stunned to be partnered with Annie for the new show on Channel 4, The Great House Giveaway, which gives two contestants just six months to buy, renovate and sell a property at auction.
The producers of the show, which airs next week, put the contestants in random pairs - but Sherri-Leigh was amazed to find herself on the same team as her old school mate.
It was the first they'd seen each other in about ten years since they left Ysgol Gyfun Rhydywaun, their comprehensive school in Penywaun near Aberdare.
Sherri-Leigh said: "When it came to the introduction meeting, all I remember is a shock of red hair and recognising Annie immediately. She was in the year above me and we'd been friends but lost touch over the years, so it was a big surprise when we were partnered together.
"It was great to catch up with her again and we both worked really well together on the show – with some great results."
The Great House Giveaway is currently airing on Channel 4 from 4pm every weekday and will run across twenty episodes, you can catch up with Sherri-Leigh and Annie's episode on All4 now.
Through our partnership with the series, Together has been given exclusive access to the contestants, who will appear in behind-the-scenes videos, on our social media channels and in the press.
All content factually correct at the time of publishing.
Articles on our website are designed to be useful for our customers, and potential customers. A variety of different topics are covered, touching on legal, taxation, financial, and practical issues. However, we offer no warranty or assurance that the content is accurate in all respects, and you should not therefore act in reliance on any of the information presented here. We would always recommend that you consult with qualified professionals with specific knowledge of your circumstances before proceeding (for example: a solicitor, surveyor or accountant, as the case may be).
Lending decisions are subject to an affordability/creditworthiness assessment.
Any property used as security, including your home, may be repossessed if you do not keep up repayments on your mortgage or any other debt secured on it.