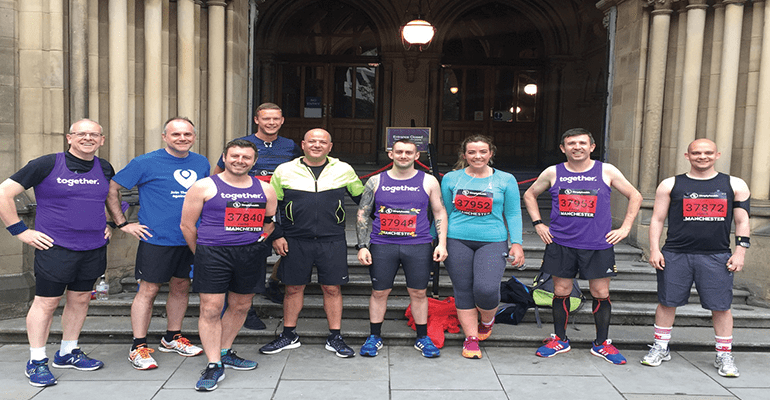 Fun on the run for Together fundraisers
.
Runners from Together pounded the pavement in the Great Manchester Run, in a weekend of fundraising events that saw us raise over £8,360 for The Christie charity in Manchester.
Our energetic executives joined 14 colleagues to take on the 13-mile, city centre course.
The following day, hundreds of colleagues and their families joined in a family fun day at our south Manchester headquarters, with fairground rides, barbecue food, face-painting and more, ensuring fun for all ages.
Both events were part of our 'Let's get giving' initiative in aid of The Christie charity, which provides enhanced services to cancer patients and their families, as well as raising funds for research, care and education.
Kevin Fisher, our HR director said: "It was fantastic to see so many of our colleagues taking part in Great Manchester Run; including three of our board members. They did incredibly well and we're very proud of them all for helping to raise funds for The Christie; one of our nominated charities this year.
"The family fun day here at our headquarters was also wonderful, as it's a chance for colleagues to bring their friends and family to join in, and that's something we pride ourselves on. In total the two events raised a huge £8,361.24 to help The Christie in the great work it does."
Jen Bailey, corporate fundraising coordinator at The Christie charity added: "We're really grateful to Together for their support – it was great to see so many of their colleagues contributing; whether that was by taking part in the half marathon, or buying a ticket to the fun day. The money raised will be very gratefully received to help us continue delivering our services to cancer patients and their families."
For more about The Christie charity visit: www.christie.nhs.uk
'Let's get giving' is part of our wider 'Let's make it count' initiative which spans charity, community and the environment.
All content factually correct at the time of publishing.
Articles on our website are designed to be useful for our customers, and potential customers. A variety of different topics are covered, touching on legal, taxation, financial, and practical issues. However, we offer no warranty or assurance that the content is accurate in all respects, and you should not therefore act in reliance on any of the information presented here. We would always recommend that you consult with qualified professionals with specific knowledge of your circumstances before proceeding (for example: a solicitor, surveyor or accountant, as the case may be).
Lending decisions are subject to an affordability/creditworthiness assessment.
Any property used as security, including your home, may be repossessed if you do not keep up repayments on your mortgage or any other debt secured on it.