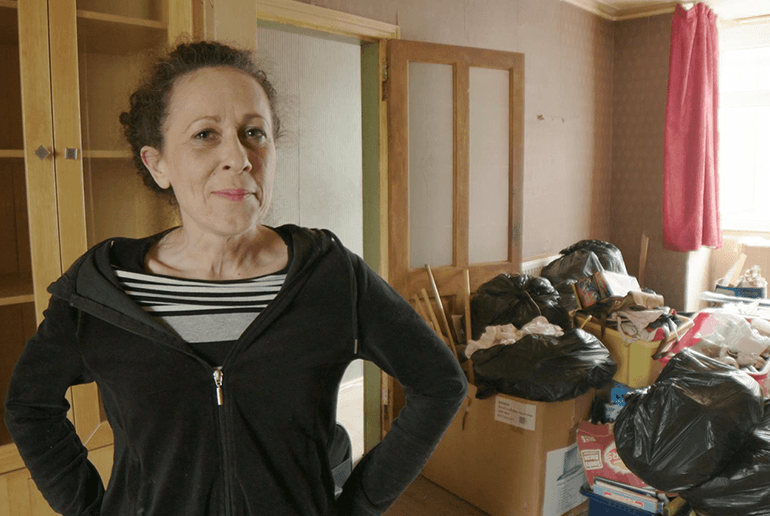 Hoarder home transformed in new property TV challenge
.
A pair of complete strangers will take on the major refurbishment of a "hoarder's paradise" in The Great House Giveaway's latest episode to be broadcast this afternoon.
Eva Mulvaney, a 44-year-old grandmother from Coventry, will join Leamington electrician Sam Lloyd to take on the Channel 4 televised challenge.
Eva said: "I'm really looking forward to watching – even though I lost the plot quite a lot! Why would I get an easy property which would be a simple, straight forward renovation? It ended up being complete chaos but I didn't expect it to be any different.
"It's going to be a bit of a shock seeing the episode on screen but it'll definitely be interesting."
Eva, who works as a construction company administrator, and Sam, 24, only met on the day of the auction and successfully bid for the three-bedroom mid-terrace property for £126,000.
The Great House Giveaway presenter and property expert Simon O'Brien gave them an initial renovation budget of £16,000 to do up the house.
But not everything went to plan. Having not even seen inside the property until receiving the keys, they were shocked by the rubbish left behind in what Simon describes as a "hoarders paradise" in this afternoon's episode.
They faced the huge task of clearing the entire house of rubbish – including piles of boxes containing toy cars, a collection of china and a fur coat - before rewiring, plastering and putting in a new bathroom and kitchen.
Sam, who has a 16-month-old daughter, said: "When we walked in and saw the mess, I was wishing that we probably hadn't gone for that house. We went through about five skips in the first week and it was a lot of effort.
"Some rooms were literally packed from the door way across the whole floor, with stuff piled two foot high. It took us four days solid to get it cleared before we could get stuck in."
Eva said she would be willing to take on a similar property challenge in the future, despite the huge amount of physical work involved.
The mum-of-two, who has a two-year-old grandson, said: "It was an eye opener, seeing how much work is involved and how much you've got to do in the timescale. It was difficult while working a full-time job and having a family but it definitely helps you build a strong back bone.
"Overall, it was a brilliant experience and an absolute giggle – even through the frustration and tears."
The Great House Giveaway, hosted by Simon O'Brien, started on Monday and will run every weekday at 4pm for the next three weeks, with every episode streamed on All4.
All content factually correct at the time of publishing.
Articles on our website are designed to be useful for our customers, and potential customers. A variety of different topics are covered, touching on legal, taxation, financial, and practical issues. However, we offer no warranty or assurance that the content is accurate in all respects, and you should not therefore act in reliance on any of the information presented here. We would always recommend that you consult with qualified professionals with specific knowledge of your circumstances before proceeding (for example: a solicitor, surveyor or accountant, as the case may be).
Lending decisions are subject to an affordability/creditworthiness assessment.
Any property used as security, including your home, may be repossessed if you do not keep up repayments on your mortgage or any other debt secured on it.