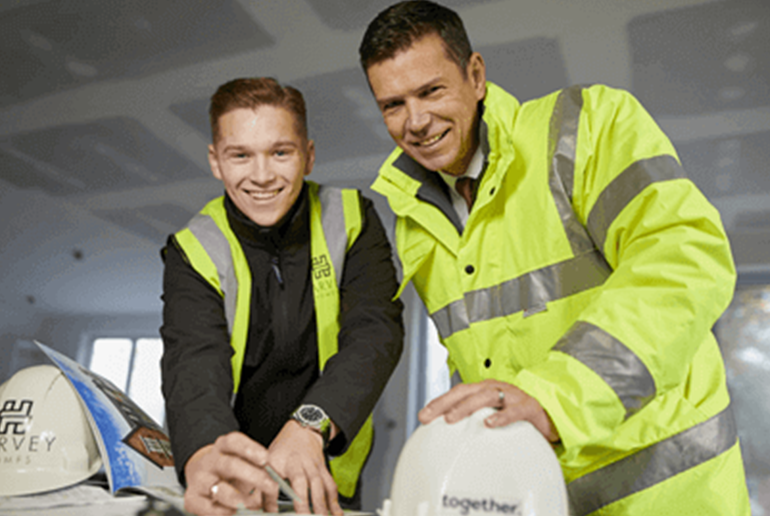 Housing development takes shape following 7million funding package
.
Together has agreed a £7million funding facility for a luxury family-orientated homes development in the North West.
Bespoke housebuilder Harvey Homes Group is currently constructing 30 high-quality homes in Swan Green, Lower Peover, near Knutsford, Cheshire.
As its funding partner, we've provided a £7million finance package for the major project of four and five bedroom detached houses, two bedroom mews and semi-detached homes. The development has been valued at £15million once complete.
The first houses, which are available for between £735,000 and £855,000, were recently released for sale and have received a significant amount of interest so far.
Ian Pickering, our development funding lending director, said: "This is a magnificent scheme with a choice of six styles of architect-designed homes in one of Cheshire's most prestigious neighbourhoods and it's great to see it starting to take shape.
"We agreed the funding because we were really impressed with the vision and expertise of Harvey Homes' directors and excited about the potential for development. We saw Harvey Homes as an ideal investment partnership and were more than happy to provide the financial support they were looking for."
The luxury housebuilding group was formed last year by father and son Nick and Tom Harvey Ratcliffe, with fellow director Mike Kennedy subsequently joining the team.
However, despite Nick's impressive 30-year experience in the property industry – he previously led Sainsbury's store development programme in Northern England and Wales – they struggled to find the fast funding that they needed from mainstream banks to start the project.
We agreed the funding package after visiting the four-acre site and assessing Harvey Homes' detailed plans for the luxury development, which includes nine affordable homes.
Construction is now well underway, with the development's show home set to open later this year.
Tom Harvey Ratcliffe said: "As a bespoke property business we knew that we had found a hidden gem at Swan Green. We had a strong plan for the development, we already owned the land and we have great experience within our management team, many whom have been working with established housebuilders and property companies in the North West for many years.
"However, the banks we originally approached were nervous to lend to us because our board had limited experience in residential property, which is one of the reasons we brought Mike Kennedy onto the team – his extensive residential experience is fantastic. He then introduced us to the team at Together and, as North West property experts themselves, they were well aware of Mike's credentials and the housebuilding expertise he brought to the group.
"It's fantastic that Together has agreed to support us. Aside from the financial aspect, it's particularly beneficial to have a lender on board which really understands the needs of developers like us and is willing to help turn our exciting vision into a reality. We're looking forward to developing our burgeoning relationship by undertaking many more projects with them."
All content factually correct at the time of publishing.
Articles on our website are designed to be useful for our customers, and potential customers. A variety of different topics are covered, touching on legal, taxation, financial, and practical issues. However, we offer no warranty or assurance that the content is accurate in all respects, and you should not therefore act in reliance on any of the information presented here. We would always recommend that you consult with qualified professionals with specific knowledge of your circumstances before proceeding (for example: a solicitor, surveyor or accountant, as the case may be).
Lending decisions are subject to an affordability/creditworthiness assessment.
Any property used as security, including your home, may be repossessed if you do not keep up repayments on your mortgage or any other debt secured on it.