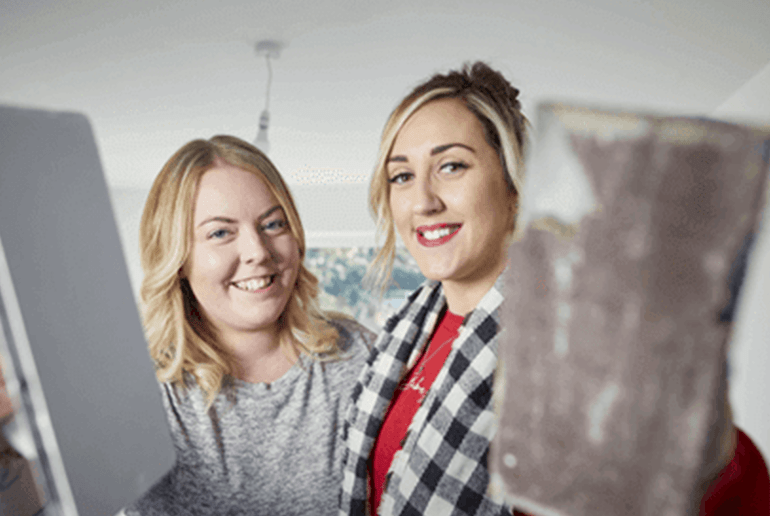 'It was exhausting' – see how Dani and Ceri tackled their property refurbishment challenge
.
A pair of NHS workers who joined forces on a major renovation project will reveal the results of their hard work on a television property show tonight.
Ceri and Danni teamed up to take part in a new property series called The Great House Giveaway, airing weekdays, 4pm on Channel 4.
The show puts together two would-be property developers who have a set budget to buy a house at auction, renovate and sell it on within six months. The aim of the show is for contestants to make as much profit as possible, which they get to keep.
Emergency medical technician Ceri and Danni, a 27-year-old midwife, joined forces to transform a £150,000 detached house in Valley, Anglesey, around their hectic day jobs. Both working 12-hour shifts, they gave up their social lives – and roped in friends and family – to renovate the three-bedroom detached house against an incredibly tight deadline.
"It was exhausting," said 28-year-old Ceri, who works for the Welsh Ambulance Service. "I was so tired and having to motivate myself between night shifts. It was really difficult doing it for six months – every free hour I had I was going to the house and dragging my family there to help us work on it."
Motivated Ceri, a karate black belt who lives with her parents, sister and brother, had a "huge amount" of help from dad Gethyn, 52. Meanwhile, confident Danni was trying to strike deals with suppliers for fixtures and fittings.
Ceri, said: "I have no property development background and live with my parents at the moment. My dad is a builder by trade, so he was an immense help – I don't think we would have done it without him."
They were given a £19,000 refurbishment budget by the programme makers but soon found it was stretched to its limits when they came up against large-scale problems.
Ceri said the previous resident had been a heavy smoker, so one of their first jobs was to remove nicotine stains covering the walls, ceilings and windows. She said: "We also found asbestos in the ceilings all over the house. It took up £3,200 of our budget to remove all the ceilings so we could re-board them and plaster. It was a massive job."
Mum-of-one Danni said: "I'm not a very DIY kind of person but Ceri was pretty hands-on, and her dad was brilliant doing a lot of the work on the house.
"It was a bit of a nightmare working together on the house because we were working opposite shifts. But best part was to see the finished project and how much it had changed from when we started and after finding a lot of problems when we first went in."
Dani and Ceri's episode of The Great House Giveaway is available to catch up on All4 and tune in to Channel 4, weekdays at 4pm, to see how the rest of the contestants get on!
All content factually correct at the time of publishing.
Articles on our website are designed to be useful for our customers, and potential customers. A variety of different topics are covered, touching on legal, taxation, financial, and practical issues. However, we offer no warranty or assurance that the content is accurate in all respects, and you should not therefore act in reliance on any of the information presented here. We would always recommend that you consult with qualified professionals with specific knowledge of your circumstances before proceeding (for example: a solicitor, surveyor or accountant, as the case may be).
Lending decisions are subject to an affordability/creditworthiness assessment.
Any property used as security, including your home, may be repossessed if you do not keep up repayments on your mortgage or any other debt secured on it.