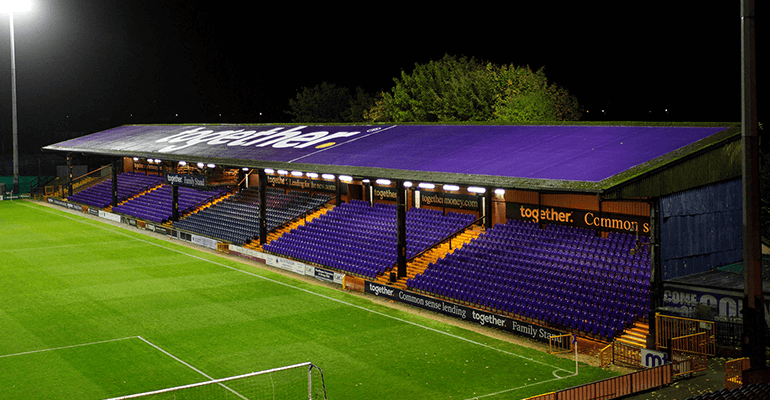 A great match: Stockport County and Together strike sponsorship deal
.
The Stockport County Community Trust in partnership with finance company Together, has re-launched its school initiative.
An assembly roadshow which engages youngsters with football and provides free tickets for local school children to come and see elite sport in action.
As part of the initiative, the Community Trust delivers an engaging presentation to primary school children helping them to understand and adopt the good behaviours associated with elite sport including healthy eating, regular exercise, and the importance listening and trying your best.
The presentation gives children the chance to meet their favourite County players and ask them questions about the sport as well as proving interesting information about the club and competitions. The youngsters also enjoy an appearance from Club Mascot Vernon the Bear.
The schools' roadshow has been delivered by the club since the 1980s, educating and providing free tickets to generations of fans. However the club was forced to pause the initiative in March 2020 due to Covid restrictions.
Dave Wardle, County Community Trust Manager said:
"Having sadly paused the Schools Roadshow, it was fantastic to be able to visit our first primary school with Vernon the Bear and former player James Jennings. The reaction to the presentation was brilliant and all children were fully engaged throughout, particularly enjoying the head-to-head cheering challenge as well as the Vernon the Bear healthy eating race. Connecting with the local community and engaging children from a young age with sport is so important for their development. We can't wait to work with more local schools in the future and seeing the pupils cheering County on from the Together stand throughout the season."
Marc Goldberg, commercial CEO at Stockport-based specialist lender Together, which provides loans and mortgages for businesses and individuals, said: "Delivering initiatives such as these into schools helps to make professional football and their local Club accessible for thousands of children, inspiring them for years to come. This initiative provides huge educational benefits, with experts teaching important information about behaviour, eating and exercise in an inspiring way from relatable role models. For many of the children, it provides their first cherished memories of the beautiful game and could help to inspire the next generation of players on the pitch."
All content factually correct at the time of publishing.
Articles on our website are designed to be useful for our customers, and potential customers. A variety of different topics are covered, touching on legal, taxation, financial, and practical issues. However, we offer no warranty or assurance that the content is accurate in all respects, and you should not therefore act in reliance on any of the information presented here. We would always recommend that you consult with qualified professionals with specific knowledge of your circumstances before proceeding (for example: a solicitor, surveyor or accountant, as the case may be).
Lending decisions are subject to an affordability/creditworthiness assessment.
Any property used as security, including your home, may be repossessed if you do not keep up repayments on your mortgage or any other debt secured on it.