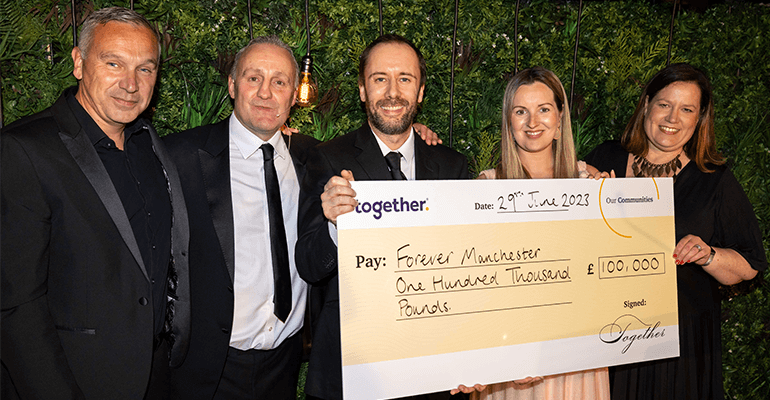 New £100k fund created to support Manchester's community centres with rising energy costs
.
Cheadle-based lender Together has announced it will be donating £100,000 to charity Forever Manchester. The finance will be used to establish a 'Together Energy Fund', supporting local community centres and hubs across Greater Manchester to help with rising energy costs.
Forever Manchester funds and supports a wide variety of grassroots community projects across Greater Manchester including older and young people's projects, homelessness, mental health support groups, sports clubs and environmental projects.
It has delivered £51million in local community grants to schemes across Greater Manchester since it was formed more than three decades ago – transforming the lives of 1.1million people involved grassroots projects.
Together, which provides commercial finance and personal mortgages, will also support the running of the new fund; working in partnership with the charity.
Nick Massey, Chief Executive at Forever Manchester said: "Forever Manchester is delighted to work in partnership with Together to deliver the Together Energy Fund, which will provide funding and support to help community hubs across Greater Manchester be resilient in the face of rising energy costs.
"This focused approach from Together demonstrates insight into the problems facing our communities today and will deliver meaningful impact to a larger number of Greater Manchester residents."
In line with Together's Sustainability Strategy, the donation forms part of the specialist lender's wider activity supporting charities in the region.
Sean Williams, Head of Professional Sector at Together said: "By establishing this fund for Forever Manchester we will be able to continue our commitment towards helping the local community; providing much needed finance to support with rising energy costs.
"These community centres help a range of residents across Manchester, and the grant will benefit thousands of people. Having worked with Forever Manchester as my chosen charity partner through my year as Chair of pro-manchester, I know this fund will make such a significant difference to so many community groups and families.
"We are proud to play our part in this, and add Forever Manchester to the many charitable causes that Together supports."
For more information on Together, visit www.togethermoney.com, and for more information on Forever Manchester visit www.forevermanchester.com.
All content factually correct at the time of publishing.
Articles on our website are designed to be useful for our customers, and potential customers. A variety of different topics are covered, touching on legal, taxation, financial, and practical issues. However, we offer no warranty or assurance that the content is accurate in all respects, and you should not therefore act in reliance on any of the information presented here. We would always recommend that you consult with qualified professionals with specific knowledge of your circumstances before proceeding (for example: a solicitor, surveyor or accountant, as the case may be).
Lending decisions are subject to an affordability/creditworthiness assessment.
Any property used as security, including your home, may be repossessed if you do not keep up repayments on your mortgage or any other debt secured on it.