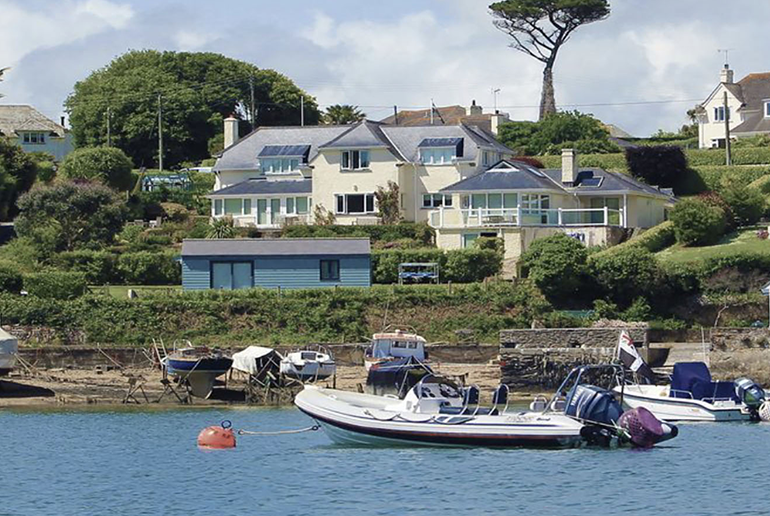 Plain sailing: Together saves £3m seafront property deal with four-hour funding
.
We rescued a £3million deal by providing a short-term loan in just four hours for an investor to buy an exclusive waterside property.
Mathew Rees, director of a company which owns about 200 buy-to-let properties, was looking to expand his portfolio by buying the £2.85m, six-bedroom home in the Cornish holiday resort of St. Mawes.
The detached luxury house, called Pendragon, has its own private boat mooring, views across the picturesque Percuil River and harbour, and is surrounded by sweeping National Trust countryside.
Mr Rees' firm, Manchester-based St. Mawes Estates, had previously agreed finance with another specialist lender and had exchanged contracts with the owner of the coastal property.
However, the deal hit choppy waters the day before the vendor's completion deadline when solicitors emailed Mr Rees demanding additional information about the company and its directors – potentially scuppering the purchase.
He said: "We were buying the house under our limited company, but a second property we were using to secure the loan was in personal names.
"Everybody knew this from the start and it shouldn't have been a surprise for the solicitors, but the day before the completion deadline, we were contacted by them asking us to provide information that would take us two weeks to put together.
"This put us in danger of missing the completion date and losing the property altogether, which would have meant the contract would be null and void. This would cost us around £3million in all. It was incredibly stressful."
Mr Rees, who is the CEO of London-based mortgage network Beneficial, had dealt with us previously during his 25 year career in property and finance.
He said: "Knowing the speed at which Together can turn around bridging finance applications, I gave them a call. Within five minutes I had a call back from their commercial CEO, Marc Goldberg. He said he'd seen the valuations, and knew me and my background, and agreed to release the money that day. That was at about 11.15am and the deal was done by 3.10pm in the afternoon.
"It was absolutely fantastic. The underwriters and Together's solicitors, Priority Law, were amazing in doing all they could to make sure we could complete the deal. We were put in a really difficult situation to start with by the initial lender but this was an incredibly quick completion and a great result."
We agreed the £3m commercial bridging loan, secured against the Cornish property and a property in Manchester.
The latest purchase is the second executive let owned by St. Mawes Estates. The firm is now looking to boost its portfolio by investing in a third in the area, Mr Rees said.
Marc Goldberg said: "Pendragon must be one of the most prestigious properties in the area. It's in a beautiful coastal setting and will be a fantastic investment.
"We knew when we first had the call from Mathew Rees that this deal made sense. We looked into his background, the property and the popularity of the area, and we were happy to be able to offer him the finance he needed to rescue the purchase and expand his company's portfolio."
All content factually correct at the time of publishing.
Articles on our website are designed to be useful for our customers, and potential customers. A variety of different topics are covered, touching on legal, taxation, financial, and practical issues. However, we offer no warranty or assurance that the content is accurate in all respects, and you should not therefore act in reliance on any of the information presented here. We would always recommend that you consult with qualified professionals with specific knowledge of your circumstances before proceeding (for example: a solicitor, surveyor or accountant, as the case may be).
Lending decisions are subject to an affordability/creditworthiness assessment.
Any property used as security, including your home, may be repossessed if you do not keep up repayments on your mortgage or any other debt secured on it.