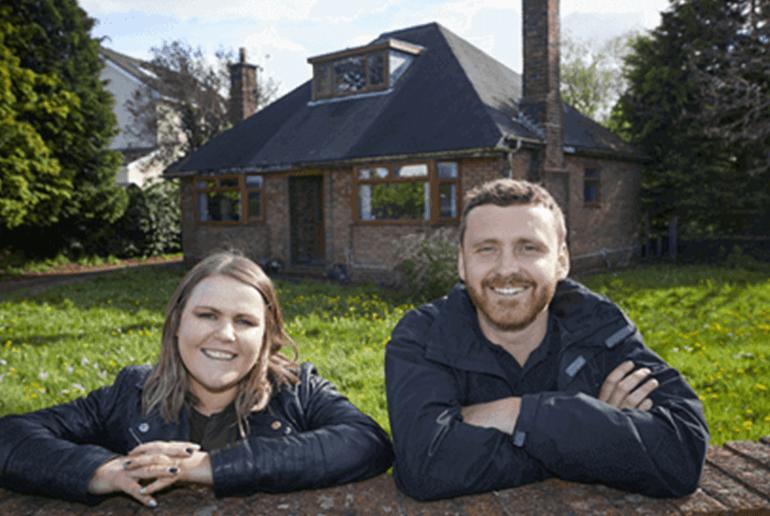 Renovating on a shoestring: see how Osian and Elen did with a £12k refurb budget
.
When a pair of complete strangers bought a £147,000 house at auction they had little idea of the monumental challenge they'd taken on.
Full-time workers Osian and Elen, from North Wales, were given just £12,000 to carry out major improvements on the bungalow, including knocking down walls, installing stairs and putting in a new kitchen and bathroom.
The pair appeared on The Great House Giveaway series, which brings together two strangers to buy and 'flip' – renovate and re-sell - an auction property.
Hard graft and nimble negotiations were key to the project's success, revealed Osian who was often working on the bungalow in Treuddyn, Flintshire, as early as 4am before starting his day job.
"It's been exhausting – but we'd be happy to do it again," said 28-year-old Osian, who currently lives with his mum. "We were worried when we priced some of the work up, the quote for the bathroom was £3,500 for labour alone!
"We also had to put a staircase in and the loft conversion could have cost us our whole budget."
However, Osian fell on his feet with his renovation partner Elen, a maths graduate from Denbigh, who turned out to be a "brilliant negotiator", he said, even securing a new bathroom less than £1,000.
Elen, who works full-time for a civil engineering company in Ruthin, said spotting a bargain, squeezing down suppliers' prices and doing the renovation work themselves was key to their success.
The 24-year-old, who lives with her parents, said: "I was naïve at the start and didn't realise what it would take. However, we learned as we went along and I got better.
"We've had to be really careful and I learned that you can sometimes get a bargain if you contact suppliers directly and negotiate. I think we've come in under budget, which I'm delighted about."
The pair had only seen photos of the property's exterior when they shelled out for it at auction in Oswestry, Shropshire and immediately began work.
Osian, a salesman and engineer for a forestry machinery company, said: "We both work long hours, and I train sheepdogs in my spare time, so we really had to keep focussed. It's been exhausting, not the way we thought it would be. Sometimes I had to come to start work on the house at 4am, then we'd come back in the evening and work 'till late. Without putting in this extra effort, we wouldn't have done it."
The Great House Giveaway, brought to you by Together, airs weekdays at 4pm on Channel 4.
For further information, or to catch up with previous episodes, visit All4.
All content factually correct at the time of publishing.
Articles on our website are designed to be useful for our customers, and potential customers. A variety of different topics are covered, touching on legal, taxation, financial, and practical issues. However, we offer no warranty or assurance that the content is accurate in all respects, and you should not therefore act in reliance on any of the information presented here. We would always recommend that you consult with qualified professionals with specific knowledge of your circumstances before proceeding (for example: a solicitor, surveyor or accountant, as the case may be).
Lending decisions are subject to an affordability/creditworthiness assessment.
Any property used as security, including your home, may be repossessed if you do not keep up repayments on your mortgage or any other debt secured on it.