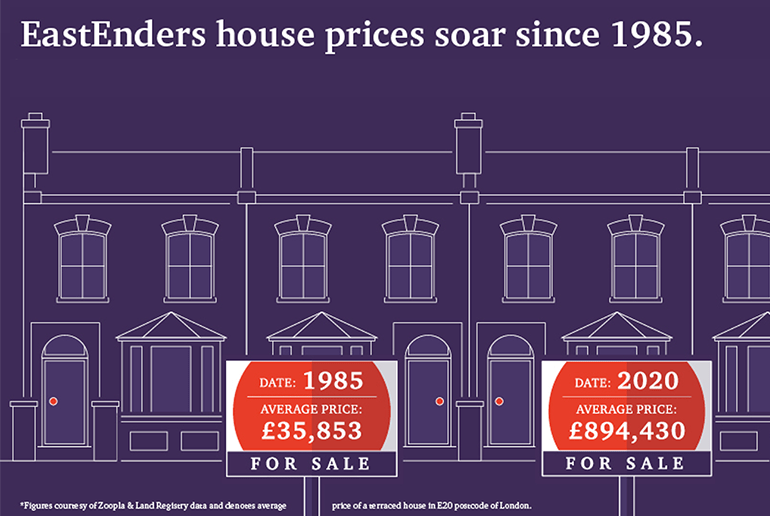 Revealed: soaring house prices in Albert Square as EastEnders marks 35 years
.
Eastenders' residents could be sitting on a fictional fortune after our new study revealed house prices have rocketed - by more than 1,500 per cent.
The research, carried out to celebrate the series' 35th anniversary, shows that values in TV's beloved Albert Square would have increased by more than half a million pounds since the show first aired in 1985.
When the series started some three and a half decades ago, buyers could've bought a home in the capital for a mere £35,000*.
However, the average house price in the famous location would now stand at more than £577,000** – potentially 1,509.5 per cent higher than in 1985 – meaning an original character like Kathy Beale could make a hefty profit by selling up.
Those living in terraced houses, like Dot Cotton, would've seen their values surge even more with prices now topping £894,000***, a mammoth 2,393.5 per cent increase since 1985.
The figures were calculated using data from the land registry and Zoopla, based upon property values in the E20 London postcode.
Richard Tugwell, director, said: "These figures demonstrate the incredible property boom the nation has seen over the past few decades, with East London being a huge beneficiary.
"It also displays the potential long-term success stories that can be achieved through investing in property. It will, however, be interesting to see what happens over the next 35 years."
Comparatively, northern soap characters on Coronation Street, Emmerdale and Hollyoaks wouldn't have profited as much as their East London counterparts over same period.
Coronation Street mainstays Kevin and Sally Webster will have experienced more modest increases with the average Salford house price now costing just shy of £180,000. Further, for a house in the Yorkshire Dales (Emmerdale) you're looking at closer to £294,000.
While Chester based soap Hollyoaks didn't enter our screens until 1995, the average property today in the walled city comes in at £268,000.
*Avg house price in London in Feb 1985 - £35,853 Land Registry Data. (Price breakdown not available for postcodes in 1985.)
** Avg house price in E20 postcode in Feb 2020 - £577053 – Zoopla Data.
*** Avg house price for terraced houses in E20 postcode in Feb 2020 - £894,430 – Zoopla Data.
All content factually correct at the time of publishing.
Articles on our website are designed to be useful for our customers, and potential customers. A variety of different topics are covered, touching on legal, taxation, financial, and practical issues. However, we offer no warranty or assurance that the content is accurate in all respects, and you should not therefore act in reliance on any of the information presented here. We would always recommend that you consult with qualified professionals with specific knowledge of your circumstances before proceeding (for example: a solicitor, surveyor or accountant, as the case may be).
Lending decisions are subject to an affordability/creditworthiness assessment.
Any property used as security, including your home, may be repossessed if you do not keep up repayments on your mortgage or any other debt secured on it.