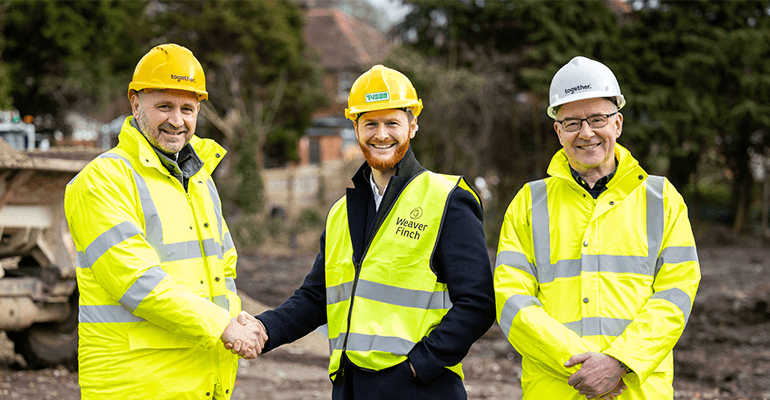 'Spades in the ground' on Preston supported living complex after £1.75m funding
.
Construction work has begun to revitalise a disused and vandalised former Preston bowling club by creating supported living homes for adults with learning disabilities.
Developers Weaver Finch have secured a £1.75million loan from Manchester-based property lender Together – paving the way for the new development of 13 apartments, complete with car parking spaces, a communal lounge and gardens.
The new complex at Mornington Road will breathe new life into the site which included an overgrown bowling green and the 127-year-old Fishwick Ramblers club, which has attracted anti-social behaviour since it closed in 2014.
Once completed, the development will be part of Lancashire County Council's supported living service and will provide hi-tech homes for adults with learning disabilities who require support with everyday living.
Alex Bodie, Head of Social Housing at Together, said: "Weaver Finch has built a fantastic and well-deserved reputation in delivering top quality supported living and extra care developments.
"We were hugely impressed with their vision for the Mornington Road site, which has been disused and unloved for many years, and delighted to have been able to provide the finance facility to help our partners achieve their ambitions.
"There is a severe shortage of good quality supported living in the North West and across the UK and this development will allow its new tenants to receive the care and support they need while living independent lives."
The new residents will move into their own self-contained apartments with living room, kitchen, bedroom and bathroom – allowing them to live as independently as possible - with 24-hour background support to support their everyday lives where required.
As part of the Council's new Good Neighbour scheme, someone who does not have support needs will live in one of the flats with the understanding that they will be a 'good neighbour' helping out with simple household repairs, picking up small items from the shops or inviting fellow tenants to the cinema as well as being on hand in case of emergencies.
The flats will have assisted technology such as sensors to identify if someone needs support or to offer prompts for daily living and the assistive tech will support people to maintain their privacy and independence. In addition to the background support and assistive technology, tenants will have access to "additional tailored support" as part of a care package identified by their social worker, a Council spokesperson said.
Care Housing Association (CHA), a charity and registered social housing provider, will take over the operation of the setting once it has opened. Tyson Construction has now started work on the development, which has been designed by Preston-based David Cox Architects and is expected to be completed by December 2023.
Andrew Hynes, Director at Weaver Finch, a family business founded in 2019 to deliver quality supported living developments, said: "This will be a flagship scheme, utilising the latest assisted technology to keep tenants safe whilst also maximising independence in a well-designed and welcoming environment. We've had tremendous support from all our partners, including Together, and it's great to see this project taking shape."
County Councillor Graham Gooch, Cabinet Member for Adult Social Care at Lancashire County Council, said: "This will be a very welcome addition to our Housing-with-Care strategy, enabling people to receive the care and support that is person-centred, promotes independent living, helps them to be connected to their family, friends and communities, and helps to keep them safe.
"This will support vulnerable adults with disabilities, promote self-care, reduce social isolation and loneliness, while supporting them to live independently at the same time. This facility is part of the council's strategy to support vulnerable adults, allowing people to lead fulfilling lives, with their own self-contained accommodation and their own front door, enabling them to increase their independence, health and quality of life."
Tom Bamber, Director of 2XL Commercial Finance, based in Manchester, introduced the funding application to Together on behalf of Weaver Finch.
All content factually correct at the time of publishing.
Articles on our website are designed to be useful for our customers, and potential customers. A variety of different topics are covered, touching on legal, taxation, financial, and practical issues. However, we offer no warranty or assurance that the content is accurate in all respects, and you should not therefore act in reliance on any of the information presented here. We would always recommend that you consult with qualified professionals with specific knowledge of your circumstances before proceeding (for example: a solicitor, surveyor or accountant, as the case may be).
Lending decisions are subject to an affordability/creditworthiness assessment.
Any property used as security, including your home, may be repossessed if you do not keep up repayments on your mortgage or any other debt secured on it.