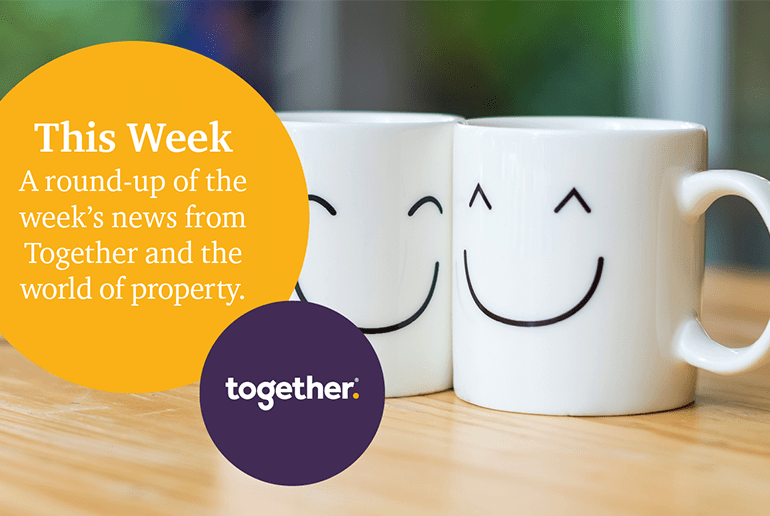 A round-up of the week's news from Together and the world of property.
This week in the news
News in the world is currently dominated by the Covid-19 pandemic, however, we will try and provide some respite and focus upon news stories within the property world from the past week.
Developer reveals plans for former Barclays bank building
A former Barclays Bank building in Manchester city centre will be transformed into luxury apartments.
The three-storey office block is in the centre of Manchester's innovation district – a cluster of world-leading science and research industries centred around five hospitals and the city's two universities.
The 5,000sq ft Oxford Road building includes a former banking hall on the ground floor and the open-plan offices on the first two floors, a mezzanine, basement and parking.
We provided a short-term loan of more than £1m for development company Soller Group to buy the old Barclays building.
Chris Baguley, commercial managing director, worked with the Soller Group to structure the short-term finance package.
He said: "We've previously joined Soller as their finance partner for major projects in Birmingham, Glasgow and London and know their pedigree and ambitions when it comes to acquiring and developing property with huge potential.
"With that in mind, we were delighted to provide this facility and are excited to see how the Manchester scheme progresses."
(For more on the story: https://www.business-live.co.uk/commercial-property/developer-reveals-plans-former-barclays-17947761)
Housing developers encouraged to build 'green' homes on brownfield sites
Housing developers will be encouraged to redevelop high streets, build upwards and construct homes above stations as part of an overhaul of the UK's house planning system.
The government will also launch a register of brownfield sites that could be used for housing, backed by £400 million to help bring the land back to use.
In a bid to ensure homes are built where they are most needed, all local authorities will be required to have up-to-date housing plans in place by December 2023 to ensure enough properties are built for their communities.
Other measures announced include putting good design at the centre of the planning process, a commitment to having lower carbon emissions for all new homes and a planning system that promotes tree-lined streets.
Housing Secretary Robert Jenrick said: "We must think boldly and creatively about the planning system to make it fit for the future, and this is just the first step, so we can deliver the homes communities need and help more young people onto the ladder."
(For more on the story: https://www.zoopla.co.uk/discover/property-news/housing-developers-encouraged-to-build-green-properties-on-brownfield-sites-uk-government/)
Together hires underwriting expert
We've expanded our intermediary relationship team with the appointment of underwriting expert Clare Sadler.
As a field underwriting specialist, she will focus on cases from Together+ members, which is an exclusive programme designed to build strong relationships with a group of professional partners.
Clare will be based in the South East, responsible for applications submitted to us.
She has more than 20 years of industry experience, with previous roles at Landbay, Foundation Home Loans and Solent Mortgage Services Limited. Prior to that, she spent more than six years as an account manager for Nationwide Building Society.
Clare said: "I have been offered a fantastic opportunity and bring a wealth of experience with me. The key thing that attracted me to Together is the common sense approach to underwriting – if a deal makes good business sense, we can look at it.
"I'm really looking forward to getting started and excited to be working across the whole product range. Relationships in this industry are so important to build trust, improve knowledge and increase business - and these are the areas I'll be focusing on."
For more on the story: https://www.financialreporter.co.uk/specialist-lending/together-hires-underwriting-expert
All content factually correct at the time of publishing.
Articles on our website are designed to be useful for our customers, and potential customers. A variety of different topics are covered, touching on legal, taxation, financial, and practical issues. However, we offer no warranty or assurance that the content is accurate in all respects, and you should not therefore act in reliance on any of the information presented here. We would always recommend that you consult with qualified professionals with specific knowledge of your circumstances before proceeding (for example: a solicitor, surveyor or accountant, as the case may be).
Lending decisions are subject to an affordability/creditworthiness assessment.
Any property used as security, including your home, may be repossessed if you do not keep up repayments on your mortgage or any other debt secured on it.