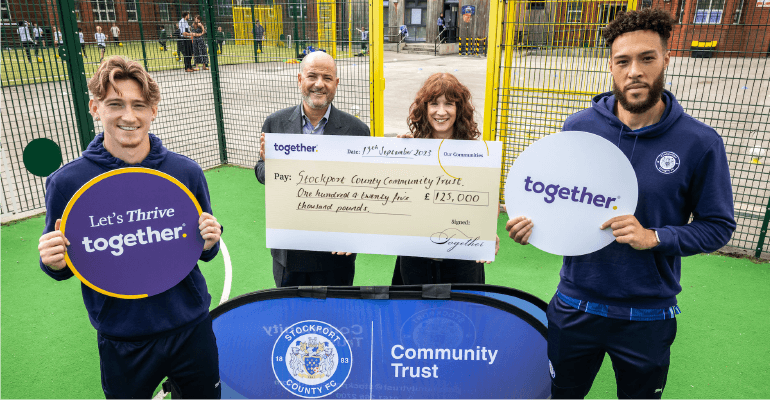 Together and Stockport County FC team up to deliver Schools Programme
.
Cheadle-based specialist lender Together has announced that it will be partnering with Stockport County Football Club to launch its Schools Programme.
The initiative includes a £125,000 donation to Stockport County Community Trust. The donation will be used to launch the pioneering School's Programme, providing free educational programmes for all Stockport schools and targeting students most at need.
The scheme will deliver educational workshops to local primary schools for children across years five and six. These will cover topics to further the children's knowledge across three key themes; numeracy and finance, mental health and wellbeing, and e-safety and social media.
The programme will run in 48 schools for six weeks, with plans to expand to 77 schools in 2024.
In addition, seven of the secondary schools will receive a 12-week educational workshop covering personal development, resilience and leadership, with targeted intervention to address issues with students who may be disengaged with their education. Together and Stockport County FC are aiming to increase this to 14 schools by 2024.
These schools will also receive additional workshops through sport, enabling students to take part in regular football tournaments and football education taster days; offering them the opportunity to engage through being active.
Marc Goldberg, CEO Sales and Distribution at Together, said: "As long standing supporters of Stockport County FC, I am truly proud Together is able to support the Community Trust in the launch of their Schools Programme, an initiative which will support and further the education of thousands of students across Stockport.
"Our culture as a business has always been to support young people and this is a brilliant example of shining a light on the next generation and supporting their growth.
"As part of our communities commitment, we pledged to assist local groups, support charities, champion the training & mentoring of young people and take positive environmental actions."
Alison Warwood, CEO at Stockport County Community Trust, said: "We are thrilled that Together has chosen to support our Schools Programme. The six and twelve week workshops will provide vital support and have such a positive impact on the lives of young people.
"As our sole founding sponsors, Together has enabled us to deliver the programme which will benefit over 2,000 students in its first year alone and we're looking forward to working closely with them over the coming months."
The partnership is part of Together's ambitious targets to help the community, with further announcements on its other initiatives to come throughout the year.
All content factually correct at the time of publishing.
Articles on our website are designed to be useful for our customers, and potential customers. A variety of different topics are covered, touching on legal, taxation, financial, and practical issues. However, we offer no warranty or assurance that the content is accurate in all respects, and you should not therefore act in reliance on any of the information presented here. We would always recommend that you consult with qualified professionals with specific knowledge of your circumstances before proceeding (for example: a solicitor, surveyor or accountant, as the case may be).
Lending decisions are subject to an affordability/creditworthiness assessment.
Any property used as security, including your home, may be repossessed if you do not keep up repayments on your mortgage or any other debt secured on it.