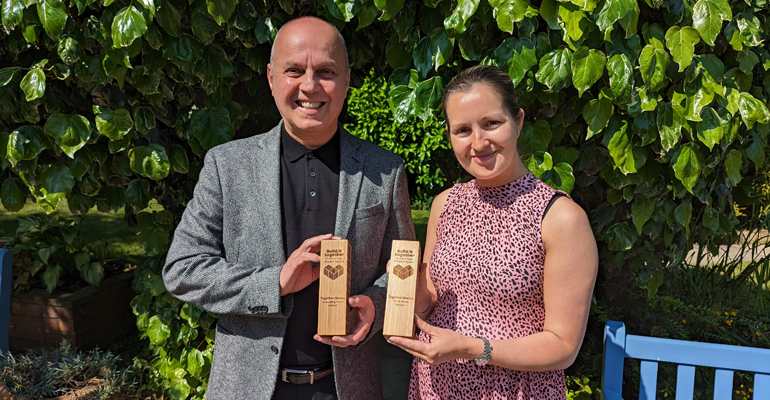 Together help St Ann's Hospice with donation of over £20,000
.
Together has donated £22,000 to St Ann's Hospice towards the construction of a new, improved building at its Heald Green site.
The funds will form part of the hospice's Build It Together campaign, which is raising money tol replace its current Victorian building, which is in urgent need of replacement due to continual and costly repairs.
Together's donation will be used to build a family break out area within the current inpatient unit (IPU). This will give a space for families to spend time together whilst their loved one is being supported by our nursing and clinical teams, or with their loved one away from the bed but with the privacy they often need during the last days and weeks of life.
This is the second donation that the hospice has received from Together, which has previously sponsored a counselling room for the new hospice building through their staff's fundraising efforts.
Anne-Marie Wynne, Head of Fundraising and Capital Campaign, says: "We are incredibly grateful for this donation from Together. The support we have received from the business has boosted our fundraising so much and will have an amazing impact in the care we can support through offering the family room to our patients and their loved ones.
"Without the new building there is a real risk that St Ann's Hospice would have to close their doors to patients in the future because of the state of the current hospice site, but with donations like this from Together we are able to continue going.
"We are very excited for our new hospice to come to life; we can't wait to see the new area and to see families enjoy the space together."
Kevin Fisher, Group People Director at Together, said: "St Ann's Hospice provide exceptional support to patients and their loved ones who are going through the hardest of times, and we are keen to play our part in supporting them in the creation of this crucial new building.
"It's incredibly rewarding to support the charity through our donation, which will provide them with specialist rooms to give a better experience under such difficult and emotional circumstances."
To find out more information on how you can help St Ann's Hospice with their Build It Together appeal, see their website here.
All content factually correct at the time of publishing.
Articles on our website are designed to be useful for our customers, and potential customers. A variety of different topics are covered, touching on legal, taxation, financial, and practical issues. However, we offer no warranty or assurance that the content is accurate in all respects, and you should not therefore act in reliance on any of the information presented here. We would always recommend that you consult with qualified professionals with specific knowledge of your circumstances before proceeding (for example: a solicitor, surveyor or accountant, as the case may be).
Lending decisions are subject to an affordability/creditworthiness assessment.
Any property used as security, including your home, may be repossessed if you do not keep up repayments on your mortgage or any other debt secured on it.