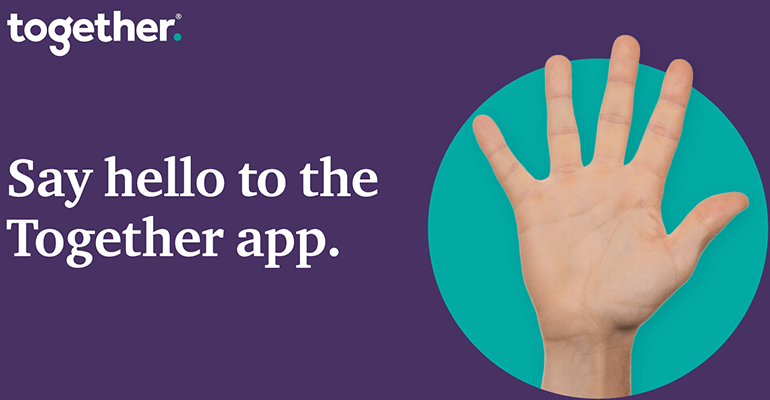 Together partners with Nivo to launch its new app
.
*Update: as of 18th January 2021 the Together app is also available to direct PF customers*
Commercial loan customers now have access to quicker lending decisions with secure messaging through our new mobile phone app.
We've partnered with Nivo, creators of the instant messaging and data sharing platform, which can be downloaded and used by clients and, in the near future our customers, up to the point of funding.
It uses secure messaging technology which allows our staff to speak to customers in a text-like conversation on their smartphones – transforming the direct application journey – slashing processing times and improving completion timescales.
We'll be able to use the system to securely request sensitive documents needed to underwrite applications. They can all be kept in one place and information can be sent to customers on the progress of their applications, all the way to funding.
The app is initially for commercial direct clients but is expected to be rolled out to personal finance customers in the next few weeks. We're also exploring ways intermediaries can use the platform and an announcement about this is expected in the new year.
Catherine O'Brien, growth and development manager said: "This is a brilliant innovation and something we've been working on with Nivo to make sure that it really minimises the case processing time and effort for our customers.
"The app has some fantastic built-in features, such as electronic application forms, to make it easier for our customers to send us the documents we need to approve their commercial loan applications. It also means our colleagues can send customers a message at the click of a button, providing a quicker, easier and more secure way of us communicating with them."
Customers will receive real-time notifications, with the platform notifying them when there is a conversation waiting in the inbox or a new document has been sent. The app also uses automated bots and messaging, allowing us to automatically send documents and other customer information out-of-hours, speeding up the process.
Polly Taylor-Pullen, business development at Nivo said: "We're excited supporting our partner, Together, in driving innovation quickly and effectively across the business. Nivo was able to deliver the secure, branded app within two weeks and we can already see that customers are returning documents much quicker, with applications being processed in record time.
"The streamlined process means staff are able to process more applications, and most importantly, customers are delighted with the ease of service. I look forward to our continued partnership with Together as we deliver more technology improvements in the months to come."
The app is the latest piece of technology we've adopted and follows our partnership with Digilytics, which uses artificial intelligence (AI) to recognise and validate digital application packs from intermediaries.
Catherine added: "These advances underline our continued focus on innovation and automation as we continue to transform and improve our business for the customers and intermediaries who work with us now and in the future."
All content factually correct at the time of publishing.
Articles on our website are designed to be useful for our customers, and potential customers. A variety of different topics are covered, touching on legal, taxation, financial, and practical issues. However, we offer no warranty or assurance that the content is accurate in all respects, and you should not therefore act in reliance on any of the information presented here. We would always recommend that you consult with qualified professionals with specific knowledge of your circumstances before proceeding (for example: a solicitor, surveyor or accountant, as the case may be).
Lending decisions are subject to an affordability/creditworthiness assessment.
Any property used as security, including your home, may be repossessed if you do not keep up repayments on your mortgage or any other debt secured on it.