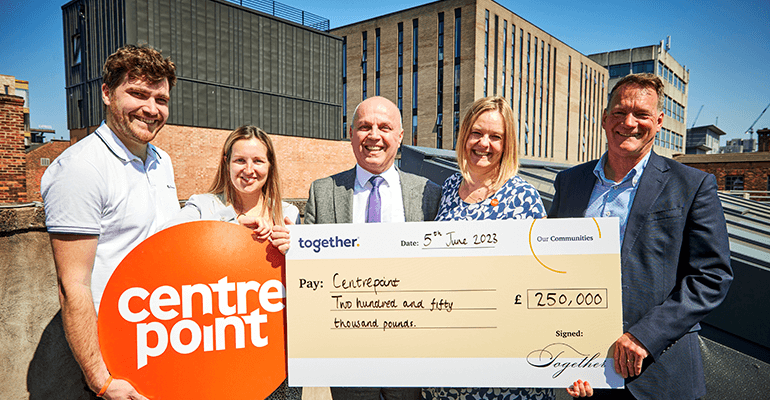 Together provides quarter of a million donation to Centrepoint
.
Together has donated £250,000 to support hundreds of young people into safe and secure housing.
The donation will be directed to Centrepoint's Independent Living Programme, which provides high quality, affordable housing for young people in order to create a home of their own.
According to the Centrepoint's latest research, across 2021 and 2022 around 129,000 16 to 24 year olds were homeless or at risk of homelessness in the UK. Worryingly, just 68% of the young people who reached out for support were assessed by their local authority in England.
Together's donation will fund the complete build of two properties within the programme, which is aiming to deliver 300 modular homes for young people aged 18-25 across Manchester and London. The modular homes are provided to young people who are in work or on an apprenticeship, and are provided with essentials such as a bed and kettle, ready for the resident to make it their own.
In line with Together's Sustainability Strategy, each property will be in use for around 60 years, providing not only a sustainable solution, but one which aims to have a long term impact on the social mobility of the young people that use the service.
Gerald Grimes, CEO designate at Together said: "As a business our culture has always been to support young people starting out in their careers through graduate or apprenticeship schemes - some of the most senior people in our team started out their careers here as apprentices.
"That ethos of giving young people a great start in life is continued with our partnership with Centrepoint. The Independent Living programme is a great way of enabling young people to make their own way in life with a little bit of help and we're really optimistic about the impact our £250,000 donation will make both in the short and long term."
Julie Milnes, Director of Fundraising at Centrepoint said: "Our Independent Living programme is Centrepoint's most ambitious project to date. Providing innovative, high quality and affordable housing alongside Centrepoint's support provision means that young people can concentrate on what's most important: their futures. This work comes down to one singular mission – to help young people move on to independence.
"We are delighted to be partnering with Together and their incredible donation will help us to fund part of our new Independent Living project in Manchester. We cannot deliver Independent Living without the support of amazing partners like Together and we look forward to working closely with them to reach our goal of giving all homeless young people a future and ultimately ending youth homelessness by 2037."
Find out more about Centrepoint
All content factually correct at the time of publishing.
Articles on our website are designed to be useful for our customers, and potential customers. A variety of different topics are covered, touching on legal, taxation, financial, and practical issues. However, we offer no warranty or assurance that the content is accurate in all respects, and you should not therefore act in reliance on any of the information presented here. We would always recommend that you consult with qualified professionals with specific knowledge of your circumstances before proceeding (for example: a solicitor, surveyor or accountant, as the case may be).
Lending decisions are subject to an affordability/creditworthiness assessment.
Any property used as security, including your home, may be repossessed if you do not keep up repayments on your mortgage or any other debt secured on it.