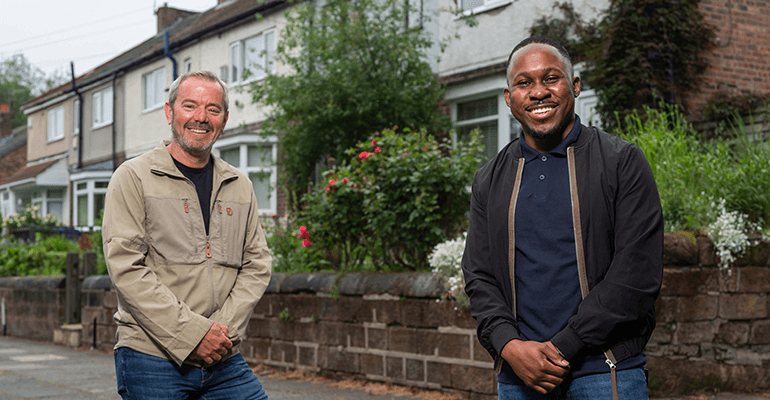 TV viewers should expect fireworks when bafta winning the great house giveaway returns
.
The perils and pitfalls of property renovation return to our screens this month (September) with a new series of The Great House Giveaway.
· The popular show is back after a whirlwind first series, which saw The Great House Giveaway's producers walk away with a coveted BAFTA award.
· Presenters Simon O'Brien and new expert Tayo Oguntonade talk about turning ramshackle properties into tip-top family homes in the 'warts and all' five-part Channel 4 series.
Channel 4's hit daytime TV show drew plaudits from viewers across the country last time around, with even telly national treasure Richard Osman Tweeting that the property programme was 'the best new format in ages.'
In a cruel twist of irony (for Richard at least) the BAFTA judges agreed – awarding The Great House Giveaway the famous mask trophy ahead of Richard Osman's House of Games in the 'Daytime' category at this year's awards.
"The BAFTA came out of the blue!" said property expert and GHG presenter, Simon O'Brien. "But it was great to have such recognition for all the hard work that went into making the show. We're all delighted to have won and really looking forward to the next series."
Simon puts the sky-high ratings down to two things; the love of the British public for property – particularly home renovations – and the fact that the contestants are never guaranteed success.
He said: "In other property shows, the contributors always get the result they're looking for but that's not real life. We do love our properties in this country and everybody would love to think they could have a go at renovation – that is all part of the appeal. But I think the reason the show did so well, and continues to do so, is that the contributors don't always succeed. It's showing the whole process warts and all."
For example, in series one we saw one couple losing thousands of pounds after they attempted a big extension to a property. There was also the trio who fell out spectacularly over their refurb; voices were raised, tears flowed, and the viewers were hooked.
The latest five-part series follows the same format. A house is bought at auction – with the auction finance provided by Together – contestants then have six months in which to renovate, market and sell them, in the hope of making a profit.
A major difference is the introduction of a new presenter, property finance expert Tayo Oguntonade (pictured) an experienced investor, mortgage broker and blogger. The property expert has previously appeared on TV giving advice on BBC's Watchdog, Rip-Off Britain and Channel 4's Steph's Packed Lunch, among other national programmes.
He said he's excited about the new series of The Great House Giveaway, adding: "As people will know from series one, the direction of each episode is so unpredictable.
"To work with a stranger on such a huge project over such a long period of time, in some cases it will be inevitable that there will be some disagreements along the way. However, every single episode is as exciting as the last, so it will be great for viewers to see how they all get on!"
Tayo will be imparting his real-life experience of finance and development, having started building his own portfolio a few days before his 22nd birthday when he bought his first home, a three-bedroom property in Kent.
Now, six years later, he and his wife own five houses in the capital, Kent, and Hertfordshire. They also run their own blog to give advice and share knowledge with budding property professionals.
Tayo said: "We're operating in a really hot property market now and people really need to know how to sell to typical first time buyers or home-movers.
"It's simple things that go a long way, like putting down carpet in the house before it goes on the market, which we didn't see in some projects in series one.
Another mistake people often make is making decisions using their hearts, rather than their heads. Some start to renovate the property to their own taste and what they would like for their own home, forgetting that we're in this game to make money.
"When we start a renovation on The Great House Giveaway, we tell people to focus on the game changer – the one thing that is going to be the unique selling point of their house. Are you going to make it open plan? Are you going to need an extra bedroom? Are you going to put in an ensuite? Everything else then becomes an afterthought."
Simon revealed that, like last time around, he's been getting "stuck in" with the refurbishments. Viewers will see him putting in keystones and French doors and replacing spindles in a Victorian house that was vandalized in the 70s. One of his favorite projects was the refurbishment of a ramshackle terraced house in his home city.
"They didn't make the most profit but they were really close to my heart because they were in Liverpool, so I was really rooting for them," said Simon. "They really worked out how to reconfigure the house to use every single inch of space wisely. They also used their skill sets really well, with one half of the partnership really good at budgeting and using spreadsheets and the other far more practical so, instead of treading on each other's toes, they worked to their strengths to get it right."
And, although he didn't want to give away much before the next series airs next week, he hinted that viewers should expect more obstacles as the contributors work through their challenging projects.
Simon said: "Renovating a house is incredibly stressful, even if you've done it before but, when you add into the mix that the contributors are doing it with a total stranger, that's when challenges can arise."
The Great House Giveaway runs every weekday afternoon at 4pm next week on Channel 4 and episodes are available to watch on catch-up on All4.
All content factually correct at the time of publishing.
Articles on our website are designed to be useful for our customers, and potential customers. A variety of different topics are covered, touching on legal, taxation, financial, and practical issues. However, we offer no warranty or assurance that the content is accurate in all respects, and you should not therefore act in reliance on any of the information presented here. We would always recommend that you consult with qualified professionals with specific knowledge of your circumstances before proceeding (for example: a solicitor, surveyor or accountant, as the case may be).
Lending decisions are subject to an affordability/creditworthiness assessment.
Any property used as security, including your home, may be repossessed if you do not keep up repayments on your mortgage or any other debt secured on it.