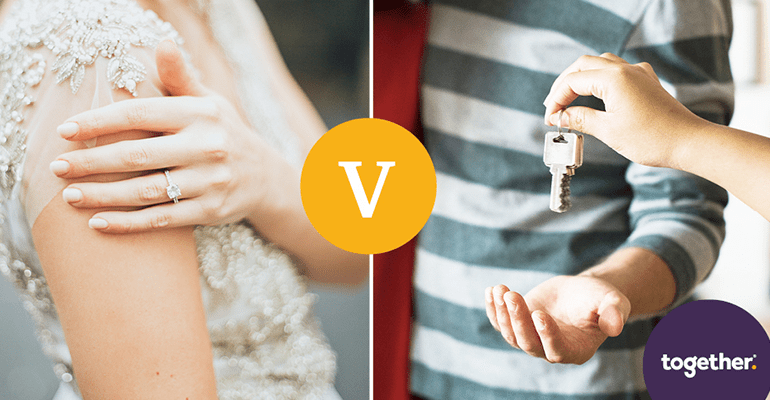 Women shunning weddings in favour of home ownership
.
Fewer than four per cent of UK women would pay for their wedding over a house deposit

The average cost of a wedding today stands at £17,674

Home ownership is the top priority for Brits
BRITISH women appear to have fallen out of love with getting married – with just four per cent choosing to spend money on a wedding rather than a house deposit.
Our new poll has revealed nearly 70 per cent of UK adults would use £17,674 – the average cost of a wedding – as a deposit for a new home instead of paying for their big day.
According to the study, women prioritised home ownership more than men, with nearly 10 per cent more females opting to spend the money on a deposit. Just under four per cent of women would use it to foot the bill for their wedding.
Director Richard Tugwell said: "Home ownership clearly remains a huge priority for the British public, as our latest research demonstrates.
"With the costs of weddings and property rising in comparison to wages over the last few decades, sacrifices inevitably have to be made. The results of our survey show the majority of people are choosing to get on the property ladder rather than pay for their big day."
We surveyed more than 2,000 UK adults to find out their views.
Women seemed more eager to get on the property ladder, according to the results. The vast majority - 74 per cent - said they'd put the £17,674 towards a deposit, a figure that dropped to 64 per cent of men who took part in the survey.
Only a tiny percentage – 3.9 per cent of women and 6.1 per cent of men – would use the money to fund their big day.
Meanwhile, 14 per cent of all those who took part in the survey said paying for a wedding and a deposit carried equal weight, while just over 11 per cent said neither were a priority.
Wedding facts
The rate at which couples are getting married fell from 33.6 (in every thousand people) for men and 28.5 for women in 1996 to 21.9 for men and 20.1 for women a decade later.

The average age at which couples were tying the knot stood at 37.9 for men and 35.5 for women in 2016, according to the latest ONS figures. In 1996, however, the average age was 33.6 for men and 31.1 for women - showing an increase of more than four years for both men and women over the past two decades.

Couples who are choosing to marry are looking for more cost-effective weddings. For example, the number of weekday weddings has increased hugely over the past few years with the rise of the 'Thursday Wedding', significantly reducing the cost of venues, caterers and entertainment.
All content factually correct at the time of publishing.
Articles on our website are designed to be useful for our customers, and potential customers. A variety of different topics are covered, touching on legal, taxation, financial, and practical issues. However, we offer no warranty or assurance that the content is accurate in all respects, and you should not therefore act in reliance on any of the information presented here. We would always recommend that you consult with qualified professionals with specific knowledge of your circumstances before proceeding (for example: a solicitor, surveyor or accountant, as the case may be).
Lending decisions are subject to an affordability/creditworthiness assessment.
Any property used as security, including your home, may be repossessed if you do not keep up repayments on your mortgage or any other debt secured on it.