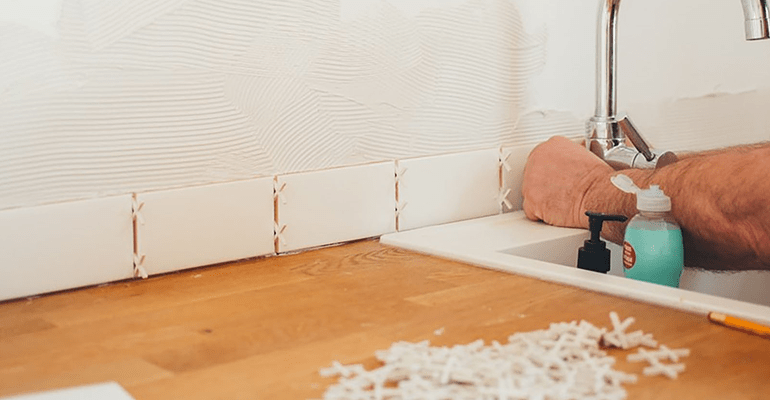 9 Tips for Renovating on a Tight Budget
.
1. Get the basics right
Having to make repairs down the line can be an expensive, messy and dispiriting business. So before you start in earnest on introducing new finishes and floorings, make sure the electrics, plumbing, windows and roof are up to scratch – there's little worse than seeing your hard work undone by a leak or urgent wiring repairs.
Even if you're planning to sell the property on, your buyer's survey will pick up on issues – so head those off at the pass, and you might secure a better purchase price.
2. Invest in touchpoints
Cheap items can wear out quickly, so spend good money on things you touch and interact with (like light switches, door handles and taps) and scrimp on things you only look at, like paint, wallpaper and wall tiles.
These higher-quality items should not only last longer, but they can also elevate the appearance of cheaper doors, sinks and baths – meaning you can afford to save on those too.
3. Make a plan and stick to it
One sure-fire way to burn through your budget is to change your mind mid-renovation – which is a passport for spending twice on something that could've been done once. Decide what you want to achieve before you get started, and see it through.
Rethinking things like taps and wallpaper isn't the end of the world (they can always be returned) but when it comes to the layout of kitchens and bathrooms – with all the associated plumbing and electrics – it's a case of 'measure twice, cut once'.
4. Fake it 'til you make it
Panelling is one of the big trends in interior design at the moment, but real panelling is very expensive.
Assuming you're not afraid of a glue gun, you can creating the look of panelling with MDF and decorative moulding (good if you're working with older walls that aren't completely flat), or simple strips of timber (which works well on perfectly flat walls, to add character in new-builds).
If done right, panelling can make a room feel very grand (as well as correcting the proportions of an oddly shaped space). Aim for panelling to be one- or two-thirds the height of the room, if not full-height – but avoid half-height panelling, which can trick the eye into lowering the ceiling.
5. Consider an 'unfinished' look
Plastering is something of an artform, and good plasterers command a pretty penny for their skills. If you've got an internal wall that needs a fresh skim, consider instead taking it back to bare bricks – especially if your home is solidly built from beautiful red pre-War ones.
Removing the existing plaster and cleaning them up is a messy job but one you can do yourself, and confident DIYers can, if needed, repoint the existing mortar to give a smart, clean finish. This professional bricklayer's tutorial is easy to follow.
If you do decide to go down this route, you'll need to seal the exposed bricks to protect them and prevent dust. A 5-litre bottle of dustproofer can be picked up for under £40; each litre should cover about a square metre of wall.
6. Prioritise period features
A period property is often a solid choice, as it's already stood the test of time and likely offers spacious rooms with high ceilings.
However, period features haven't always been as desirable as they now are, and ripping up carpets in an older home may reveal beautiful original floorboards that can be sanded back to their former glory.
Professional sanding is not cheap, so you can often hire sanders from local hardware stores. You may not get the same perfect finish, but paint – as well as giving a trendy Scandinavian vibe – can hide a multitude of sins.
Sash windows may be prohibitively costly to reinstate, but other lost details that add character and charm can often be affordably renewed. Ceiling roses, picture rails and plaster coving can often be purchased for less than £200 per room, depending on the level of detail you choose.
7. Repair, refresh, recycle
You can save significant amounts by making the most of the things you've inherited when buying.
A good clean may be all that's needed to return something to its former glory; a high-pressure steam cleaner is a great way to reinvigorate grout and tiling, and can also improve the appearance of uPVC doors and windows. Equally, a pressure washer can make decking and paving slabs look almost new.
Some things are worth repairing, and can make a big difference to how your property is perceived; a blown (misted) pane in double glazing can be replaced for under £100.
Other items can be cheaply given a new lease of life. Replacing a kitchen can cost thousands, and cupboard carcasses can make up a large chunk of the cost. If you're happy with your kitchen's current layout, retain the carcasses and simply replace the doors and work surfaces to give your kitchen an entirely new look.
8. Shop around for professionals
It's surprising just how many renovators fail to get more than one quote when they're getting work done.
Prices can vary wildly from tradesperson to tradesperson, and just because one company has a slick brochure and fast-talking sales reps, doesn't automatically mean they'll do a better job than a 'one-man band' – but it probably means they'll charge more.
To help you make sure you're getting the best person for the job, be sure to tick these things off your list:
· Receive three different quotes
· Get a recommendation from a trusted source – whether that's from a friend, or from a site like trustatrader.com.
· Agree exactly what you'll be getting for your money. The cheapest quote may not always represent the best value, so be sure to check what materials they'll be using etc.
9. Find the best quote for materials
If you're going to be doing the work yourself, similar principles apply.
It's important to shop around before you buy, and there's absolutely no reason why you need to purchase all of your materials from the same place. If you're fitting your own kitchen, for example, you can buy your appliances, worktops, and wall units from many different suppliers – as long as you've got your measurements sorted. The same goes for bathrooms too.
In doing a little more research, you're all but guaranteed to save some money.
All content factually correct at the time of publishing.
Articles on our website are designed to be useful for our customers, and potential customers. A variety of different topics are covered, touching on legal, taxation, financial, and practical issues. However, we offer no warranty or assurance that the content is accurate in all respects, and you should not therefore act in reliance on any of the information presented here. We would always recommend that you consult with qualified professionals with specific knowledge of your circumstances before proceeding (for example: a solicitor, surveyor or accountant, as the case may be).
Lending decisions are subject to an affordability/creditworthiness assessment.
Any property used as security, including your home, may be repossessed if you do not keep up repayments on your mortgage or any other debt secured on it.