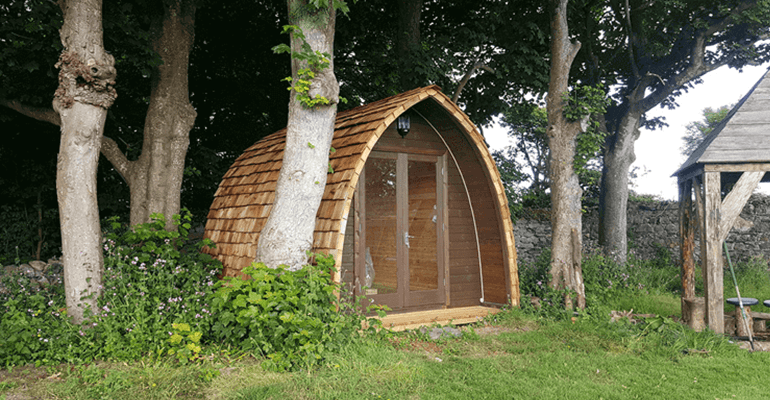 Brits looking to gardens to solve space problems
.
While many of us are making the most of our gardens at the moment in order to facilitate social time with friends and family, countless Brits are also looking at their gardens as a means of solving space problems brought about by the pandemic.
Lockdown has seen the home taking on new roles, including workspace and classroom, and the health and financial impacts of the pandemic has seen older children returning to the parental home, and older relatives questioning the wisdom of living alone. Now, it seems that we're looking at spare space in our gardens and looking at ways to make better use of it.
A recent survey* conducted on behalf of Together has revealed that over a quarter of British homeowners describe their outside space as 'large' or 'very large'. And around one-in-five Brits put a summerhouse, workshop or similar 'garden room' at the top of their shopping list for their dream garden – this on top of the 13% of respondents who already have such a structure.
"Since March 2020, demand for garden buildings has soared", Rachel Oliver, marketing manager at Malvern Garden Buildings, told ThisIsMoney. "Sales of garden offices and studios have trebled in the last few months."
The rise of the office garden
Dining tables, spare bedrooms, kitchen worktops and sofas have all doubled as home offices over the last year, and the growth in home-working appears here to stay… some of the time, at least.
There will be those happy to sacrifice a little of their home to avoid their commute a few days a week, but many British homes were already bursting at the seams – we have some of the smallest homes in Europe. So losing a bedroom more permanently may be less than appealing for others.
New research by Aviva, reported in ThisIsMoney, has also revealed that one in five people said they found working from home more stressful, with common reasons including not having a suitable space to work from, competing for space with other people, and finding it too noisy at home. It sounds to us like many of these issues could be solved by having a dedicated office space.
ThisIsMoney.co.uk reported recent findings that Britons plan to convert sheds and garages into office space, with one in 10 already working from a converted outbuilding. So what if you don't have one?
The average timber shed may be perfectly sized as a home office, but would prove very chilly on a typical British winter day, so a more permanent construction may be required. You may be able to extend under permitted development, but any standalone brick-built structure will likely require planning permission; the Garden Office Guide provides an excellent breakdown of the circumstances in which you're likely to need it.
The returning appeal of the granny annexe
There are plenty of anecdotal stories of older people having to sell their homes to pay for their care when their health deteriorates, and there are also many documented cases where care home standards have fallen far short of being acceptable. And of course, the last year has seen many older people completely cut off from their families in the name of safety.
So many families face the dilemma of what to do to best support and house their elderly relatives. Do they sell the family home? Can they find suitable alternative accommodation for their elderly parent or other relative? What kind of residential care options are available, or affordable in the area? Are they close by for regular visits?
Also, independence for many older people is crucial. Entering residential care means an enormous change from the life they are used to, and to many feels like a complete loss of independence. A granny annexe is a serious and very positive alternative to many of the care options available.
The idea of a 'granny annexe' dates back to a time when men typically had younger wives (but shorter life expectances), leaving many older women widowed and lonely. An annexe enabled grown-up children to provide care and company, while still enabling a degree of independence.
As our population ages and simultaneously battles a housing crisis, it's perhaps unsurprising that annexes appear to be fashionable again. ONS figures from 2018 estimated Britain's over-80 population at 1.6 million residents, and this figure is project to rise considerably – reaching 3 million over-80s by 2043.
Granny or garden annexes like these differ from garden offices in that, to be used as overnight accommodation, they must meet Building Regulations. Once built, they may be used by friends and family, as short-term holiday lets, or as longer-term rental properties.
In our survey, 43% of respondents said they'd consider a garden annexe for one reason or another, assuming they had the space and could get the necessary permissions – with this figure rising to over half of all under-34s. Older cohorts are also interested in annexes, with around a third of 35-54-year-olds wanting a garden for use by friends and family.
Of course, it's not just elderly relatives who might want a small, manageable space close to (but not integrated into) the main house – annexes also offer independence and privacy for older children who cannot yet afford to fly the nest.
In fact, there are approximately 3.5 million single young adults in the UK who live with their parents, an increase of a third over the past decade, and research found nearly two-thirds of childless single adults aged 20-34 in the UK have either never left or have moved back into the family home because of a combination of factors. This is a trend that is likely to accelerate as the economic and social impact of the coronavirus pandemic deepens.
Annexe-bnb?
The Airbnb revolution means more and more Brits are open to the idea of being holiday let hosts, with spare space providing an extra income stream on top of wages. Airbnb currently has over 250,000 active listings in the UK – and while most are for entire homes, a significant minority are for annexes, outbuildings, chalets and other such buildings.
It's perhaps not surprising that younger, more digitally-savvy homeowners in our survey seemed more open to the idea; one in four homeowners aged 25-34 would build a garden annexe for short-term rent, providing they had the space and could acquire suitable permissions (compared to just 6% of 55-64s).
This could, however, be more of a reflection of younger generations' recognition of property as a means of adding a second income. In our survey:
57% of homeowners under 24 would consider a garden annexe for long- or short-term rent
46% of homeowners aged 25-34 said the same
21% of all homeowners under 34 would consider a garden annexe for long-term rent
Getting your garden office or annexe
Garden annexes come in all shapes and sizes, and the cost can vary significantly. It's possible to get a ready-built unit that qualifies as a caravan under the 1968 Caravan Act (and therefore doesn't usually need planning permission), and these can stretch to £30,000-50,000 for a high-quality mobile home.
Smaller, timber-built structures are available for under five-figures, and there may be able to offset some tax if you opt to install one in your garden to use as an office.
Speaking of tax, it's worth checking with your local council what their rules are regarding garden annexes. There are often council tax exemptions for annexes occupied by relatives over 65, but these same discounts don't typically apply if it's being used by a younger family member or au pair (for example).
Brick-built constructions – whether standalone or extensions at the rear of the house – frequently cost upwards of £20,000, and 12% of 35-44s in our survey said they were willing to spend this much to achieve their garden goals.
For many that would mean remortgaging, but there is another, little-known option for those who don't want to remortgage out of their current deal. A secured loan (or 'second-charge' mortgage) is available to homeowners with sufficient equity, and runs alongside your existing mortgage. It has its own rate and terms, so you could choose to pay it off over a much shorter period than your existing mortgage – potentially saving you considerable sums.
It's similar to taking a personal loan from your bank in this sense, but the amounts you can borrow are typically larger, and the interest rates offered may be far lower.
Tempted?
If you're interested in investing in a garden office or annexe, it may pay to move quickly. The price of sheds could rise by up to 50% this summer, manufacturers have said, as a global timber shortage and the growing desire for home working spaces have sent supply and demand in opposite directions.
There are lots of providers of ready-made or modular options online, or you could alternatively speak to a local builder. Remember to consult your local planning department, and Together can help with the finances with a secured loan.
* 2,000 UK homeowners, surveyed online on behalf of Together, March 2021.
All content factually correct at the time of publishing.
Articles on our website are designed to be useful for our customers, and potential customers. A variety of different topics are covered, touching on legal, taxation, financial, and practical issues. However, we offer no warranty or assurance that the content is accurate in all respects, and you should not therefore act in reliance on any of the information presented here. We would always recommend that you consult with qualified professionals with specific knowledge of your circumstances before proceeding (for example: a solicitor, surveyor or accountant, as the case may be).
Lending decisions are subject to an affordability/creditworthiness assessment.
Any property used as security, including your home, may be repossessed if you do not keep up repayments on your mortgage or any other debt secured on it.