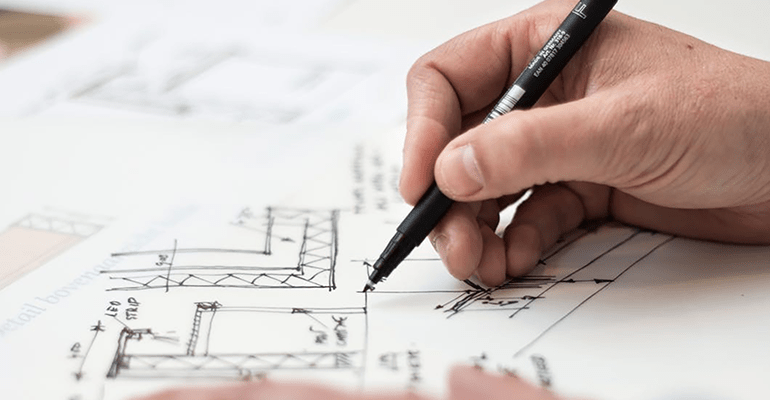 Buying a property off-plan: how it works
.
Buying 'off-plan' means purchasing a property from a developer while it's still under construction – sometimes even before a single brick has been laid. In return for taking a leap of faith, you can often secure a brand-new property at a discount, which is what has attracted investors in the past.
While in more recent years (and since the introduction of the 3% Stamp Duty surcharge in 2016) off-plan sales have begun to
slowly decline
, they still accounted for a third of new home completions last year. As the process of buying off-plan is different to your typical property purchase, we've produced a step-by-step overview of what you might expect.
1) Find the right opportunity
To kick things off, you'll need to do a bit of digging to see if there are any upcoming developments in an area you'd like to buy – local council websites can be a good place to start.
As with any property, you should research the location carefully. Is the development in the catchment area for a good school? Does the area have green spaces, and strong transport links? You can read how to spot a good neighbourhood in one of our recent blogs.
2) Research your developer
Once you've found a suitable project in the works, it's important you research the developer just as thoroughly. Check their website, community groups and social media for reviews to see if other buyers were happy with the finished result.
Ask if you can visit a site they've completed before to give you a better idea of the quality, so you can see how it compares to the floorplan and brochures. If the build isn't very far along, there may not be an opportunity to see anything of the property before you agree to buy it – so these activities will help you visualise the final result.
3) Get your finances in order
Before you take things any further, you should engage with a lender or a broker to see how much you could borrow and arrange a decision in principle (assuming you're not a cash buyer of course).
One of the things that makes buying off-plan very different to a typical property purchase, is the length of time between exchange and completion (years in some cases, rather than one or two weeks). A mortgage offer usually only lasts between three and six months, so it's likely you'll need to re-apply for funding closer to the time of completion, which may cause issues if your circumstances or the market has changed.
If you're planning to 'flip' (sell) the property on in the hopes of making a profit, you may choose a different financing route entirely. It's important to know your options before you decide to go ahead, so we'll talk more about financing your off-plan purchase in our next blog.
4) Negotiate a price
Once you've armed yourself with the information you need and you're happy to proceed, it's time to make an offer and negotiate!
Buying off-plan often means you can secure a lower purchase price, especially if you're reserving a property at the start of the project. But even if your developer won't budge on the purchase price, they may be willing to offer you upgraded fixtures and fittings, and even allow you to make some decisions – on your choice of flooring and kitchen style for example. This could save you some money in changing things you don't like in the long-run. Make sure all of this is captured in your contract before agreeing to proceed.
Once your offer is accepted, you'll likely pay a reservation fee (often in the region of £1,000) which will typically be taken off the deposit you'll have to pay at exchange.
5) Start the legal process
At this point, you'll need to appoint a solicitor – preferably one who understands the complexities of buying off-plan. Many developers will insist that exchange of contracts takes place 28 days after you've reserved the property – so they'll need to move quickly.
Your solicitor will go through your contract with a fine-tooth comb, and arrange for searches to be completed. They should also confirm your developer has insurance in place to protect your deposit in the event they go bust or fail to complete the project.
Once you're given the thumbs up, you'll pay the deposit (typically 10%) and exchange contracts. It's important to remember that once this happens, you're legally committed to buy the property.
6) Prepare for completion
You'll usually be given two dates – the first is when the developer expects to complete (the short-stop date), and the second when the developer must complete by (the hard-stop deadline).
You should be kept up to date with the progress of the development, and you may be able to arrange visits as construction nears the end.
Around this time, the developer will serve notice to complete – giving you a certain amount of time to finalise the purchase. You'll need to arrange either with your lender or through your broker to have the funds in place. When you've paid the final amount, the property is yours!
7) Complete a snagging list
Once you've got the keys, make sure you complete a thorough search of the property and produce a 'snagging list' of issues your developer needs to fix – with them present if possible. This could be anything from paint splashes and surface chips, to faulty appliances; your builder is legally obligated to repair any defects (including cosmetic ones). If you're living in the property, you might come across more problems you didn't spot right away – these can be reported to your developer for up to two years.
Can we help?
In our second blog, we'll talk in more detail about the potential risks and rewards of buying off-plan, as well as the finance options available. Depending on your circumstances, you may be interested to read more about personal mortgages, buy-to-let mortgages, or short-term bridging finance.
Any property used as security, including your home, may be repossessed if you do not keep up repayments on your mortgage or any other debt secured on it.
All content factually correct at the time of publishing.
Articles on our website are designed to be useful for our customers, and potential customers. A variety of different topics are covered, touching on legal, taxation, financial, and practical issues. However, we offer no warranty or assurance that the content is accurate in all respects, and you should not therefore act in reliance on any of the information presented here. We would always recommend that you consult with qualified professionals with specific knowledge of your circumstances before proceeding (for example: a solicitor, surveyor or accountant, as the case may be).
Lending decisions are subject to an affordability/creditworthiness assessment.
Any property used as security, including your home, may be repossessed if you do not keep up repayments on your mortgage or any other debt secured on it.