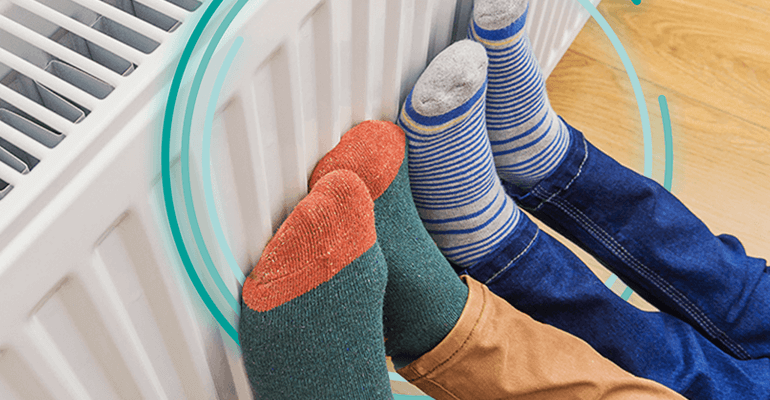 Energy efficiency rules for landlords
.
When you set up any new tenancy agreement as a landlord, you're obliged by law to provide the tenants with a copy of the property's Energy Performance Certificate (EPC) showing its energy efficiency performance based on factors such as insulation, heating and how much energy it uses.
Your rental property should already have an EPC, and you can view your property's EPC on the Government's online register using nothing more than its postcode. The register is free and open to all, so you can view the EPC for any property that's been sold or rented out since EPCs were introduced in October 2008.
It's important to know where your property rates, as new rules mean minimum energy standards for rented properties will shift from an E rating to a C rating in the next couple of years. The new regulations will be introduced for new tenancies first from 2025, followed by all tenancies from 2028.
And while 2025 might seem a while off, finding time to make the necessary improvements and the funding to complete the work can be tricky for many investors, so it's worth getting organised now.
What is an EPC?
It's a report on your property's energy efficiency which details how well the energy features of your property currently perform, and offers recommendations on how to improve your rating.
You'll also see a numerical score between 1 and 100. This indicates how expensive running the property will be; the lower the score, the higher the cost.
Which rented properties need an EPC?
Rented houses, HMOs and self-contained flats need their own EPC.
Bedsits and non-self-contained flats don't need an individual EPC, but the property they're part of does.
You don't need an EPC if you're just renting out a room in your own home, or if you have a holiday let which is rented out for less than four months a year or is let under a license to occupy.
How to get an EPC
If you use a lettings agent, they'll probably offer to arrange an EPC for you (at a cost). You can, if you wish, arrange your own and compare the price.
A list of accredited assessors is available to search online (a separate register applies if you're in Scotland). You can't conduct the check yourself.
EPCs on rented properties
Your property's EPC is valid for 10 years, and a copy must be provided to your tenant free of charge. You can be fined £200 if you don't.
Since 1st April 2018, any property that's rated F or G must be brought up to at least an E rating before it can be rented out, and that will change to a C for new tenancies from 2025. Landlords who do not meet this standard currently face fines of up to £5,000, rising to £30,000 from 2025.
Typical improvements you may need to make include the installation of insulation (loft and/or cavity wall), double glazing, or central heating. Some listed properties and those in conservation areas may be exempt, if improvements (like new windows) would impact on its character.
You may not be able to obtain a mortgage if the property does not have a minimum EPC rating of E. At Together, for instance, we insist on seeing a copy of the EPC for all mortgages and remortgages, where the property is currently being let or you intend to let it in future.
If the property is being let and has an EPC rating of F or G, we:
Will perform a full, in-depth affordability assessment during the application process.
May ask for information about how you're addressing the EPC rating.
May reduce the loan-to-value we're prepared to offer.
Which properties have a lower EPC?
Generally speaking, older properties have lower ratings, because they lack (for instance) cavity wall insulation or double glazing unless these have been retro-fitted.
Older properties have always been a favourite with buy-to-let landlords, whether it's two-up, two-down terraces offering the perfect first home for young professionals or larger Victorian villas prime for converting into houses in multiple occupation (HMOs).
While data shows that homes built before 1900 generally have an E rating or lower, older homes can be brought up to the required standard with a little investment, and could even become more attractive to potential tenants.
Applying for an exemption
If you've been told that you need to make improvements to your rental property, you're not expected to make any changes:
If you can't get funding for them via the Energy Company Obligation (ECO), Green Deal Finance, or a grant from the local authority; or
Without your tenant's consent.
In these instances, you can apply for a five-year exemption.
You can also apply for an exemption if:
The changes would contravene planning rules.
The changes would devalue your property by more than 5% (an estate agent's valuation will confirm this).
Your property is a listed building - you should get advice from your local authority conservation officer if the work would alter the building's character.
Once the exemption period is over, your case will be reassessed to see if it can be given a further exemption.
Need advice on how to finance improvements to your rental property? Find out about short-term lending options like refurbishment bridging finance or speak to one of Together's friendly experts today.
Get in touch
All content factually correct at the time of publishing.
Articles on our website are designed to be useful for our customers, and potential customers. A variety of different topics are covered, touching on legal, taxation, financial, and practical issues. However, we offer no warranty or assurance that the content is accurate in all respects, and you should not therefore act in reliance on any of the information presented here. We would always recommend that you consult with qualified professionals with specific knowledge of your circumstances before proceeding (for example: a solicitor, surveyor or accountant, as the case may be).
Lending decisions are subject to an affordability/creditworthiness assessment.
Any property used as security, including your home, may be repossessed if you do not keep up repayments on your mortgage or any other debt secured on it.