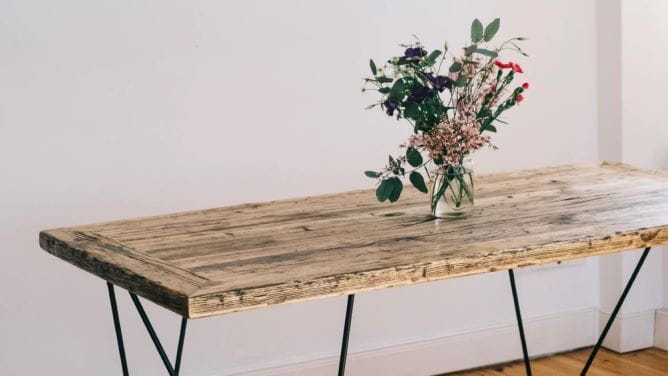 Selling your home: How to present your house for sale
.
They say you shouldn't judge a book by its cover, but first impressions really are everything when it comes to selling your property.
As more and more houses are first viewed online, yours must stand out for all the right reasons against the million other homes listed on Rightmove, Zoopla and similar sites. We've explored some of the ways you can get people through the door quickly, and sold for the best possible price.
Selling an empty house vs a 'lived in' home
Before we get started though, it's worth noting that selling your home is very different to marketing an empty house – such as one you've newly built or refurbished.
If you enjoy watching property programmes like us, then you may have heard that selling an empty building is a bit more difficult. Buying a house is an emotional decision, and staring at bare walls doesn't exactly spark inspiration, or pull at a potential buyer's heart strings.
And unfortunately, a vacant house can often indicate that the owner is desperate to sell. Even if nobody lives there, it's likely that it's still incurring costs – so you might get people making low offers. If this was a 'flip' or a development project, you'll be looking to make as much profit as possible, and you don't have time for heavy negotiations.
Staging your property with furniture
That's why some people turn to home staging services. A marketing technique more established in the US, it's designed to show your property in the best light, and make it feel more like a potential home. Stagers usually charge 2% of your property's value to provide temporary furniture and accessories to suit your space. If we're going off the UK average house price of £256,000, that's around £5,000!
It's a hefty amount, but the potential rewards might prick up your ears. Professionally furnished homes can sell for up to 15% more than the competition, and 3 times faster on average too!
If the upfront cost is a concern, your estate agent may be able to offer the service themselves, and add it to your fee once the property has sold. Regardless, it's always worth chatting with your estate agent before making the investment, as you'll need to consider your property's ceiling value.
Instead, you could try to borrow a few pieces of missing furniture from your friends and family – even if your house isn't empty at all. It's wise to consider your target buyers, and how else they might want to use your space. For example, the spare room might currently be used as an office, but acquiring a temporary double bed could show its potential as a bedroom. Just be sure to use furniture which reflects the size and style of your home, or you risk making it look smaller!
Soft-staging
If you'd rather keep things simple, you can still bring your empty property to life with a few soft-staging techniques. Investing in rugs, especially if the house is more open plan, allows you to define different zones and indicate where a dining table or sofa could be.
Adding decorative pieces such as artwork and mirrors helps creates clear focal points, and emphasize popular features such as fireplaces and tall ceilings. You could also add a few floor lamps to create a warmer light, and fill those dark, difficult corners.
It's true that kitchens and bathrooms sell houses, and what's great is these areas don't require much in the way of furniture. Staging these rooms with flowers and fruit bowls is a brilliant way to bring life and nature indoors, and make them attractive selling points.
Styling your home
If your house is one that's lived-in and furnished, you may still want to invest in some decorative pieces to inject texture and colour. You're going for a cosy and homely feel, but nothing too personal. There's nothing wrong with family photos, but perhaps take magnets and children's drawings off the fridge to keep the space looking minimal. If you've got bold taste, you could consider toning down your colourful walls in favour of something more neutral.
If you're not sure where to start, you could get in touch with a design expert, many of whom specialise in dressing homes for sale. We recently interviewed an interior designer who has started offering consultations via Zoom, for people who want to give their house a mini-makeover. They can advise you on making best use of existing furniture, planning the space better, and decluttering – which could be well worth the small fee.
Clean and tidy
Even if you don't have any budget to enhance your home – keep it tidy and spotless! 68% of UK buyers say kerb appeal is really important when it comes to choosing their home. Cutting the grass, sweeping away any leaves, and making sure your windows sparkle all contribute to making that great first impression. Inside, try to keep things like shoes, dog beds and rubbish bins out of sight as best you can. Staging your house for sale is as much about taking items out as it is adding them in!
While unlikely to add value to a property, decluttering could be the difference between zero and multiple offers.
Appeal to all the senses
Baking bread on viewing day might be a little cliché, but according to one survey, a staggering 86% of Brits said the smell of a house influences their decision to offer.
If you want your property to sell faster, it's important you pay close attention to any negative smells such as rubbish, cigarettes, and even your furry friends.
Though you'll want your house to be spick and span, 45% of the surveyed Brits said the smell of cleaning products was extremely off putting. So it's important your property smells homely and inviting, not sterile. If you're not the next Mary Berry, you could check out Beautiful Home's secrets to making your home smell like a bakery. Or simply the scent of coffee could do the trick too.
Even if the house you're selling is empty, they can begin to smell damp and stale. It's a good idea to visit a few times a week and leave the windows open for a while, and you might decide to purchase some subtle plug-in air fresheners. Again, just make sure you've been able to air the property before a viewing, or the smell could become overwhelming. You wouldn't want a buyer to think you're hiding something!
If you're still in the process of selling your existing property but have found your dream home already, take a look at our chain-break bridging loans.
All content factually correct at the time of publishing.
Articles on our website are designed to be useful for our customers, and potential customers. A variety of different topics are covered, touching on legal, taxation, financial, and practical issues. However, we offer no warranty or assurance that the content is accurate in all respects, and you should not therefore act in reliance on any of the information presented here. We would always recommend that you consult with qualified professionals with specific knowledge of your circumstances before proceeding (for example: a solicitor, surveyor or accountant, as the case may be).
Lending decisions are subject to an affordability/creditworthiness assessment.
Any property used as security, including your home, may be repossessed if you do not keep up repayments on your mortgage or any other debt secured on it.