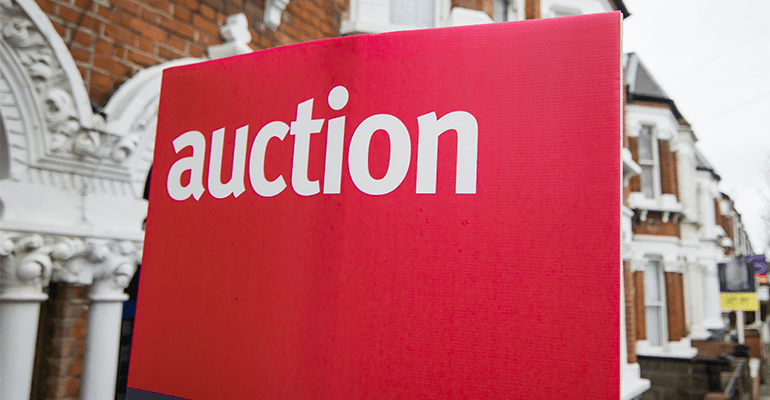 Our guide to Property Auction Finance
.
Auction finance is a type of bridging finance, and it's used to complete the purchase of an auction property within a strict timescale – sometimes in as little as a few days. It's a solution designed with speed in mind, but also to offer flexibility on a wide range of complex property types, and it can be used by home buyers and investors alike.
Auction finance isn't as well-known as a mortgage, so it's not always fully understood – even by auction houses and seasoned property buyers. We asked Scott Hendry, Auction Finance Director, and Scott Clay, Head of Introducers, to answer some frequently asked questions.
How does auction finance work (also known as bridging finance)?
"It's secured against a property (like a mortgage) but it's a short-term loan, and customers will have up to 12 months to repay the money in one lump sum – either by arranging long-term borrowing like a mortgage, or selling the property on (if they are an investor). It's often used as a way to bridge a gap between money going out and money coming in.
"While a customer has their loan, one of two things will happen. Either they'll make interest payments each month (which they can choose to bundle any fees into). Or, their interest could be added to the lump sum they repay at the end instead. At Together, this second option is available to those who are buying a property to live in.
"Either way, there are no early repayment charges so borrowers can repay their bridging loan whenever they have the cash available, making it a great option for those who need flexibility."
- Scott Hendry, Auction Finance Director.
"For those buying a property for themselves or one of their family members to live in, the option to make no interest payments while they have their bridging loan offers a huge advantage.
"It means they can focus their efforts on getting their new home move-in ready and don't need to worry about having the cash available to make regular payments – especially if they've got an existing mortgage to repay each month if they haven't sold their old property yet.
"The interest will be rolled-up and repaid in a single lump sum at the end of their term – once their previous property is sold, for example."
- Scott Clay, Head of Introducers.
How can bridging finance be arranged so quickly?
"When it comes to purchasing a property at auction, everything happens quickly. As well as having to make a fast bid to beat the hammer, buyers will usually have less than a month to complete on their purchase – which requires having funds readily available.
"Our auction partners and their sellers naturally want to make sure whoever has the winning bid will be able to fulfil their commitment. And this can mean only wanting to sell to a cash buyer. But what they might not realise is that bridging finance gives borrowers a very similar advantage because it can be arranged so fast – in fact, sometimes it only takes a couple of days, especially if the customer has been pre-approved.
"How? Well, bridging loans don't require the same rigid affordability assessments you'd expect to go through when applying for a mortgage. That's because the loan will be repaid in a lump sum by a method which doesn't involve the borrowers' income (for example, the sale of a property).
"And thanks to decades of attending property auctions and handling so many unique property transactions, our team at Together is highly experienced. This means we know very quickly when we can accept an application and can underwrite these loans with speed and efficiency.
"For sellers and auction houses, this could mean having access to a wider pool of buyers who have the funds available to make a bid, which could potentially lead to a more successful auction."
- Scott Hendry, Auction Finance Director.
Can mortgages be arranged in time to buy at auction?
"In the majority of cases, our auction customers take out a bridging loan because it's most suited to their situation. But yes, we can arrange a mortgage in time to complete on an auction purchase for the same reason Scott has outlined – our expertise.
"Our experience lets us turn around a mortgage much faster than a typical high street lender might be able to, which means there's a good chance someone could get their mortgage with us in time for their 28-day completion deadline.
"If we know about the deadline in advance, we'll work hard to get the funds arranged in time and we have dedicated people who know exactly what to look for and what documents we'll need to see in order to get everything boxed off fast.
"We also have the Together app which we use to chat to applicants and request files which they can upload – we don't need to see physical copies like some banks do! And of course, for those customers whom we work with regularly – like landlords and investors – we can progress things even faster due to the relationships we've built and our understanding of their businesses."
- Scott Hendry, Auction Finance Director.
Can you explain more about getting 'pre-approved'?
"We provide auction buyers with a free decision in principle tool on our website which can tell them how much they could expect to borrow in as little as five minutes. Customers can get pre-approved for a loan before, and even during, an auction without affecting their credit file. This means auction goers can be confident they can afford a property, before they tie themselves into a contract.
"Buyers should also feel confident that we can be flexible on the type and condition of property that they're looking to purchase, which is really important with the unique properties and bargains typically found at auction.
"We can lend on residential properties, commercial properties, or a mix of both (such as a B&B they intend to live in).
"We're also experienced when it comes to properties of non-standard construction materials, in poor or uninhabitable condition, and those which need dividing up into several, smaller units. And we'll accept high-rise flats and ex-council properties, those with short leases or complex freeholds, and even land (with or without planning permission)."
- Scott Hendry, Auction Finance Director.
Can you explain how home buyers can use auction finance?
"As we've mentioned, running out of time is one of the most common reasons to choose auction finance. And if a customer is worried about losing their deposit because a mortgage is taking too long to arrange, it might be time to call on the help of a bridging loan specialist like Together.
"Or, if a buyer is intending to sell their current property to fund their auction purchase, they may need finance to bridge the gap between both completion deadlines. If they are buying a house or flat at auction to live in, they won't need to make any interest payments on their bridging loan while they have it, so they can concentrate on paying their old mortgage.
Likewise, if their auction purchase needs refurbishing before they can move in, they may wish to keep hold of their existing property for a while. With auction finance in place, auction buyers can complete the work while living in their current home, so they won't need to rent somewhere in the meantime and again, won't be making any interest payments whilst doing so. Their interest will be rolled into the lump sum they'll pay at the end of their loan term.
If their renovation will add value to their auction property, customers could get a better mortgage deal if they wait until the work is completed. They may end up with a lower Loan-to-Value (LTV) than if they'd got their mortgage from the off, which could mean more mortgage products are available and accessible to them."
- Scott Clay, Head of Introducers.
Can you explain how property investors can use auction finance?
"Auction finance can be useful if auction buyers need time to secure a mortgage. However, they might only intend to own the property for a short period of time – if they're buying to renovate and sell on (or flip) the property, for example.
"Auctions are full of exciting refurbishment opportunities, and with a bridging loan, they'll have up to 12 months to turn their project into someone's ideal home – while only making interest payments each month. Once they've sold up, they'll repay what they borrowed in one lump sum.
"Furthermore, investors might not be able to secure a mortgage right away if the property is classed as 'uninhabitable' – many lenders won't lend on places without a kitchen or bathroom. They might find themselves in a similar situation if they are purchasing land to build on too.
"Lenders like Together who specialise in auction finance can often help in these cases – even if they haven't got planning permission agreed yet. This means investors will have time to start their project before they refinance onto a long-term finance option such as a buy-to-let mortgage. And, as Scott mentioned, customers might also be able to get a better deal on their mortgage after works have been completed because their LTV might be lower. This could give them more equity which they could use to grow their buy-to-let portfolio."
- Scott Hendry, Auction Finance Director.
Learn more about auction finance
You can learn more about auction finance here, or get in touch with one of our friendly auction experts.
All content factually correct at the time of publishing.
Articles on our website are designed to be useful for our customers, and potential customers. A variety of different topics are covered, touching on legal, taxation, financial, and practical issues. However, we offer no warranty or assurance that the content is accurate in all respects, and you should not therefore act in reliance on any of the information presented here. We would always recommend that you consult with qualified professionals with specific knowledge of your circumstances before proceeding (for example: a solicitor, surveyor or accountant, as the case may be).
Lending decisions are subject to an affordability/creditworthiness assessment.
Any property used as security, including your home, may be repossessed if you do not keep up repayments on your mortgage or any other debt secured on it.