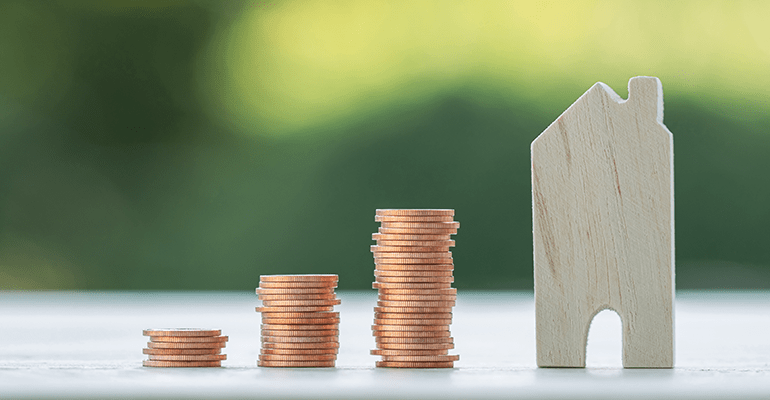 Raising money to refurbish your buy-to-let
.
Whether you're doing up a property to rent out or need to give your existing buy-to-let property a bit of TLC, there are ways to find the cash without dipping in to your personal savings pot.
Can I borrow more on my existing mortgage to refurbish my property?
Remortgaging the property is always an option, and will rely on you having built up enough equity in the property; make sure the amount you can borrow is enough to cover the work. The extra borrowing means you'll either need to extend the term of your mortgage, or increase your monthly payments. Think about how each option would impact your finances in the longer term.
It's not without its disadvantages, though. Remortgaging to borrow extra can take time to arrange too, so you might have to wait to get started on the project until the money comes through. There's also the possibility of Early Repayment Charges applying (depending on how long ago you took out your mortgage), and you may end up with a higher interest rate if your circumstances have changed as well.
Raising money without remortgaging
You could instead, if you have the equity available in the property and can afford the repayments, arrange what's known as a 'second-charge' loan. These are otherwise known as secured loans, and they run alongside your existing mortgage. Your existing mortgage retains its existing rate, duration and payments, and the second-charge loan will have its own terms. It means you're making payments towards both at the same time.
One potential benefit of arranging a second-charge loan is that you could pay it off over a shorter period than your main mortgage. This can reduce the total amount you repay, because you're borrowing the extra over a shorter period.
Refurbishing before sale
Some landlords use bridging loans to secure the cash they need to update their property before selling it on. Bridging loans are called that because they offer a short-term 'bridge' between work commencing and finishing.
You borrow only the money you need for buy-to-let renovations loans and make monthly interest payments while the loan is in force – they typically last up to 12 months. If you have a number of buy-to-let properties, you can secure your bridging loan against several of them, which could help to reduce the interest rate.
When works are completed, you can refinance all your borrowing – including the bridging loan and any existing mortgage – with new, long-term borrowing. And if the renovations have increased the property's value, this may mean your loan-to-value ratio is reduced – unlocking some lower-rate options.
A personal loan could also be an option, and this won't be secured against the property. If you're not sure which is right for you, make sure you get some advice from an independent financial adviser.
Can I borrow extra on my buy-to-let mortgage to refurbish a property I'm buying?
Some lenders will allow you to roll the cost of refurbishments into your initial borrowing, if the figures add up and they're happy the work will add value. Or, if the work is relatively cosmetic, you might want to adjust how much deposit you're going to put down and keep some cash back to pay for the work.
But if the work is more substantial and you're struggling to find a buy-to-let mortgage to cover it, some lenders are now also offering refurbishment bridging finance to account for the number of investors looking to buy run-down homes and renovate them for rental.
Refurbishment bridging finance allows you to complete the initial purchase, and you then complete refurbishments using savings. Then, once you've done the work, you can extend your loan to cover the cost of the refurbishments (although this may be limited by how much you've spent and the impact it's had on the property's value). This puts your renovation costs back in your pocket, and you'll repay everything you've borrowed using the proceeds of sale within 12 months of starting the project.
All content factually correct at the time of publishing.
Articles on our website are designed to be useful for our customers, and potential customers. A variety of different topics are covered, touching on legal, taxation, financial, and practical issues. However, we offer no warranty or assurance that the content is accurate in all respects, and you should not therefore act in reliance on any of the information presented here. We would always recommend that you consult with qualified professionals with specific knowledge of your circumstances before proceeding (for example: a solicitor, surveyor or accountant, as the case may be).
Lending decisions are subject to an affordability/creditworthiness assessment.
Any property used as security, including your home, may be repossessed if you do not keep up repayments on your mortgage or any other debt secured on it.