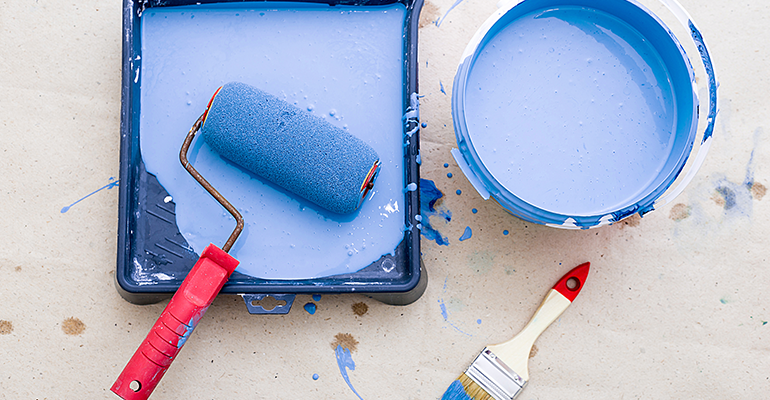 Renovating vs. the cost of living: how to make it work
.
Doing up used to be a great value alternative to moving up, but with the cost of living crisis and building material price hikes putting the pressure on renovation projects, is it possible to add value anymore?
We've pulled together some ideas and insights to help you to squeeze the most out of your home improvement budget without having to cut corners or compromise on the home you want.
Why is renovating so expensive now?
Inflation reached 11.1% in the 12 months to October 2022 setting a 40-year high, according to the Office for National Statistics (ONS). This affects things like bills and the cost of food, meaning renovation budgets might be smaller, and inflation is making costs of materials and labour increase, meaning budgets don't stretch as far as they would have a few years ago.
According to the National Federation of Builders, material prices are changing weekly – and are on average 23.5% higher than they were last year. And the overall cost of carrying out home improvements increased by 61% between January 2021 and 2022, according to online directory Checkatrade.
But some costs have risen by much more: the average bricklayer is charging 103% more today than they were in 2021. It is therefore very likely that prices will increase mid-build, especially for new-builds or extensions. Most companies giving estimates for home improvements will advise that prices can change – and, with the situation moving so quickly, some are making sure this is spelled out in extra-large print, as it's likely people will need far more than the usual 10% contingency fund to cover unforeseen costs.
Where can you add the most value to your property?
Not all home improvements add to your home's monetary value. In fact some can actually have a detrimental effect on what your house is worth. But value isn't easy to define. For example, a £40,000 loft conversion may not add £40,000 value to your house price right away, but if you need the space and don't want to move, it will save you money and hassle and create the space you need. And over time, you could break even or make a little profit.
Here are some ideas on how to make the most of your renovation plans.
#1. Add an annexe
Building an annexe (a self-contained living space featuring a kitchen, bathroom and bedroom) or an extension might seem unusual if you're trying to maximise your budget, but this larger upfront cost could actually add the most value to your property and help to reduce costs in the long-run.
With grown-up children staying home for longer, often unable to get on the property ladder, and elderly relatives benefiting from being closer to family, annexes that provide a flexible living space and accommodate our changing lifestyles can make real financial sense.
#2. Get a consistent finish
Spending £50k on a high-end kitchen when your bathroom is 20 years out of date might not add the value you were hoping for. A consistent finish across the property is more likely to add value if you want to sell, and make for a more pleasant place to live too.
If you're thinking about resale value, don't go with anything too divisive on structural elements like kitchens, bathrooms or layout either, as you'll want to make sure the work you've done appeals to the broadest spectrum of potential buyers.
#3. Stay in line with the neighbourhood
While it's fine to add to and improve your home, it's important to think about what's available nearby.
If you're planning on adding two extra bedrooms to your two-bed house to make it appeal to families but most of your neighbours are young professionals or older couples, it might make your home harder to market in the future. The opposite applies too – if every house in your street is three bedrooms and you knock through to create a different space, like an en suite or dressing room, this could affect your resale prospects.
You might've heard the term 'ceiling price' before and it's something you should consider before renovating your home if you're looking to add value. Whilst you can absolutely aim to be the most saleable house on your street, you can estimate the ceiling price of your property by checking the maximum sold prices of similar properties in your postcode. This will help you work out what potential buyers would be willing to pay if you sold your property so you don't overspend.
You could also approach an expert valuer for their opinion on the maximum your property would sell for in the current market.
Ready to get started? Here are four ways to keep costs down.
If you're set on going ahead with your project, you can keep a handle on costs with these four simple tips:
#1. Get a written quote: A builder can't charge you more than they've stated on a written quote unless you add jobs or change the specification of the materials being used later. Make sure that everything you want is included at the outset, if possible. If prices keep rising, things that you add later may come at a higher cost than you anticipate.
#2. Buy materials early: If you have out-of-the-way, secure storage at your project, opt to order materials early and store them to avoid further price rises. Or, if on-site storage is not possible, negotiate extended delivery dates with your suppliers so you can order something at today's price but have it delivered as and when your project requires it.
#3. Ditch bespoke elements: Picking off-the-shelf materials with standard sizes can also help keep costs down. Spending time sourcing big-ticket items and looking for second-hand and ex-display products can not only save you money, but you can also avoid the supply chain delays many builders face.
#4. Shop around: Always make sure you get more than one quote when choosing a tradesperson and consider all of your options on design spec. It's also worth remembering that you don't need to buy all of your materials from the same place – you can purchase your kitchen worktops, sink, taps, and appliances from different shops or suppliers, which might save you a considerable amount of money.
Want to know where to save and where to splurge? Read our blog to help you decide.
How to fund your dream home renovations
You may have seen in the news that big banks are being more cautious with their lending as the cost of living crisis begins to bite, so new borrowers might find a lot of standard options are closed to them.
And if you've already got a mortgage, remortgaging out of your existing deal may not be the best option if you're currently on a good rate. So, it might be worth considering a secured loan (also known as a second charge mortgage) or a home improvement loan, which could potentially save you money over remortgaging. It has its own rate and terms, so you could borrow over a shorter period of time, and avoid paying Early Repayment Charges on your current mortgage.
Remember, it's always worth speaking to a mortgage adviser or specialist broker to help you work out the best and most cost effective solution and if you could afford repayments should interest rates rise further.
To learn more about homeowner secured loans, get in touch with our friendly team of experts today.
Get in touch
All content factually correct at the time of publishing.
Articles on our website are designed to be useful for our customers, and potential customers. A variety of different topics are covered, touching on legal, taxation, financial, and practical issues. However, we offer no warranty or assurance that the content is accurate in all respects, and you should not therefore act in reliance on any of the information presented here. We would always recommend that you consult with qualified professionals with specific knowledge of your circumstances before proceeding (for example: a solicitor, surveyor or accountant, as the case may be).
Lending decisions are subject to an affordability/creditworthiness assessment.
Any property used as security, including your home, may be repossessed if you do not keep up repayments on your mortgage or any other debt secured on it.