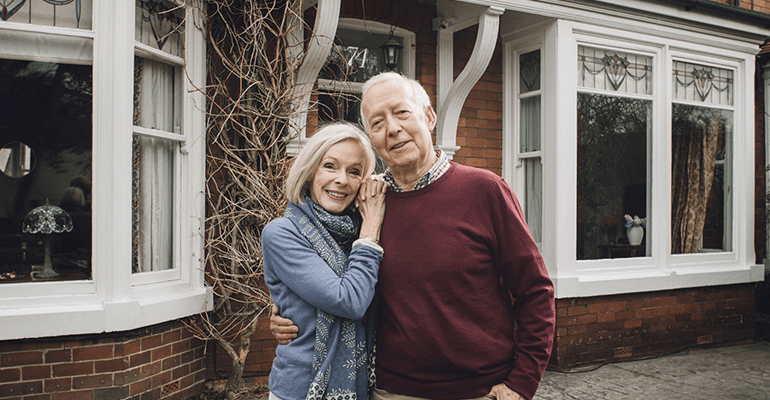 Why bridging loans are so popular with the over 50s
.
Older borrowers, particularly those approaching retirement age and beyond, are often overlooked by the mainstream banks when it comes to taking out a mortgage or large loan.
Despite usually being more asset rich and financially savvy than younger borrowers, their lower long-term earning potential (particularly for those who already rely on pension income) unfortunately may mean that they would be turned down for a loan by most high street lenders.
As a result, we've seen older borrowers in recent years become increasingly open to alternative sources of finance, like loans from specialist lenders, to help them downsize or for short-term loan for home improvements.
And one of the areas that has seen the biggest growth in demand from this key demographic is in bridging loans; short-term loans that can be delivered within a tight deadline for borrowers who need cash quickly. These loans can be used when buying a property at auction, but are also popular among buyers hoping to rescue a stubborn housing chain from falling through or looking to modernise an outdated property before it goes on the market.
At Together we've seen how popular bridging loans are becoming with the over 50s. Here are the top reasons why:
More financially experienced
As a group, the Over 50s are widely regarded as more financially savvy than their younger counterparts thanks to the wealth of life experiences they've had over the years. They've lived through multiple financial cycles and have seen their investments rise and fall. They've also usually purchased multiple homes over their lifetimes, securing numerous mortgages which (in some cases) they may have already paid off.
Thanks to these experiences and generally being more asset rich, the over 50s are often more confident in their finances and therefore more open than younger borrowers to alternative sources of finance like bridging loans.
Investing for retirement
With life expectancy in the UK rising, never before has there been so much pressure on our pensions to keep us supported financially throughout our twilight years. As a result, some over 50s are taking the step to become landlords, purchasing a second or third property to either buy, do up and sell quickly for a profit, or let out with a view to using the monthly rents to supplement their pension income.
The quickest way to achieve this landlord dream, particularly if you are looking for a bargain or a 'doer-upper', is by purchasing such properties through an auction. Bridging loans have become more popular for these kinds of auction purchases (where payment is usually due with 30 days) because of the speed and convenience of securing the finance needed.
Looking to downsize
For retirees or anyone approaching retirement age whose children have long since flown the nest, selling the large family home and downsizing to a smaller, more manageable property is generally regarded as a wise financial move. The sale proceeds can be used to top up a pension pot, or to free up cash to give to children or even grandchildren to help them get on the property ladder. Whatever your reasons, the next home you buy is going to be an important one, where you can enjoy your well-deserved retirement in peace.
However, once you've found your dream home for retirement, the problem many retirees face is selling their old home. Perhaps it is struggling to sell as its décor is outdated or it's in desperate need of a new kitchen. Other sellers may manage to find a buyer but, as the sale progresses, they then get stuck in an immovable chain. In both situations, a bridging loan could be the answer, providing you with short term finance to update your home to give it the best chance of selling, or to break out of a bad housing chain by effectively becoming a cash buyer. Then, once the sale of your old house completes, you simply repay the bridging loan in full with the proceeds.
An added benefit here is that most bridging loans do not have monthly payments. Instead, interest accumulates over the term of the loan (usually 12 months) before being paid back in a lump sum at the end of the period. This gives you more breathing space to make your sale at the right price while still securing your dream home for retirement.
For more information on bridging loans, or to speak with one of our team to decide whether bridging could be right for you, click here.
All content factually correct at the time of publishing.
Articles on our website are designed to be useful for our customers, and potential customers. A variety of different topics are covered, touching on legal, taxation, financial, and practical issues. However, we offer no warranty or assurance that the content is accurate in all respects, and you should not therefore act in reliance on any of the information presented here. We would always recommend that you consult with qualified professionals with specific knowledge of your circumstances before proceeding (for example: a solicitor, surveyor or accountant, as the case may be).
Lending decisions are subject to an affordability/creditworthiness assessment.
Any property used as security, including your home, may be repossessed if you do not keep up repayments on your mortgage or any other debt secured on it.