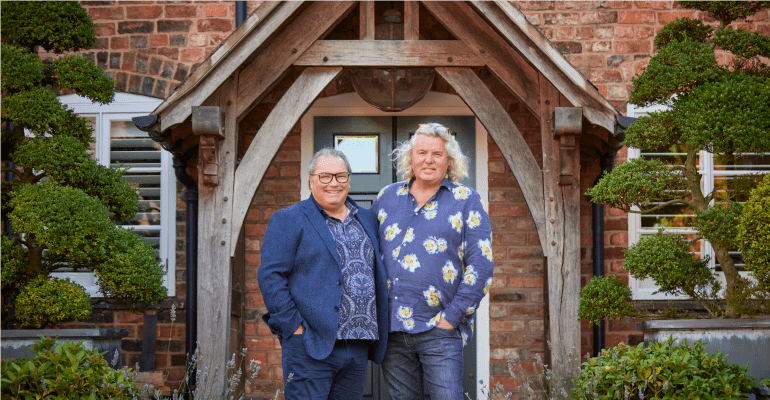 Gardener's world: UK-leading horticulturalist buys stunning old hall for £2.5m
.
Architectural designer and property developer Ken Roscoe – the owner of the UK's Garden of the Year - bought the country hall he's been living in for a decade after securing a mortgage from specialist lender Together.
Ken, 57, a self-employed entrepreneur, has lived in the listed 17th century Stretton Old Hall in Cheshire for the past ten years, and has transformed the spectacular five-acre garden to include a swimming pool, tennis courts and an award-winning landscaped garden.
The impressive results featured on Channel 4's televised Garden of the Year competition earlier this year, winning the prestigious title out of 20 competitors from across Britain.
Ken had been renting the property on a long-term lease, and lives there with his husband. They decided to buy the dream home for £2.5million after completely re-designing the garden to turn a large field into a beautiful, manicured and tranquil series of outdoor 'rooms'.
He said: "Ten years ago, it was such a large grassed area that, even if you were cutting it with a ride-on lawnmower, it would take five hours to mow and you'd never know what to do with all the cuttings.
"I've always been passionate about architectural design and always worked in that field– both commercially and privately – designing hotels, restaurants and high-end homes around the world. We knew the garden was crying out for much more than we had at that time.
"After we had lived in the house for a year we were able to consider how the garden was through all four seasons. That winter we did the master planning; where to put screen hedges as a barrier to the wind and everything else we needed to do. We spent the next 18 months developing the garden to pretty much what's there today.
"It was a major undertaking both financially and as a time commitment but the rewards are beyond fantastic. We now have everything we ever wanted."
The amazing contemporary garden features a Mediterranean terrace flanked by olive trees in huge terracotta pots, leading to a series of immaculate formal lawns. Elsewhere, there are spectacular garden design features, sculptured spheres, water features, a boating lake and wildflower meadows.
A huge Rajastani gate leads into a walled kitchen garden with central fountain and large greenhouse. The whole garden is surrounded by spectacular views across rolling Cheshire countryside.
Stretton Hall itself is an impressive five-bedroom traditional farmhouse, set in eight acres of land with a separate, two bedroom, cottage for guests, stables and garaging, as well as outdoor tennis courts and swimming pool, with pool house.
"The family gardens work particularly well in that very quiet environment," said Ken. "We considered moving after completing the garden and extending the house but we decided that we loved it so much that we wanted it to be our forever home."
As well as developing super-luxury properties across the globe, the property entrepreneur has also been responsible for building high-end houses and apartments closer to home – in Chester and Cheshire – many with commercial finance from Together, a Manchester-based specialist lender which also provides personal mortgages.
Ken said: "Because of that, it seemed the natural choice to speak to Together about the mortgage borrowing for our own house."
He was introduced to Together Premier, the lender's dedicated service for High Net Worth (HNW) clients, who were able to iron out the complexities of the mortgage deal, including the fact that Ken is a self-employed company director.
He said: "As a self-employed property developer, you don't always fit into the simplest of moulds when it comes to proving your income – you can't just go to the mainstream banks and say 'here's my p60, please can you give me a mortgage?' but with Together, I have that existing relationship, so it was much easier."