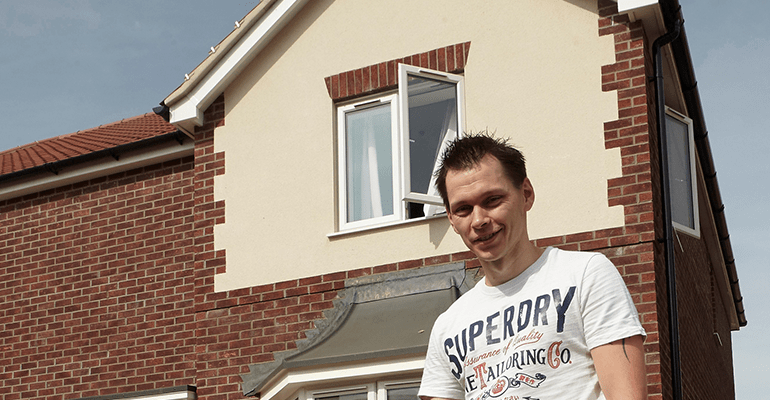 How to get a leg up on the housing ladder
.
Leigh, 32, bought his first home after years of renting - with a shared ownership mortgage.
After more than a decade in rented accommodation, Leigh Benwell thought he might never be able to save enough to set foot on the property ladder.
But thanks to the government-backed shared ownership scheme, he's stepped onto the first rung, by buying a share of a smart, three bedroom property, giving him - and his four-year-old daughter - more space to live their busy lives.
He managed to buy the stake in his new-build home in Grimsby, Lincs, with a £38,587 mortgage at a rate of 6.74% from specialist lender Together, after a string of high street banks and building societies turned him away, partly because of his employment - he was on a fixed-term 12-month contract.
Leigh, 32, who moved into his new house this month (JULY) is one of just six per cent of first time buyers using the shared ownership scheme. He plans to extend his stake in the property over the next few years until he owns it outright.
We spoke to the dad-of-one about achieving his property-owning dream.
Why did you decide to buy your own home?
"I've been living in various rented accommodation for more than ten years, since I left home when I was about 20 because I just haven't been able to buy my own property. Being able to put together a deposit while paying rent and your bills makes it quite a struggle to save for a deposit as well."
"It was really important for me to have my own house, even more so over the past few years after me and my ex-partner went our separate ways to different rented accommodation. We have a daughter whose five in September, so it's important to know that I've got a settled home and have somewhere for my daughter, who comes to stay three nights a week."
Was it easy to get a mortgage?
"Being able to afford my own home was a bit of a struggle due to various circumstances. I had some bad credit from a mobile phone contract that my partner took out in my name, but I've managed to sort that out now."
"Also, changing jobs recently also caused some problems and I was initially on a 12-month fixed-term contract until October. I work for the local council dealing with parking services department but it was a completely new role. I'd been there four months when I applied for the mortgage and they are now looking to make the position permanent."
"I'd looked all over and spoken to the high street banks, including Barclays, who I bank with. For a Shared Ownership mortgage, they wanted me to put down a 15% deposit on whatever my share of the property would be, which made the deposit quite high. I had a look around building societies as well, such as Mansfield BS. They were willing to offer a 95% mortgage with a 5% deposit but they had an issue when it came to my employment situation.
How did you eventually get the finance you needed?
"I did a search online for mortgage lenders who did shared ownership mortgages and Together came up. I was happy they did. I talked to one of their mortgage advisers and he took me through all the bits of financial information to find out whether the mortgage was affordable.
"When I told him I was on a fixed term contract, he spoke to my employer and they sent a formal letter saying that, from a business point of view, they needed the role to continue and planned to extend the role as a permanent contract. Together were great at looking into my background and agreeing the mortgage."
What kind of mortgage did you get?
"I put down a deposit of £2,000, which was just over 5% of the £38,587 five-year fixed-term mortgage, just by putting bits of money away and saving on things like takeaways and going out. I saved the deposit over about two years and it was quite difficult to save when your wages have to stretch to paying bills and rent."
Why did you chose a new-build in the area you did?
"I grew up in the area where the property is and all my family live around there, whereas I had been living a little way away when I was renting. It is also close to my daughter's school, close to work, and near where everything is going on. It's a great location."
How do you and your daughter feel after you completed?
"It's pretty much everything that me and my daughter need, so we're set up for a long time to come. There's a lot more space than we'd been used to. We'd been living in a small, two bedroom two-up, two-down for the past three to four years, so It's a lot better than we were used to. My daughter's really excited that she can even have a second room as a toy room - she's absolutely made up!"
"I've got the furniture I need but there was no flooring down, right through the house. I've had some carpet fitted now, so I can start getting everything a bit more in shape."
What do you think of the government's shared ownership scheme?
"I personally think that shared ownership is a great idea. I would have never, ever got a house any other way. I think the minimum deposit that I would have needed to put down was £8,000 and, with costs on top, it's not an amount I would have been able to get together. Without shared ownership and Together helping me with the mortgage, I wouldn't have been able to do it."
When do you think you'll move again?
"We won't be moving any time soon. The reason I wanted to buy my own place was so that we could actually settle in a house, with nobody telling us they are selling and we have to leave, so it's just perfect!"
Pete Ball, Personal Finance CEO at Together, said: "We're delighted for Leigh and his daughter that he's now bought a share of his home after years of renting. Other lenders were either asking for large deposits or unable to provide a mortgage because of his employment status, so we're proud that our team was able to use a common sense approach, looking more closely into his individual circumstances, to provide the finance he needed to get on the property ladder."
For further information on Together's shared ownership mortgages, visit: visit our Shared Ownership page
Although we endeavour to lend within the shortest possible timescales, this is not always achievable in 100% of cases.