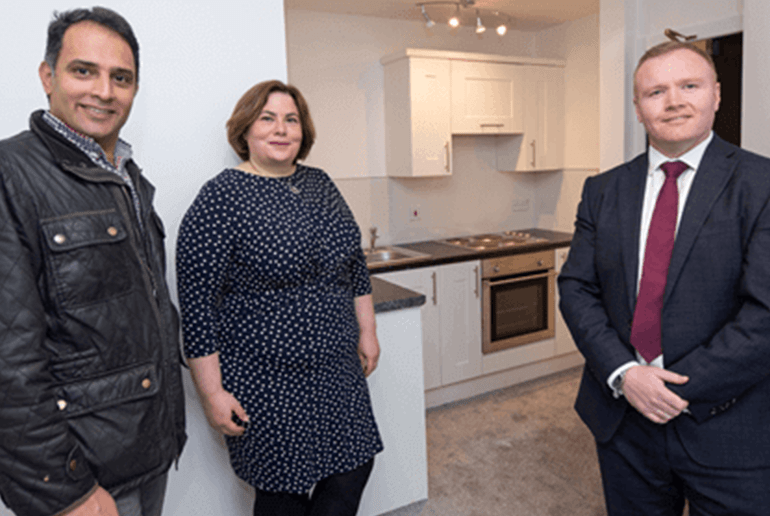 Property developing couple launch modern rental properties into Aberdeen property market
.
A husband and wife property investor team are set to breathe new life into a tired block of flats in Aberdeen.
Dr Mohammad Namavar and Dr Elahe Radmaneshfar plan to turn 17 serviced apartments into modern rental homes thanks to a £437,500 cash injection, which contributed to purchasing part of the portfolio along with funding from other sources.
We agreed funding on the three-storey building, which stands next to the art-deco inspired OYO Northern Hotel on Great Northern Road.
Steven Clark, regional development director for Scotland, said: "Despite the challenges the Aberdeen property market has faced in recent years, we are keen to support clients in the North East.
"I have a great relationship with Mohammad and Elahe, having worked together on several occasions before. They have a reputation in Aberdeen of injecting life back into properties to improve areas of the city and we wish them all the best in their latest project."
The short-term bridging loan supported the purchase of the block. Elahe and Mohammad are renovating each flat after noticing a gap in the Aberdeen rental market.
The development includes installing new bathrooms, kitchens and modern heating systems, and updating the flooring and décor to create modern yet affordable homes for future tenants.
Before starting their property business full-time, Mohammad was working in the oil industry and Elahe was a research scientist. They will rent out each of the apartments individually on long-term contracts, providing five two-bedroom, four one-bedroom and eight studio contemporary homes for the city – each ideally located for the University of Aberdeen and the city centre.
The couple have built up a portfolio of nearly 34 properties throughout their career as Scotland-based property investment company, Cito Cimo Properties Ltd, and say the new project will give them "financial security for years to come".
Mohammad said: "We saw potential in this particular building and set out to renovate the apartments to a high standard at an affordable rental price. It has been an exciting project over the last few months and we're sure that they will be a positive addition to the letting market in Aberdeen. We're proud to be playing a part in helping ease Aberdeen's housing shortage.
"As our portfolio has grown, we have always had a positive experience working with Together. Steven has, once again, been helpful throughout the process."
All content factually correct at the time of publishing.
Articles on our website are designed to be useful for our customers, and potential customers. A variety of different topics are covered, touching on legal, taxation, financial, and practical issues. However, we offer no warranty or assurance that the content is accurate in all respects, and you should not therefore act in reliance on any of the information presented here. We would always recommend that you consult with qualified professionals with specific knowledge of your circumstances before proceeding (for example: a solicitor, surveyor or accountant, as the case may be).
Lending decisions are subject to an affordability/creditworthiness assessment.
Any property used as security, including your home, may be repossessed if you do not keep up repayments on your mortgage or any other debt secured on it.