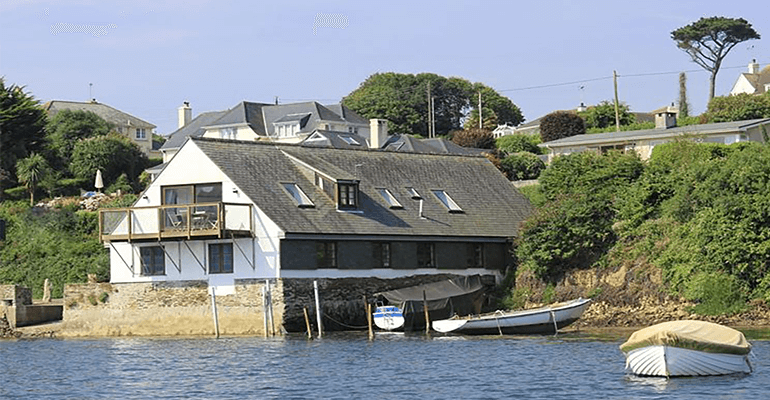 War artist's studio open to UK beach holidaymakers
.
His paintings have sold for tens of thousands of pounds and include celebrated works depicting World War II's worst naval disaster and the return of the Queen Mary after her maiden voyage.
Now UK holidaymakers can be inspired by the same incredible scenery as renowned maritime artist Charles Pears, after a property investor bought his former studio in the coastal resort of St Mawes, Cornwall.
A member of The Royal Society and the first president of the Society of Marine Artists, Pears was a well-known painter and illustrator who also worked as a commercial artist, creating stylish art deco designs for London Transport and British Railways.
Property investor Mathew Rees Director of Beneficial Estates (St Mawes) Ltd paid £1.65million for the artist's former home, called Polvarth Studio, after securing a bridging loan from specialist lender Together, and will rent it out as a luxury holiday let following a refurbishment.
Mr Rees, 41, a mortgage broker, said: "It has incredible views across the bay at St Mawes and it's unsurprising it inspired so many fantastic artworks. Pears lived there with his wife, affectionately known as 'The Tiger', and the pair loved sailing – but insisted on having separate boats as they could never get along when they were at sea!
"The holiday let is one of the few properties in the area that has its own private quay leading directly into the bay and, following some minor refurbishments and improvements, I'm ready to welcome families and guests to enjoy the fabulous property this summer."
Although not as famous as some of his contemporaries, Charles Pears founded the Society of Marine Artists, later the Royal Society of Marine Artists.
Among his works are an oil on canvas of The Mauretania, which sold at Bonhams in London for £38,812. He documented Southampton dock workers watching the return of the Queen Mary after her first voyage in 1936 and the sinking of the Lancastria, which killed 4,000 people in World War Two. Many of his paintings appear in the National Maritime Museum in Greenwich.
The Yorkshire-born artist, who has a maritime painting award named after him, also created eye-catching posters of bustling beaches and bathing belles in vibrant Art Deco design.
Together has previously provided a £3m bridging loan for Mr Rees to buy Pendragon, which sits above Studio Polvarth and enjoys similar sweeping views across the picturesque Percuil River and harbour.
Marc Goldberg, commercial CEO at Together, said: "With COVID-19 restrictions preventing overseas travel, the popularity of UK breaks in accommodation is on the rise, and holidaymakers seem to be prepared to pay more for luxury accommodation in this country.
"We're sure that Studio Polvarth will be a huge success as a holiday let, due to its stunning location and interesting history. As a specialist lender, we see holiday lets as a key growth area for investors, and were delighted to be able to provide the finance for Mr Rees to realise his ambitions."
All content factually correct at the time of publishing.
Articles on our website are designed to be useful for our customers, and potential customers. A variety of different topics are covered, touching on legal, taxation, financial, and practical issues. However, we offer no warranty or assurance that the content is accurate in all respects, and you should not therefore act in reliance on any of the information presented here. We would always recommend that you consult with qualified professionals with specific knowledge of your circumstances before proceeding (for example: a solicitor, surveyor or accountant, as the case may be).
Lending decisions are subject to an affordability/creditworthiness assessment.
Any property used as security, including your home, may be repossessed if you do not keep up repayments on your mortgage or any other debt secured on it.