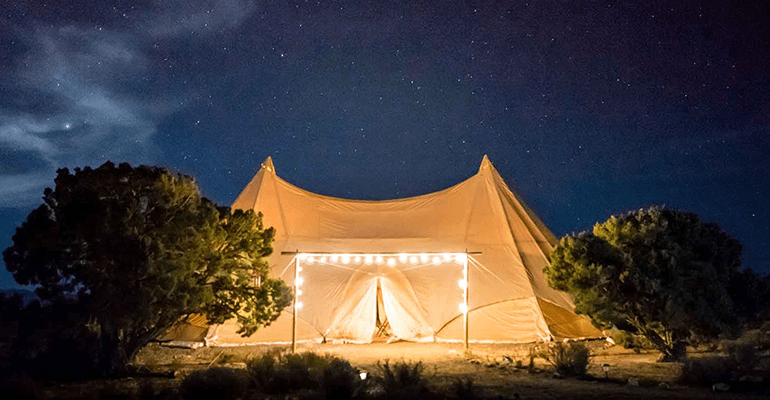 Is UK tourism having a new heyday
.
The latest travel restrictions in the UK are set to stretch the summer staycation boom well into 2021 and beyond. From cosy self-catering cottages to glamping holidays, is this the UK holiday scene's new heyday? And if so, could you turn it into a financial opportunity?
Brits are shunning overseas travel
It's no secret that the last year has been a difficult one for the UK tourism and hospitality sector. But as social distancing rules start to relax, 90% of Brits are expected to shun overseas travel in favour of a staycation – which spells positive news for UK holiday investors.
While concerns for safety and a reluctance to self-isolate have added fuel to that fire, the staycation trend is one that's already been growing over the last few years. And one that's expected to grow – as half of British millennials say they'll continue to holiday in the UK in a bid to be more sustainable.
It seems UK tourism is in fact heading for a new heyday, but what trends do we expect to see?
Self-catering cottages for the whole family
Self-catering holiday lets are expected to recover the fastest in the UK – with approximately 90% of options already booked up for the warmer months. And that's likely down to a number of factors.
As hotels aren't due to open until 17th May, Brits may feel that a holiday property has a lower risk of being cancelled should the Government's lockdown roadmap change. And of course, holidaymakers may feel more comfortable catering for themselves during the pandemic to minimise social interactions.
But demand could also be coming from the latest desire for multi-generational holidays. In a recent poll, 41% of adults said missing their loved ones over the last year has left them longing to take a special break with their extended family.
A recent BBC report interview has revealed that before the pandemic, the average UK tourist looked for accommodation for four people. Now, more and more Brits are seeking room for up to nine guests – as families and friends seek to make up for lost time.
So if you've got a large property that you're letting out, chances are you're already booked up.
Glamping – the new camping?
Other Brits are looking for a unique holiday experience, compared to the traditional cottage which has been the norm for many years.
Camping sites across the greenest regions of the UK have seen a huge surge in bookings, with some places already full for the summer holidays. It suggests that our desire to be outdoors remains strong – and that nature-based holidays with a focus on wellbeing have high growth potential.
For those looking to take advantage of the countryside with all their creature comforts, glamping offers a slightly cosier alternative. And while these holidays aren't cheap, flexible booking rules often allow holidaymakers to stay for two or three nights, unlike many property rentals which require a minimum stay of one week – which makes them ideal for a short stay.
With healthy returns and potentially lower capital investment required than a holiday let, setting up a glamping business has become a popular choice for many landowners looking to diversify. Google has reported a 118% hike in searches for glamping holidays over the last year, which suggests that safari tents, pods, and yurts could become a more attractive business opportunity over the coming months.
TV personality Johnny Vegas recently announced that he's taken the plunge, bringing the new TV programme 'Johnny Vegas: Carry on Glamping' to Channel 4. The show will follow his journey starting his own glamping business in North Yorkshire, as he turns five old buses into bespoke holiday accommodation.
A change of scenery
With that being said, market insights firm Mintel have also revealed some interesting, contrasting findings. With Brits keen to take advantage of bars, restaurants, and entertainment facilities opening up, 38% of those who are planning to take a staycation in 2021 are interested in taking a city break.
This could mean that the most lucrative holiday lets are not chocolate-box cottages with sea views, but rather apartments in destination cities with a buzzing nightlife and plenty of daytime activities.
So if you've got a flat in a central location, perhaps one you previously let out to city workers before the pandemic, this could present an ideal opportunity to venture into the short-term rental market.
Could we help?
It seems that now could be the perfect time to invest in holiday accommodation in the UK. If you're interested in becoming a first-time landlord or eager to add to your portfolio, we could help you secure the finance to make it happen.
And because we know holiday homes come in all shapes and sizes, we can offer you a holiday let mortgage against high-rise city centre apartments, as well as those characterful period properties with thatched roofs.
Or if you're keen to explore the camping or glamping trend, we could help you kick-start your business with a secured loan against an existing property.
All content factually correct at the time of publishing.
Articles on our website are designed to be useful for our customers, and potential customers. A variety of different topics are covered, touching on legal, taxation, financial, and practical issues. However, we offer no warranty or assurance that the content is accurate in all respects, and you should not therefore act in reliance on any of the information presented here. We would always recommend that you consult with qualified professionals with specific knowledge of your circumstances before proceeding (for example: a solicitor, surveyor or accountant, as the case may be).
Lending decisions are subject to an affordability/creditworthiness assessment.
Any property used as security, including your home, may be repossessed if you do not keep up repayments on your mortgage or any other debt secured on it.