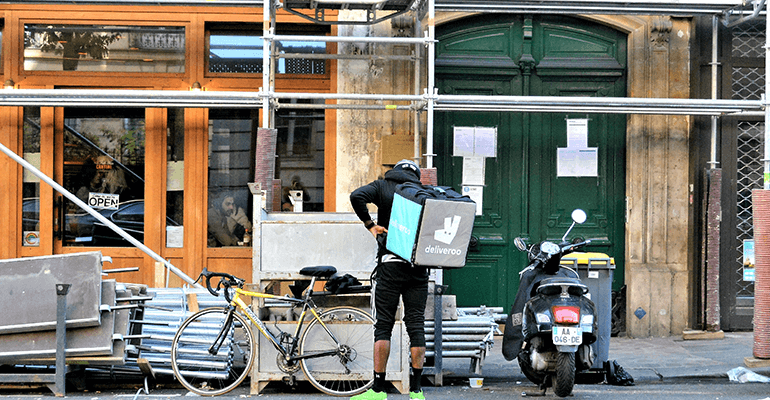 Self-employed or in the gig economy? A mortgage isn't beyond your reach
.
With many companies and online platforms, such as Amazon, Uber and Fiverr, now facilitating temporary work on a job-by-job basis, this type of self-employment is becoming common and even popular among younger workers in particular. According to the latest figures available by the Government, more than half of the UK's gig population is aged between 18 and 34 – the age group for whom the traditional employment route has become less appealing.
However, despite more people going it alone, the self-employed market remains underserved when it comes to loans and mortgages, with mainstream lending criteria often making it more difficult for self-employed and contract workers to secure finance. For example, most high street banks will ask for two years of accounts when deciding a mortgage application, which can make it hard for the newly self-employed, even if they have extensive experience in their field.
Major banks also traditionally want to see proof of a steady income (the longer, the better) without any fluctuations or gaps in employment, even though that's the reality for many Brits in today's world.


The self-employed market
There are similarities between self-employed and contractors versus gig workers and freelancers, but there are some key differences which makes the latter even more likely to be underserved by the mainstream mortgage market.
While self-employed business owners and contractors will tend to have longer-term arrangements, gig workers are likely to have more than one client at a time and be hired to complete one task at a time. Moreover, the money they'll earn is likely to be even more irregular in its amount and frequency.
Secondly, it's not uncommon for employed people to freelance online in their spare time as a way to earn extra income, particularly creatives and those in the technology sector, for example:
• Software developers
• Graphic designers
• Copywriters
• Caterers
• TV actors and voiceover artists
• Photographers
• Makeup artists
• Online shop owners
• And many, many more.
It's something that's likely to become more necessary as the UK navigates the rising cost of living; research across various freelance platforms has already revealed that a large number of Brits are undertaking multiple jobs to top up their wages amid rising overheads.
This shift in working trends has led to calls for greater flexibility to ensure that mainstream lenders' self-employed criteria reflects the current situation.
Self-employed mortgage requirements
According to our research*, 84% of self-employed people would need to borrow money to make their property ambitions happen. And yet, more than half believe their chances of buying or renovating a property could be out of reach because they expect to get turned down for a mortgage.
When asked why, the majority of our survey respondents said their mortgage application could be refused because they are self-employed (55%) or because they have an irregular income (35%).
Being self-employed does understandably make applying for a mortgage more difficult; they have no employer to vouch for them, and proving their earnings and affordability to some mainstream lenders can be tricky. This is particularly true if they haven't been self-employed for more than two years (which accounted for 29% of our survey respondents).
However, self-employed borrowers could be pulling the plug on their property dreams too quickly simply because they don't know where to look.


If you're self-employed or work in the gig economy, help is at hand.
Here at Together, we're what's known as a 'specialist lender'. One of the reasons specialist lenders like us exist is to help people who might struggle to get a loan or mortgage with a mainstream bank or building society.
Rather than relying on algorithms or tick boxes, our experienced underwriters look at the bigger picture, and get to know you - the person behind the numbers. They're empowered to use their common sense when making decisions, and take everything into account when looking at what you can afford.
We'll consider self-employed borrowers with a 12-month trading history, and can accept an accountant's certificate, SA302s or tax calculations submitted to HMRC as proof of income. We will also consider self-employed borrowers with a less than perfect credit history or someone wanting to borrow against an unusual property type.
In a recent case, we helped a self-employed company director and his wife buy their dream property after their mortgage application was turned down at the eleventh hour. He was unable to provide two self-employed tax certificates covering a two-year period as the business was newly incorporated. After carefully reviewing the case and looking into the borrower's financial background, we were able to show flexibility and provide the funds they needed within a tight turnaround.
Specialist lenders like ourselves also look more favourably on contract or freelance workers if they can demonstrate a solid and stable working history, even if they have taken up different contracts or moved into different sectors, or have multiple sources of income.
We review applications from self-employed people in all these situations on a case-by-case basis, and don't require a minimum amount of income or set a loan-to-income ratio. We'll generally use the most recent year's net income and, in some cases, will look at projected income when making our decisions. Flexibility is also key for us, with interest-only repayment options available, which can be helpful for newly self-employed workers looking to grow a business.
Ready to realise your property ambitions?
To learn more about the finance products available for self-employed borrowers and contractors, get in touch with your mortgage broker or speak to our friendly team of experts today.
*Research featuring 1,000 UK self-employed participants conducted by OnePoll in December 2021 on behalf of Together.
All content factually correct at the time of publishing.
Articles on our website are designed to be useful for our customers, and potential customers. A variety of different topics are covered, touching on legal, taxation, financial, and practical issues. However, we offer no warranty or assurance that the content is accurate in all respects, and you should not therefore act in reliance on any of the information presented here. We would always recommend that you consult with qualified professionals with specific knowledge of your circumstances before proceeding (for example: a solicitor, surveyor or accountant, as the case may be).
Lending decisions are subject to an affordability/creditworthiness assessment.
Any property used as security, including your home, may be repossessed if you do not keep up repayments on your mortgage or any other debt secured on it.