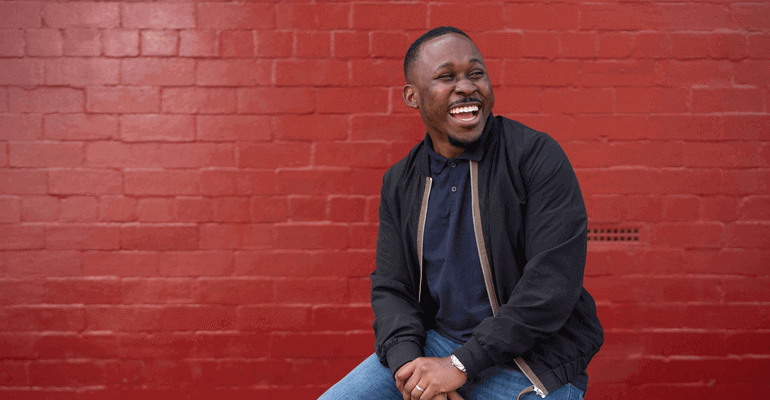 Tayo Oguntonade talks trends in home improvement and property design
.
These days it's difficult to predict anything, particularly when it comes to the ever-changing property market. What's almost certain though is our nation's continued interest in home improvement and property refurbishment.
In partnership with Together, BAFTA-winning TV series The Great House Giveaway has seen major success amidst this 'renovation generation and is currently airing weekdays at 4pm on Channel 4. We caught up with presenter and experienced investor Tayo Oguntonade on the key trends we're likely to see over the next 12 months.
Making the most of the indoors
"There was a time (pre-coronavirus) when people spent most of their day out of the house working a typical nine-to-five office job. Taking into account the average commute, people were probably spending around ten hours away from home and I think we really underestimated how much the pandemic would change all of that.
"As more Brits work and study from home, it's become easier to spot when rooms are looking dated and, crucially, when the layout isn't quite working for the family anymore. As such, one of the current trends in renovation and home design is the idea of 'broken-plan living'.
"Over the last few years, knocking down interior walls to create vast open-plan living spaces has transformed many properties across the UK. And whilst having sociable, multi-functional areas has remained popular, Brits are increasingly seeking privacy too.
"With more people in the house trying to use the space at the same time, broken-plan living provides a degree of separation and might include installing sliding or crittall-style doors to create different zones within a space for study or work, or altering the kitchen to a peninsula layout to cordon off the cooking area.
"I think we'll see more people looking to implement similar flexible solutions over the next few years to make the most of their indoor space."
Making the most of the outdoors
"A lot of homeowners have been making more use out of their garden and outdoor spaces too, whether that's turning an outbuilding into an office or even taking their ambitions further and building a new property.
"Recently, my parents decided to build their very own two-bedroom house at the end of their garden by taking out a specialist mortgage, which effectively gave them the money in tranches as the project progressed. There's a video showing part of their build.
"The cost of materials increased because of the pandemic but just like many self-built homes, the value of their finished property is still far more than they spent – particularly as they already owned the land. These new developments can often 'piggy-back' onto the existing property's services, reducing development costs even further.
"If you're considering something similar, you'll need to beware of covenants and potential access issues, and of course get permission from your local authority, but the results could be very rewarding; my parents have a great place to call home with modern features such as vertical radiators, Velux windows and so on.
"They're now free to sell or let out their previous five-bedroom house to provide a healthy retirement fund."
Climate-friendly homes
"Homeowners are becoming increasingly determined to make climate-friendly improvements to their properties; mass coverage around the health of the environment has been the driving force for many, while steeply rising energy prices has left others looking for ways to cut their heating bills.
"There are basic things people can do to make their home more climate and purse-string friendly, like ensuring their radiators are running efficiently and their walls are properly insulated. But some of the most on-trend eco-home renovations include switching to LED lighting and installing solar panels and heat pumps for renewable energy sources.
"Many house builders and property renovators are also adopting sustainability measures across their ongoing projects, using renewable and recyclable materials and cutting down on waste wherever possible.
"I've seen a number of online reports recently which revealed some homebuyers would be willing to spend up to £20,000 more on a property if it would help the environment, so there's definitely an incentive there. And as the Government continues to introduce new regulations on the subject, I wouldn't be surprised if this was the top trend in home design and renovation over the next decade."
Rethinking the office
"Trends in renovation and property design aren't limited to residential spaces either.
"We've seen quite a few companies hoping to welcome employees back to the office over the last six months, but that's not to say we'll see the return of pre-pandemic working patterns. It's likely that many businesses will be operating under a hybrid model, with people spending around 50% of their time working from home moving forward.
"For many employers (and developers or designers working in commercial spaces), I think the key challenge over the next twelve months will be creating a 'destination' for office staff – somewhere they'll get a lot of value out of and actually enjoy using.
"What does that look like? Well, I think it's about flexibility and ensuring the space can be used in a multitude of ways. This might include designing large meeting rooms for creative work, installing isolated 'solo' pods when employees need to concentrate on a task, and replacing redundant desks with hangout spaces where teams can meet and bond.
"I have a friend who works in a mortgage brokerage in London, and the offices next to him have just been converted into flats with co-living and working spaces. This just goes to show how much living, socialising and working are blending into one, and that's having a real impact on the way we're going to be building and using property."
Transforming commercial buildings
"Looking at the rise in online retail, it's clear that demand for physical high street shops is falling rapidly – businesses like Amazon have contributed to a 'popcorn generation' where people want everything now from the comfort of their own sofa.
"It's been interesting to see how the pandemic has sped up this trend, just like it has with offices and other work spaces. Many companies have found a way to operate without having a physical presence.
"To prevent these buildings from becoming vacant, legislation has come into force allowing developers to convert commercial spaces into residential homes under Permitted Development Rights (PDR). As such, I'm expecting the number of conversions to explode over the next few years with increased interest from investors and landlords."
"Getting the most use out of these buildings provides a great opportunity to reimagine our towns and cities and support the housing shortage by utilising the infrastructure already in place. I think we'll see a lot of developers looking to flats or even houses in multiple occupation (HMOs) to create as many new residential spaces as possible."
A rise in specialist lending
"With all of these trends in home improvement, and many opportunities for landlords, investors and property developers, I think we'll see a rise in the demand for specialist lending – particularly to support some of these more complicated projects.
For example, it's often the most lucrative opportunities which come with the tightest deadlines, and a specialist bridging loan can be arranged much faster than a traditional mortgage – sometimes in as little as a few days. I think these solutions will become increasingly popular over the next 12 months and beyond."
Thank you Tayo!
If you're interested in taking on a renovation project, visit our dedicated hub for the tips, tricks, and tools you need!
Plus, whether you're looking to improve your home or seize an investment opportunity, our team would be more than happy to talk through your circumstances and finance options.
Simply click here to get in touch.
All content factually correct at the time of publishing.
Articles on our website are designed to be useful for our customers, and potential customers. A variety of different topics are covered, touching on legal, taxation, financial, and practical issues. However, we offer no warranty or assurance that the content is accurate in all respects, and you should not therefore act in reliance on any of the information presented here. We would always recommend that you consult with qualified professionals with specific knowledge of your circumstances before proceeding (for example: a solicitor, surveyor or accountant, as the case may be).
Lending decisions are subject to an affordability/creditworthiness assessment.
Any property used as security, including your home, may be repossessed if you do not keep up repayments on your mortgage or any other debt secured on it.