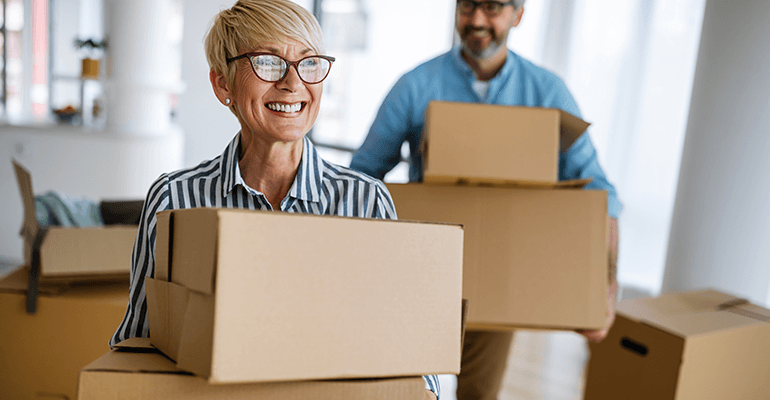 The benefits of downsizing
.
For many of us, a major life goal is to pay off our mortgage before we retire and to use the equity in our home to fund a comfortable lifestyle in our golden years.
But there can be many benefits to downsizing at different points in your life, not always just when you're getting ready to withdraw your pension.
Ben Wilson, Senior Underwriter at Together, reveals five reasons to consider downsizing your property, and why bridging loans are a popular choice amongst older borrowers.
1. You could save money on bills and upkeep
"This is possibly one of the biggest reasons to downsize and one which keeps hitting the headlines at the moment. The bigger your house, the more you're likely to be paying on general upkeep, repairs and monthly bills.
"If you don't need or appreciate the extra room – perhaps your children have gone to University or you no longer need that huge garage – it could make financial sense to move somewhere a little cosier.
"Expenses like council tax and utilities are likely to be lower for a smaller property, so you could find that downsizing saves you money month-by-month, as well as potentially freeing up a chunk of cash from equity if you've already repaid your mortgage and your current property is unencumbered."
2. You can find a space that works better for you now
"We need different things from our homes at different stages in our life and it's important to keep reassessing what you need, now and in the future.
· Would it be easier if all your living space was on one level rather than two?
· Do you need fewer bedrooms but more entertaining space now the kids have flown the nest?
· Do you want a smaller, more manageable garden?
· Do you still need that home office?
· Do you want to live nearer to grown up children or grandchildren?
"Perhaps you've been asking yourself some of these questions recently. If so, it could mean your current home is no longer working for you."
3. You can clear the clutter
"Spending more time at home during lockdown has proved that lots of us are looking at ways to streamline the amount of 'stuff' that clutters up our homes to lead a calmer, happier life. And nothing focuses your mind on stripping back to the essentials than moving in to a smaller space.
"Having less space to store clutter means you'll have to be ruthless, keeping only – as Marie Kondo says – things that 'spark joy'. Though the thought of tackling the contents of the garage or loft that have been gathering dust for years might be enough to make you stay put!"
4. Changes in health and mobility
"Even small changes in health or mobility can affect day-to-day life. If your personal circumstances have changed recently, you may be finding it more difficult to move around or get in and out of your home, particularly if your property has stairs or external steps.
"If this is the case, you might be more comfortable in a bungalow, ground-floor apartment or assisted living."
5. You can access the equity in your home
"One of the main reasons that older borrowers in particular turn to downsizing, is to help them access cash when they need it (if they are 'asset rich and cash poor' as the saying goes).
"Particularly as we face a cost of living crisis in the UK, many people could be choosing to delay their approaching retirement because there's just not enough money in their pension pot to fund it.
"If you're looking to top up your pension, using the equity you've built up in your property over the years could be one way to give it a significant boost. After years of rising house prices, the combined value of homes in England and Wales owned by those aged over 65 totals nearly £2.0 trillion according to Savills. And the latest ONS data reveals almost three-quarters of people aged 65 years and over in England own their home outright.
"If you are one of the many fortunate homeowners who are asset rich, the option of tapping into your equity tied up in property is an attractive one, and it could help you with living costs once you decide to retire or reduce your income to part-time."
You've decided to downsize. How can bridging finance help?
"Bridging loans are short-term secured loans, usually lasting up to 12 months, which are designed to span the gap between money having to go out and money coming in. You'll repay whatever you've borrowed in a lump sum as soon as you're able to, and as with all loans, you'll be charged interest each month.
"Traditional loans and mortgages can take weeks or even months to process, while a bridging loan can often be in place and funded within a matter of days.
"Why does having speed and flexibility matter when it comes to downsizing? Well a common issue for downsizers is one that will be familiar to many homeowners; the property chain.
"When you're looking to move into a new home, it's almost always necessary to complete the sale of your current home before you can make your new purchase. This means downsizing can only happen once a buyer for your property has been found, which may take several months and your dream small property might slip away.
"One option is to accept the first offer that comes along, but this often means accepting a low asking price to achieve a quick sale, which would reduce the equity you walk away with.
"With a downsizing bridging loan on the other hand, you can spend the time finding the perfect property and purchase using a bridging loan which gives you access to the equity in your existing home – before you have to sell it. You can then go about organising the sale of your previous home in your own time without the stress of moving all at once."
How does a downsizing bridging loan work?
"You will need to nominate a repayment or 'exit' strategy, indicating how you're planning to get the money together to repay the loan after the bridging term comes to an end. There are a number of different options, but the most frequently used (especially when downsizing) is to use the proceeds from the sale of your previous property.
"The interest rate stated for a bridging loan is monthly, so the sooner you can repay it (e.g. if your property sells quickly), the less you'll pay in total. There are no early repayment charges on Together Bridging loans.
"Bridging loans can be broken down into regulated and unregulated bridges. Regulated bridging loans are those secured using your home and would apply if you're downsizing.
"Unregulated bridges involve investment properties, buy-to-let properties, commercial properties, and land. In these circumstances, customers may be expected to make monthly payments (called a 'serviced' bridging loan) to cover the interest due.
"There are no monthly payments on our Regulated Bridging loans however, although this may not be true with other lenders. Instead, we roll up the interest and it's repaid with the principal loan at the end of term (an 'unserviced' bridging loan). If you've got a mortgage on your current property, this ensures you won't have to make two sets of loan repayments simultaneously."
Read Bridging Loans Explained
Who can apply for a bridging loan?
"Here at Together, a downsizing bridging loan doesn't require you to have an income if your repayment strategy is to sell your existing property at the end of term. We'll simply take into account the value of your home to approve you for the bridging loan.
"We'll also accept customers up to the age of 85 at the end of their bridging term, which means we're able to help you if you're an older borrower looking to downsize.
"If you're unsure about your options, one of our advisers or a specialist broker will be able to talk through your options so you can decide whether bridging finance is right for your situation. Read more about downsizing bridging loans or talk to our friendly team of experts today."
Get in touch
All content factually correct at the time of publishing.
Articles on our website are designed to be useful for our customers, and potential customers. A variety of different topics are covered, touching on legal, taxation, financial, and practical issues. However, we offer no warranty or assurance that the content is accurate in all respects, and you should not therefore act in reliance on any of the information presented here. We would always recommend that you consult with qualified professionals with specific knowledge of your circumstances before proceeding (for example: a solicitor, surveyor or accountant, as the case may be).
Lending decisions are subject to an affordability/creditworthiness assessment.
Any property used as security, including your home, may be repossessed if you do not keep up repayments on your mortgage or any other debt secured on it.