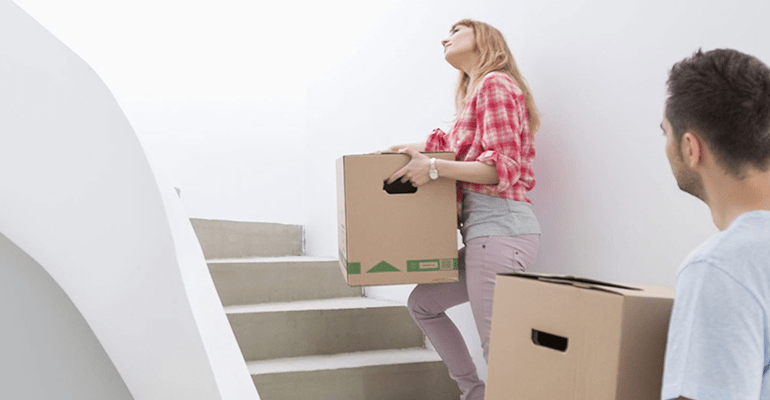 Top tips for first time buyers when applying for a mortgage
.
The number of first-time buyers in the UK reached a 20-year high of 401,000 in 2021 thanks to a raft of supportive Government initiatives. And while 2022 saw a 9% fall in first-time buyers as the financial crisis began to bite, the number of people looking for their ideal first home was still 5% higher than pre-COVID in 2019.
According to research by money.co.uk, the average age and salary of first-time buyers remain high - 32 years' old with a household income of £41,000 - demonstrating just how challenging it still is for many younger or less 'cash-rich' buyers to make their home-owning dream a reality.
Saving up for a sizeable deposit remains the biggest hurdle for most first-time buyers – after all, the average deposit a first-time buyer needs is around £61,000. However, even after they have the necessary cash to hand, an increasing number are then finding it difficult to get a mortgage from traditional lenders on account of their limited credit profiles and the overly stringent mortgage affordability assessments that many high street banks still rely on.
So, to help anyone who's dreaming of owning their first home but isn't sure how best to go about it, we've put together a list of our top tips to help reduce the stress of applying for a mortgage, while ensuring that you are in the best possible position for your application to be approved.
1. Speak to a broker.
Talking to a mortgage broker is a great way to help you understand the full range of mortgage products available to you that match your personal circumstances and home buying ambitions.
Unfortunately, many of the lower interest rate mortgage products offered by the high street banks are only available for applicants with much larger deposits, which might not be realistic for you.
If this is the case, your broker will be able to suggest alternative lenders who can help, even if you have a smaller deposit, while assisting you through the approvals process.
2. Consider asking your family for help.
In addition to personal savings, the majority of deposits used by first-time buyers in the UK today are bolstered by cash gifts or equity from family members (i.e. the Bank of Mum and Dad).
If you're struggling to save a big enough deposit for your dream home, consider asking a family member to help you get on the housing ladder quicker, either by releasing equity in their own property for you or providing a cash gift to give your deposit a much-needed boost.
This can be done through a secured homeowner loan which effectively runs alongside (but completely separate to) their current home mortgage, and allows them to use the equity in their home as security for yours.
We've explained how secured loans work here.
Guide to secured loans explained
3. Consider Government support.
Depending on your personal circumstances, you may be eligible for one of the Government's popular home buying schemes such as Right to Buy or Shared Ownership, which could help you get a foot on the ladder sooner, with a much lower deposit. For example, through the Shared Ownership scheme, you can buy a percentage share of your home now with a much smaller deposit (with the rest being owned by a housing association), before gradually increasing your share of the property over time when you have more funds available.
Unfortunately, some high street banks don't offer mortgages linked to Government-backed schemes, in which case it's worth going direct to a specialist lenders like us who are generally more flexible in this area.
You can read more about these Government schemes and alternative routes onto the property ladder here.
Read more
4. There are no 'silly' questions.
Having never been through the house buying or mortgage application process before, it's natural that first-time buyers will need more support and guidance than more experienced property purchasers.
So, don't be afraid to ask questions to your broker, lender, friends, family and colleagues if anything at all is unclear (however silly you might think the questions are). This is one of the biggest loans you're ever going to take out in your life, so you need to make sure you fully understand what you're signing up to before committing.
5. Don't underestimate the costs.
In 2017 the Government took the major step of scrapping Stamp Duty for first-time buyers on properties up to £300,000 in value (£500,000 in London), and the threshold has since been raised to £425,000.
This means if you are a first-time buyer purchasing a home worth £625,000 or under, you will not pay any Stamp Duty on the first £425,000 of your property purchase. You won't be exempt if you're spending more than £625,000.
While this should have made purchasing your first home considerably cheaper, experts have warned that many sellers have used this as an opportunity to increase the prices of their properties in line with the reduction in Stamp Duty, meaning that many first-time buyers are not seeing the intended benefit.
As such, careful cost control is essential before, during and after the home buying process. In addition to your deposit, you also need a lot of extra cash to cover solicitor fees, property surveys and searches for example, while also keeping a little in reserve to cover unforeseen circumstances and furniture for your new pad.
Want to know more about Stamp Duty? Read our stamp duty explained blog to get started.
Read more
6. A limited credit history doesn't necessarily need to hold you back.
As a first-time buyer who has been busy saving up for a deposit for some time, you may have a limited credit history or even a few red flags against your name, which could result in you having a low credit score. This can often lead to complications in your mortgage application, especially with the mainstream banks who are highly dependent on automated lending decisions and don't generally lend to people in this situation.
As such, it's worth checking your credit score in advance of a mortgage application through a company like Experian, to see whether you might come up against problems further down the line.
Even if your credit score is not as strong as you'd like, that doesn't mean you won't be able to get a mortgage, as specialist lenders like ourselves take more of a common sense approach to lending, looking beyond your credit score at your individual personal circumstances.
7. Gather your documents.
When you apply for a mortgage with your lender, you'll need to go through their application process and provide certain documents so they can get a clear picture of your circumstances and what you can afford to borrow. This includes your income and employment status, your credit circumstances, and any existing debts or expenses.
Therefore, it's a good idea to have the necessary documents ready before you start shopping around so you can move quickly and smoothly when the time comes.
We've pulled together everything you need to know in our handy mortgage application checklist.
Mortgage application checklist
Ready to make your home ownership dreams a reality?
At Together, we support schemes like Shared Ownership, where you can borrow up to 100% of your share in the property, and Right to Buy – even if you use things like tax credits to top up your income.
To learn more about the finance products available for first-time buyers, get in touch with your mortgage broker or speak to our friendly team of experts.
Get in touch
All content factually correct at the time of publishing.
Articles on our website are designed to be useful for our customers, and potential customers. A variety of different topics are covered, touching on legal, taxation, financial, and practical issues. However, we offer no warranty or assurance that the content is accurate in all respects, and you should not therefore act in reliance on any of the information presented here. We would always recommend that you consult with qualified professionals with specific knowledge of your circumstances before proceeding (for example: a solicitor, surveyor or accountant, as the case may be).
Lending decisions are subject to an affordability/creditworthiness assessment.
Any property used as security, including your home, may be repossessed if you do not keep up repayments on your mortgage or any other debt secured on it.