EPC Hub
EPC Hub for Intermediaries
.
Help your clients understand all they need to know about Energy Performance Certificates, the impact they can have on their properties and the current and proposed energy efficiency regulations.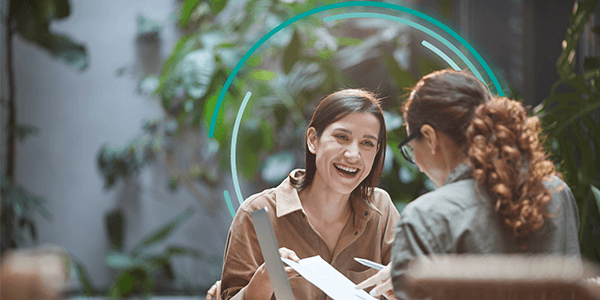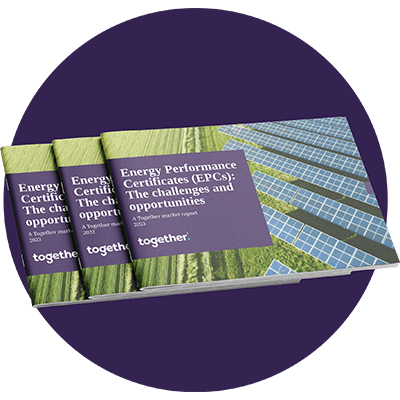 EPCs: The challenges and opportunities
A Together market report covering all the stats, facts and insights you need to know about Energy Performance Certificates.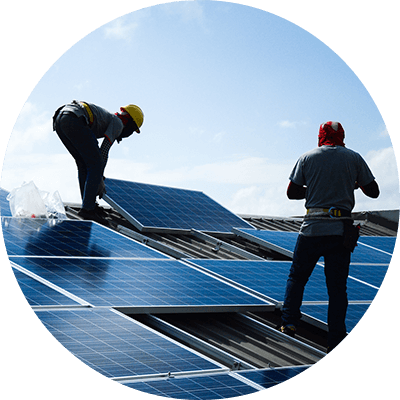 An EPC is an Energy Performance Certificate, which illustrates the energy efficiency of a property and provides a fuel-cost-based energy efficiency rating from A to G - with A being the most cost-efficient. It gives a breakdown of the energy performance and the environmental impact, as well as recommendations for efficiency improvements and potential cash savings.
Whether your client is a homeowner or landlord, it's important they're aware of EPCs and how they can use them to their advantage. Our EPC Hub for Intermediaries will give you all the tools you need to ensure your clients are in-the-know with energy efficiency and EPCs. You'll find frequently asked questions, some top tips to help your clients cut down the costs, an overview of both the current and proposed EPC regulations for both homeowners and landlords and much more.
EPCs: The challenges and opportunities
Read now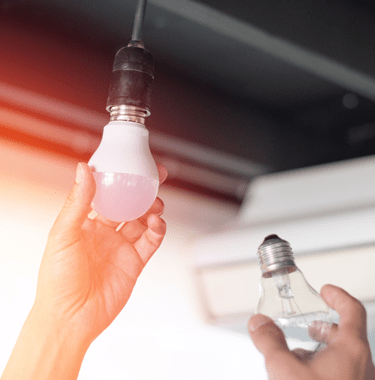 The importance of an EPC
There are several reasons why your landlord clients should begin considering the steps they may need to take in order to increase the EPC rating of their properties.
Complying with the rules and regulations – It's important your clients are aware of the current energy efficiency rules for landlords as well as the newly proposed regulation changes which we may see come into play in 2025. You can find the details on regulation below.


Reducing carbon footprint – Landlords can use their EPCs to create efficiencies in their properties, which will in turn reduce their carbon footprint, helping to create a greener and cleaner planet.


Utility bills – Potential tenants are likely to use EPCs to understand how much they'll be spending on their utility bills, so it's important your clients are doing all they can to improve the energy efficiency of their portfolio.


Lender restrictions - As more and more lenders are moving towards their sustainability targets, more restrictions are likely to be brought in for properties being used as security with lower EPC ratings.


Tenants' standard of living - Although cost efficiencies may be more long term, improving the energy efficiency of rental properties will ensure tenants have a comfortable place to live – keeping homes warmer in the winter months and cooler on hot summer days.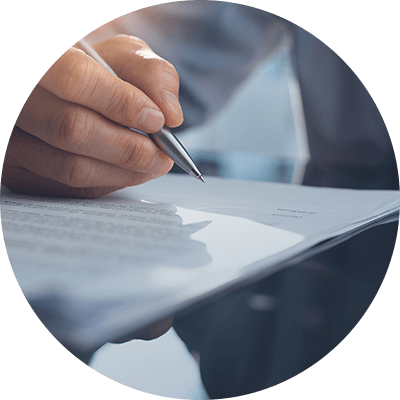 Currently, the EPC rating of a rental property must be E or above, and with a potential fine of up to £5,000 per property, it's vital landlords have an EPC readily available for their tenants.
There are various exemptions that'll allow landlords to rent out a property without the required EPC rating, however all exemptions need to be registered. In our handy online sources section you'll find a link to the government website which covers all exemption possibilities and how to register them.
Data compiled for LandTech, a property data platform, suggests that currently, more than half of all rental properties in the UK have an EPC rating of D or lower. However, the government have proposed that from 31st December 2025, all newly rented properties must have an EPC rating of a C or above and the same will apply to current tenanted properties from 31st December 2028.
If the proposed rules come into place, it's important your landlord clients are aware of the steps they may need to take in order to increase the EPC rating of their properties.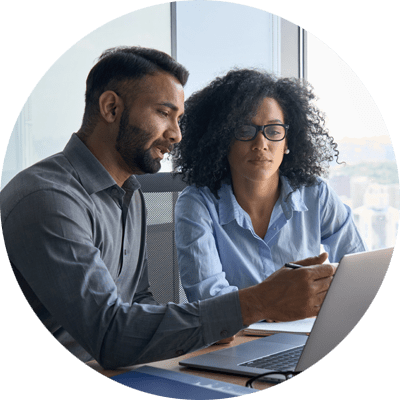 The talk of upcoming EPC regulations for landlords provides an opportunity for you to reach out to your landlord clients and offer your help and expertise. It's important they're fully aware of both the regulations and EPCs in general, and you could even point them in the direction of our EPC Hub for Landlords to find out more.
Take the time to look into the detail of your client's EPCs to understand what they could do to improve the efficiency of their properties. If your client doesn't have a valid EPC, it's possible to look at similar properties in the area to get an idea. There's also the option of taking a look at the local council's offering of grants and schemes to see if they're eligible. Your landlord clients should be doing all they can to improve the energy efficiency of their properties, as it's likely tenants will use EPCs to find better rental properties where they can save money on their utility bills.
Energy Performance Certificate FAQs for Intermediaries
What is an Energy Performance Certificate (EPC)?
An EPC is designed to rate how energy efficient a building is, ranging from A (very efficient) to G (inefficient). Your EPC will tell you how expensive it might be to power, and what its carbon dioxide (CO2) emissions are. If there are improvements to be made, an EPC will also tell you how you could improve your score. For everything you need to know about EPC ratings, read our blog.
What does an EPC check involve and how are they calculated?
An energy assessor needs to visit your property to complete an EPC check, and they'll look at windows, lighting, heating and insulation to calculate your score. They'll also look at the age of the property, how it was built, how it's heated and if hot water tanks are properly insulated. The assessment and report will cost around £60 to £120, and will take around half an hour to complete. You'll usually have your results back within 72 hours.
Does my client need an EPC on a Commercial property?
Yes, if you're selling, leasing or building commercial property, you need an EPC and they must have a minimum rating of E. If a building is split into parts, the parts might each need their own EPC. However, the new regulation due to come into force in 2025 does not apply to commercial properties.
Commercial properties don't need an EPC if they are listed or protected and making improvements would unacceptably alter the building; if it's a temporary building used for two years or less; if it's used as a place of worship; if it's an industrial site, workshop or agricultural building that doesn't use much energy; if it's detached with a floor space of less than 50m2, or is due to be demolished by the seller or landlord and they have all the relevant planning and conservation consents.
How can my clients get an EPC assessment?
Your client will need to use an accredited energy assessor to get an EPC.
You can book an EPC assessment online but it must be carried out in person, so the assessor will need to visit the property to complete their report.
What are the current minimum energy performance standards for landlords?
Currently, rental property has to rate at least an E, but those rules could change in 2025, with the minimum expectation potentially rising to a grade C. The new regulations have been proposed to be introduced for new tenancies first from 2025, followed by all tenancies from 2028.
How long is an EPC valid for?
An EPC rating is valid for 10 years.
Does my client need an EPC if they're buying, selling or renting?
You need to have a valid EPC to sell or let out a property, so vendors and landlords need to ensure they have the right paperwork in place. The buyer doesn't need to do anything.
Both vendors and landlords can be fined for not having a valid EPC, so it's important to make sure they've found their EPC online, or had an up-to-date assessment.
Are EPC regulations the same in Scotland?
Most of the requirements of an EPC in Scotland are the same as in England, but one key difference is how long the score is valid for. An EPC for an English property is valid for 10 years unless alterations are made – then a new EPC assessment is required. An EPC in Scotland is valid for 10 years, even if changes are made after the EPC is issued.
What are the upcoming deadlines for minimum energy performance standards for landlords?
At the minute, rental properties have to be rated at least an E for landlords to be able to let them out. The government have proposed that this will change to a C for new tenancies in 2025, then all rental properties in 2028.
Together,
our impact is greater