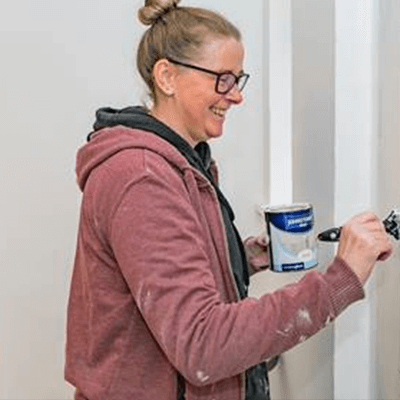 A look back on the Great House Giveaway
.
Last week the first series of The Great House Giveaway came to an end, and we're exceptionally proud of the part we played in bringing it to life! It's proven incredibly popular with viewers too! We're reflecting on what we learned and enjoyed most about the series, and why we think it's been such a huge success.
What was the show about?
Each episode saw two strangers paired up and given a budget to buy a house at auction, before having six months to renovate and resell it. Any profit they made, they got to keep - intended to be used as the deposit for their first home.
Simon O'Brien, who is probably best known for his role in Brookside in the 1980s, presented the 20-part series. An experienced property developer in his own right, he was also on-hand to give the contestants some much-needed advice, and even lay a few tiles here and there!
The concept at the heart of the show was to get stuck in and do most of the work yourself – and that's exactly what (most of) the teams did.
What happened?
Throughout the series, we were kept on the very edge of our seats with some unexpected twists and turns. We saw a hoarder's paradise, one mindless act of vandalism, and even a supposedly haunted cottage.
What really stood out though was the amount of hard graft the contestants and their loved ones put in, as many fitted their new kitchens, bathrooms and staircases themselves to keep costs down.
Some of the teams got on really well and made the whole process look easy, as Simon O'Brien explained in a recent interview. But others found it much more difficult to stick to their budget, timeline or even their allocated partner, and walked away without making any money.
Whatever the outcome, everybody who worked hard and gave it their all completely inspired us, and those watching along at home.
What was our involvement?
We like to think that we're the experts when it comes to property auctions - we've been helping our customers buy under the hammer for over 15 years. So when production company Chwarel needed to fund the purchase and renovations of more than 20 homes, they came to us to provide the £3.25m commercial loan. With our backing, Chwarel could start filming The Great House Giveaway.
Through our partnership, we've been able to capture some exclusive behind-the-scenes footage of the contestants at work. We hosted this, along with some of our own helpful tips and tricks, on a newly created Great House Giveaway hub. Those motivated by the series to have a go for themselves can learn more about buying and 'flipping' an auction property: the ins and outs you don't get to see on TV.
What were our best bits?
The Great House Giveaway showed the costs involved when purchasing a home, which eat into potential profit (such as Stamp Duty, auction fees, solicitor and estate agent's charges, and interest payments). And naturally, not everybody made the profit they were hoping for.
Though we love that the show gave this very real picture of property development, our favourite parts were of course when people's hard work had paid off.
Many of the contestants came with a lot of enthusiasm. Throughout the show, some of those with the least experience went on to make the biggest profits – which made it all the more impressive!
From the very first episode in Bradford, we saw the rewards that come with rolling your sleeves up and getting your hands dirty, as new pals Emily and Vikki started the show off with a bang. Though perhaps less of a match made in heaven, Harry and Kaylum showed us the importance of maintaining a professional relationship. They brought the curtain down on the series by making a whopping £80k profit, after putting their DIY skills to the ultimate test.
The show also saw the renovation of some really interesting properties. Anastasiya and Jaime were able to give new life to their Grade II-listed cottage, one of Liverpool's oldest homes that dates back to the 17th Century. And perhaps the most challenging project of all, Dayffd and Mair's characterful chapel wasn't their first choice, but they were able to put in a lot of the ground work before handing it over to a buyer who could see its massive potential.
Why was it such a success?
The Great House Giveaway was unique in that you didn't need to own, or have the cash to own, a property to apply – so it gave these people an opportunity for a change.
The programme showed that you didn't need a lot of money or specialist skills to completely transform a home, but simply dedication and communication in your tool belt. For this reason, it made for some much-needed aspirational TV, as well as some frustrating and teaching moments too.
Once filming had ended, we stayed in touch with some of the contestants to see what they would get up to next – and they continue to inspire!
In the coming months, we'll be sharing some of their journeys and new-found ambitions – so keep watching this space.
Together worked in partnership with award-winning production company Chwarel on the new Channel 4 series, The Great House Giveaway. Catch up now on ALL4.
All content factually correct at the time of publishing.
Articles on our website are designed to be useful for our customers, and potential customers. A variety of different topics are covered, touching on legal, taxation, financial, and practical issues. However, we offer no warranty or assurance that the content is accurate in all respects, and you should not therefore act in reliance on any of the information presented here. We would always recommend that you consult with qualified professionals with specific knowledge of your circumstances before proceeding (for example: a solicitor, surveyor or accountant, as the case may be).
Lending decisions are subject to an affordability/creditworthiness assessment.
Any property used as security, including your home, may be repossessed if you do not keep up repayments on your mortgage or any other debt secured on it.