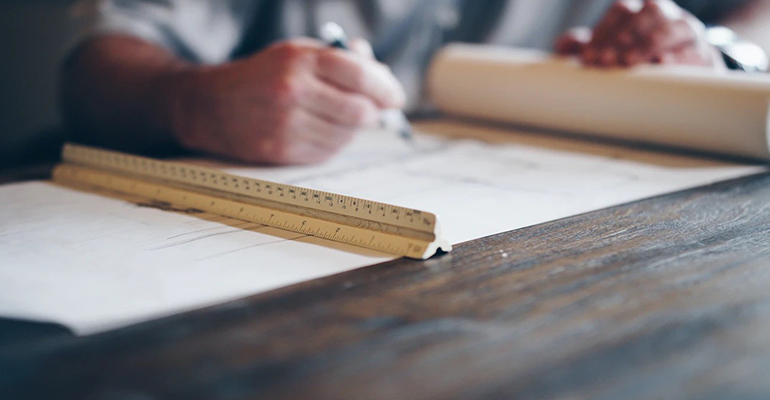 Buying a property off-plan: the risks and rewards
.
A brand new property, a locked-in price and a custom finish – there's a lot to like about buying a house off-plan. But as with any big investment, there are risks you need to consider too. We've gathered a list of pros and cons, but first – let's start with a recap.
What does buying off-plan mean?
Buying a property off-plan means purchasing a house or a flat while it's still under construction; we've written about the process in our last blog.
An off-plan purchase could mean buying when the building is still in its design and planning phase, or you could be looking at a near-completed project waiting on the final touches. The risks and rewards can vary depending on the stage it's at, and also what your plans are for the property – is it a home for yourself, or an investment opportunity?
Reward: You could save money
We'll begin with perhaps the most attractive selling point of buying off-plan, which is the possibility of scoring a discount.
Your developer may be willing to accept a lower offer in return for a guaranteed buyer at the end of the project – giving them certainty they'll be able to pay off any finance they've taken out on time (without incurring late payment charges). The earlier you commit to buy the property, the higher the discount you're likely to receive – which is the reward for taking a chance on a house you haven't seen yet!
Saving extra cash on your purchase price is an obvious advantage. It could mean you're not scrambling around like the rest of the UK to complete before the Stamp Duty holiday ends – if you'll save more by waiting. This might also take the pressure off if you're trying to sell your property, giving you time to wait for an offer you're happy with.
On the other hand, if you've seen an off-plan property of interest that's nearing completion, this might guarantee you can complete before the Stamp Duty offer ends – because you aren't waiting for an onward chain. Find out how much you could save here.
Reward: You could make money
If you're an investor interested in buying off-plan, you'll likely want to buy the property as early as possible when the discounts are potentially higher – because at the end of the day it's an investment, not an emotional purchase.
If you're planning to let your new property out, this could make your mortgage payments a little lower, and your profit each month a little higher. Though you could be waiting as far as a year before you can move tenants in. Another benefit however is the potential to secure a number of properties from the same developer if you're after a larger portfolio. Not only is this an opportunity to secure a further discount, but managing multiple properties in one location could prove easier and cheaper to manage.
If you're aiming to sell or 'flip' the property (with the aim of making a profit), putting your deposit down a few years in advance could allow you to secure the property for less than it may be worth when completed. House prices in the UK tend to rise quite quickly (an average of 4.1% each year since 2015), so you could make a decent profit without lifting a finger, simply by selling when the market value has increased.
And if you decide to let go sooner rather than later, somebody might be willing to take the right to buy the property off your hands before it's even ready. If the property's market value on completion has already gone up since you bought it, you could make a profit even earlier.
Risk: The market might not work in your favour
On the flip side, you can never be absolutely sure that the market will work in your favour – if the last 12 months have taught us anything, it's to expect the unexpected!
If you've got big plans to sell your off-plan property either nearing the end or once it's finished – you need to have a plan B in case you can't get the offer you want, or you can't sell it at all. Do you have the finances in place to buy the property (i.e. could you secure a mortgage)? Would you be open to becoming a landlord, even in the short-term?
Most property investors are pretty savvy when it comes to spotting the right areas and the right times to buy – but it does pay to be prepared if things don't go to plan.
Reward: You can pick your own fittings
Another reward of buying a property off-plan is that you might get the opportunity to influence the look and feel inside the house, by choosing your own fixtures, fittings and finishes. We spoke to one of our colleagues Lucy, a first-time buyer who recently bought off-plan. She said:
"I'm really pleased with how it looks. I got all the benefits of designing my own house, without having to project manage, or live with the dust and dirt!
"Though a new-build, I was really keen for the house to be homely, not minimal and cold. We picked one with bay windows, a period-style front and high skirting boards, and I chose traditional flooring, a shaker kitchen, and even doors and handles that suited my style!
"It would've taken years for me to get everything I wanted if I didn't buy off-plan, and I've saved money by not having to re-do an older house designed to suit someone else's taste."
If you're a landlord-to-be, this could benefit to you too. You can choose to keep the property fairly neutral to appeal to more tenants, and select finishes that are easy to maintain and keep clean. For example, deciding on hard floors rather than carpets, or choosing hard-wearing kitchen surfaces. This could see you save money on upkeep in the future.
Risk: The project could be delayed
Another risk you need to consider is that the project could take longer than anticipated – which is fairly common given the complexities of building a property.
If you're buying an off-plan home and you're expecting to move in on a certain date, any delays could cause a number of problems. For example, if you need to move out of your current home to let a new buyer move in, or if your lease is up on a rental property. Furthermore, if you've got a mortgage offer which is due to expire before your new completion date, this could leave you having to start an application from scratch.
If you're a landlord on the other hand and have tenants lined up to move in, this could also prove very frustrating if timelines are pushed back.
However, major delays to a building project tend to happen much earlier on in the process. Around three months before it's due to be completed, work becomes less complicated, and the date you're given should be taken in good faith.
That being said, and as we've mentioned before, contingency planning is key. If you think the project is likely to be delayed, start getting some quotes for storage facilities to hold your furniture, and approach family, friends, or short-term rentals to see if you could move in for a little while.
As an aside, if your developer runs into more serious problems with the build, you need to make sure you've got the protection in place to cover against the firm going insolvent. Your solicitor should confirm this before you actually exchange. This means if your builder goes bust or can't complete the property, your warranty provider will reimburse your deposit.
Reward: It's protected
On a similar note, buying an off-plan property gives you some added protection compared to an older house, where you never know when the roof might need fixing or the boiler might need replacing. You'll have a warranty which covers you for these sort of things, saving you money and peace of mind in the long-run.
Your warranty is split into two periods. During the first two years after completion, any issues with the property (such as leaky windows or ill-fitting doors), your builder is obliged to come and make repairs to their original work.
Colleague Lucy added: "We moved in September 2020, and have come across a few expected snags – such as a scratch on our front-door, and our hallway floor lifting slightly – all things that would have happened as the builders were finishing off the house. These have all been repaired really quickly. When you're buying a new-build property, you expect (and deserve) perfection. So it's good to know you're protected should anything not match up quality-wise".
During the second, structural warranty period, the builder is only responsible for major problems with the property – including the external render, roof, ceilings and load-bearing parts of the floor. The second warranty period lasts for eight years, giving you ten years cover in total.
If you're selling the property on once it's completed, this could provide a great selling point – as your warranty is usually transferred to the new buyer.
If you're letting the property out this is also a great bonus, as you won't be responsible for repairing any serious problems (that aren't caused by your tenants, of course).
Risk: You might be denied a mortgage
As we covered in our last blog, the period between putting down your deposit and finally completing on your off-plan purchase could be as much as a couple of years, and a lot can change in the market (or your personal circumstances) during that time.
Even if you received a decision in principle when you first approached your lender, this doesn't guarantee you'll get the same offer when it comes to completion. And once you've exchanged, you're legally obligated to go through with the purchase.
To avoid this problem, speak to your lender or broker for guidance, and make sure you don't stretch yourself when you make your initial offer.
In the time between exchange and completion, you should try to make sure your circumstances don't change (within your control of course). For example, don't lease a new car with much higher payments each month.
If your circumstances do change during the build, talk to a specialist lender. At Together, we're more open-minded when it comes to assessing affordability, and we'll look at your situation individually before making a decision.
If you can't get a mortgage in time (or your intention was never to secure long-term finance), a bridging loan could be an option for you, allowing you to complete quickly within your required timeline. A bridging loan lasts for 12 months, and gives you time to arrange a mortgage, or sell the property before you need to pay the loan back.
If you're thinking of buying off-plan, and you want to find out about bridging finance, a buy-to-let mortgage or a personal mortgage, talk to us or visit our product pages to find out more.
Any property used as security, including your home, may be repossessed if you do not keep up repayments on your mortgage or any other debt secured on it
All content factually correct at the time of publishing.
Articles on our website are designed to be useful for our customers, and potential customers. A variety of different topics are covered, touching on legal, taxation, financial, and practical issues. However, we offer no warranty or assurance that the content is accurate in all respects, and you should not therefore act in reliance on any of the information presented here. We would always recommend that you consult with qualified professionals with specific knowledge of your circumstances before proceeding (for example: a solicitor, surveyor or accountant, as the case may be).
Lending decisions are subject to an affordability/creditworthiness assessment.
Any property used as security, including your home, may be repossessed if you do not keep up repayments on your mortgage or any other debt secured on it.