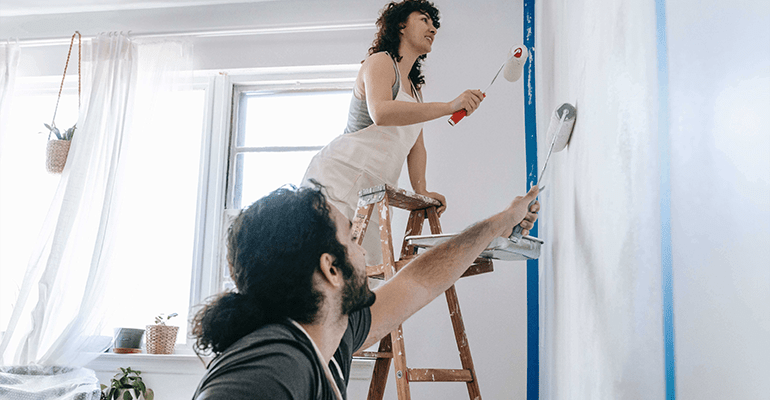 Make it your own: how first-time buyers can achieve their dream home
.
Gone are the days when first-time buyers would be happy with a magnolia-painted starter home just to get a foot on the property ladder. Young buyers these days are as ambitious with property as they are with other areas of their life, and they're not afraid to work hard to get the home of their dreams.
Together's recent survey* revealed that first-time buyers are becoming increasingly savvy about doing up to move up, and they're willing to get their hands dirty to get what they want; 83% of first-time buyers we polled have renovation ambitions of some sort in 2022.
If you're a first-time buyer or someone with their eyes set on a project, discover how you could hack your dream home and achieve your property ownership dreams.
First-time buyers are looking for a doer-upper.
Whether it's a passion for design or the opportunity to get more for their money, first-time buyers aren't afraid to get stuck into a doer-upper. Of the 1,000 first-time buyers we surveyed:
19% said they are very ambitious and are looking for a real project.
Buying a fixer-upper that's in need of some renovation or repair work could be one way to leap a couple of rungs on the property ladder. With the difficulties saving for a house deposit, plus other related costs, it's easy to see why many first-time buyers might consider this as the most affordable route.
You'll likely be able to secure the property for below its market value, and it offers the chance to create a home that's unique and entirely to your own taste. You'll also have the option to sell the property once you've completed the works, and you may be able to make a return on your investment – giving you a larger deposit for your next home.
Purchasing at a property auction could be one way to source your dream project, although as you may have seen on Channel 4's The Great House Giveaway, these renovations are not for the fainthearted.
Ready to take on big project? Here's some DIY disasters you can easily avoid.
Learn more
31% said they're pretty ambitious and would like a bit of a doer-upper.
If you'd like to buy a home that's a little dated but still structurally sound, surface improvements may not need any particular know-how – just plenty of elbow grease.
You might find your choice of location widens by going for a more affordable property, and you could end up in your desired postcode. Another enticing prospect may be the opportunity to personalise the property as you can fix up your home your own way – choosing your preferred fixtures and finishes, and your style of kitchen and bathroom fittings.
If this sounds like the project for you, here's 7 tips and tricks for keeping things within budget.
Learn more
33% of first-time buyers aren't up for major renovations but said they want to put a stamp on their own home.
Looking beyond the decoration and furniture choice of others is a real skill when it comes to finding your ideal property, and it's something not all home buyers are blessed with. If you can see past lively carpet or oversized furniture, you could be in a positon to make an offer that's under asking price if the property is taking a little while to sell, simply because it hasn't been staged appropriately.
Once it's yours, a little cosmetic attention could be all that's needed to turn the property into your perfect home. From putting up shelves to installing your own panelling, YouTube and Instagram are brilliant for finding tips, hacks, and tutorials to help you personalise your space.
---
First-time buyers feel limited by lending options
With many first-time buyers living in rented property with little opportunity to put their own stamp on a property, it's clear that making their new place theirs is a priority. But while incredibly confident in their style, our survey revealed that first-time buyers aren't as confident in their knowledge of lending options, or their ability to secure the funding they need.
Out of all the first-time buyers we surveyed, 96% would need to borrow money to get on the property ladder, but only half felt confident that their mortgage application would be approved.
There were a number of reasons given, from having concerns about age, worries over credit scores, and apprehensions because of irregular incomes. Each of these concerns affected almost a quarter of the first-time buyers surveyed, but despite this, 43% were not aware of specialist lenders or how they can help.
How a specialist lender could support first-time buyers
Here at Together, we'll often consider applicants with more unusual circumstances, credit history issues and multiple incomes, which can support first-time buyers with concerns about their application to secure the loan they need.
We can take into account 100% of your income – a great help for buyers with multiple income streams – and will lend to people who are self-employed with just 12 months trading.
We can also lend on more complicated properties in need of work, which can help first-time-buyers with big DIY ambitions secure the funding they need to create their dream home – however the property might look right now.
Together can also help buyers seize opportunities before the moment passes – for example, with a Regulated Bridging loan – which could let you buy your home quickly (at a property auction, for example). These secured loans typically last up to 12 months, and allow you to borrow the money you need to buy your new home quickly, while waiting for some other money – such as a mortgage – to come in.
For first-time buyers with limited deposits, we also support schemes like Shared Ownership, where you can borrow up to 100% of your share in the property, and Right to Buy – even if you use things like tax credits to top up your income.
While in many ways the property market is becoming increasingly challenging for first-time buyers, there are plenty of opportunities for ambitious buyers willing to do their lender homework, and some DIY handwork.
Ready to realise your property ambitions?
To learn more about the finance products available for first-time buyers, get in touch with your mortgage broker or speak to our friendly team of experts.
---
All content factually correct at the time of publishing.
Articles on our website are designed to be useful for our customers, and potential customers. A variety of different topics are covered, touching on legal, taxation, financial, and practical issues. However, we offer no warranty or assurance that the content is accurate in all respects, and you should not therefore act in reliance on any of the information presented here. We would always recommend that you consult with qualified professionals with specific knowledge of your circumstances before proceeding (for example: a solicitor, surveyor or accountant, as the case may be).
Lending decisions are subject to an affordability/creditworthiness assessment.
Any property used as security, including your home, may be repossessed if you do not keep up repayments on your mortgage or any other debt secured on it.