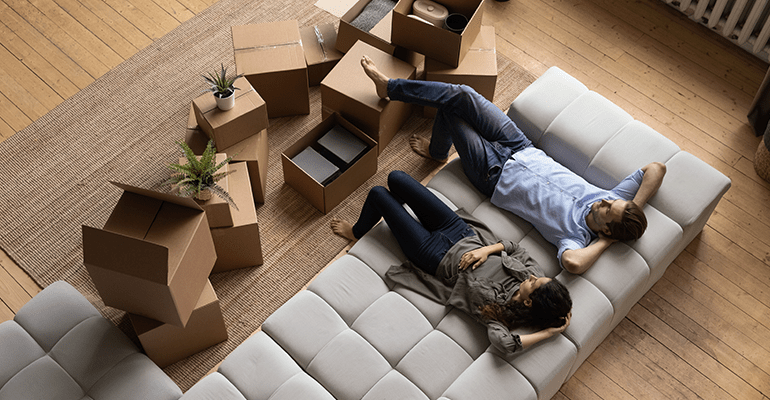 Minimum standards for rental properties
.
Buy-to-let can be a great investment, but there are a few things you need to consider before you take in your first paying tenant. While you don't have to provide all mod cons, there are some minimum standards all landlords need to meet to keep tenants happy and stay within the letter of the law.
1. Your property needs to be in a good state of structural repair.
The first and most important standard is that your rental property must be structurally sound. That means every part of the property, from the roof to the fixtures and fittings, should be well maintained and regularly checked, with necessary repairs completed as soon as possible.
Some of the things to look out for include:
Damp and patches of discoloured paint or wallpaper on the walls.
Mould on the walls, floors, ceilings, or around windows.
Any water leaks or problems with piping.
Rotting or damaged skirting boards or timber window frames requiring replacement.
Large cracks that are more than superficial.
Roof or chimney stack damage.
Faulty wiring.
2. Your property should be free from hazards and in good working order.
Your tenant has a right to be safe and comfortable in their home, so there are some basics you need to cover. That includes making sure there are no broken windows, damp or mould growth and that the hot water and drainage is working and free from leaks and blockages.
3. Fire safety equipment must be provided.
Smoke alarms are the minimum requirement, but you may feel you need – or want – to provide more if there are additional risks in your property. For example, if you have an open fire or wood burner, a regular chimney sweep and inspection, plus a carbon monoxide detector, is a must.
4. Gas and electricity supplies must be safe.
As a landlord, it's up to you to arrange an annual check of all gas appliances by a registered Gas Safe engineer. Once this has been done, you'll be given a Landlord Gas Safety Record (LGSR) with details of all the checks that were carried out. You'll need to show these to new tenants when they sign an agreement and to existing tenants within 28 days of every annual check.
For rental periods of less than 28 days (such as holiday lets), just make sure you've clearly displayed a copy of your gas safety record within the property.
5. All furniture and appliances must meet the relevant safety standards.
All soft furnishings must meet fire safety standards and appliances need to be checked regularly to make sure there are no faults, and professionally repaired or replaced if there are.
6. You must meet new energy efficiency standards.
Just as you have to show how energy efficient your home is when you're selling it, you need to get an energy rating for your rental property.
The Government introduced the Energy Performance Certificate (EPC) almost 15 years ago. A property will get an overall rating on a scale running from A to G. A is the best, and G is the least efficient. Generally speaking, older properties have lower ratings because they lack (for instance) cavity wall insulation or double glazing unless these have been retro-fitted.
In 2015, the Government introduced the Energy Efficiency Regulations which set the minimum standard for rented properties at a band E, with effect from April 2018. And soon, the minimum will shift to a C rating under the new rules, and making changes isn't optional. The new regulations will be introduced for new tenancies first from 2025, followed by all tenancies from 2028.
While it might seem like another hoop for landlords to jump through, there are benefits for you as well as your tenants. If bills are included in the rent, you'll pay less if your property is well insulated. Plus, you'll be doing your bit for the environment.
What happens if you don't stick to the rules?
Your property can be inspected by the local authority even if you're a private landlord. And if they do find a breach of any of the rules, they will issue an Improvement Notice, which sets out what needs to be done to resolve it.
You'll be given a deadline to put the issue right and if you don't, or if the problems are very bad, the local authority will issue a Prohibition Notice, which stops you re-letting the property until you can prove the work has been done.
If you have a sitting tenant who is being affected by the issue, you could face a fine of up to £30,000, with additional charges accruing each day the issue continues. So, it's worth getting your house in order before you take in your first tenant.
How could we help?
Whether you need to do some general upgrades, implement some energy efficiency measures or do a whole raft of refurbishments just to bring your property up to scratch, short-term funding like a capital raising bridging loan could prove a good solution if work needs to be completed quickly.
Securing a bridging loan against a rental property, or another property in your portfolio, could allow you to make the necessary investment. After you've made the improvements – and potentially increased the value of your property – you could refinance onto a new buy-to-let mortgage once it's habitable as you'll be able to use rental income or predicted rental income for affordability purposes.
Alternatively, a secured business loan might be your preferred option if you'd rather make repayments over a longer period of time instead of repaying the loan in one lump sum. When you take out a secured loan (also known as a second charge mortgage), you borrow against your investment property and repay it in monthly instalments (including interest) over an agreed number of years.
To find out which option is right for you, talk to an independent mortgage broker or get in touch with our friendly team of experts today.
Get in touch
All content factually correct at the time of publishing.
Articles on our website are designed to be useful for our customers, and potential customers. A variety of different topics are covered, touching on legal, taxation, financial, and practical issues. However, we offer no warranty or assurance that the content is accurate in all respects, and you should not therefore act in reliance on any of the information presented here. We would always recommend that you consult with qualified professionals with specific knowledge of your circumstances before proceeding (for example: a solicitor, surveyor or accountant, as the case may be).
Lending decisions are subject to an affordability/creditworthiness assessment.
Any property used as security, including your home, may be repossessed if you do not keep up repayments on your mortgage or any other debt secured on it.