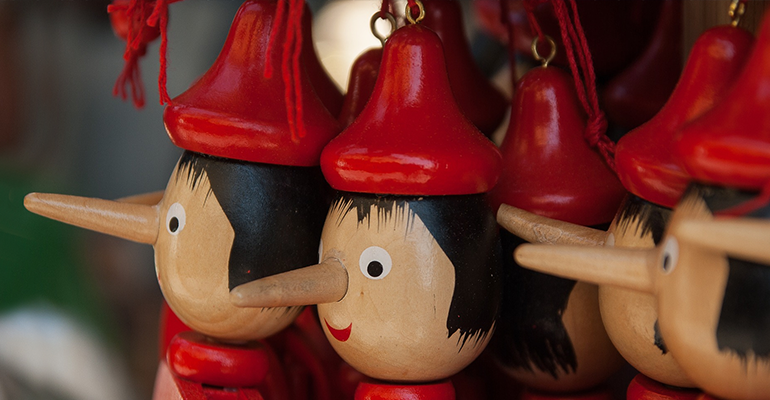 What to do if your vendor has lied to you
.
When you're buying a house, the legal position of 'caveat emptor' applies.
That's 'buyer beware', to you and me.
As the buyer, you're responsible for performing the necessary checks on the property. This naturally includes structural issues, and this is why you pay for the survey, not the vendor.
That said, your solicitor can ask questions about the property on your behalf, and the vendor is legally obliged to answer fully and honestly. Their answers form part of the contract of sale between you – and if the vendor lies or knowingly omits details, you can pursue legal action against them.
In order that the vendor can make these declarations in writing, two standardised forms have been created by The Law Society. They're for the vendor to complete, so they're written in plain English. Anyone selling a property in England or Wales will have to complete them.
Property information form (TA6)
It asks a number of questions about the physical property itself, and this is the vendor's opportunity to make any necessary declarations.
Your solicitor will scrutinise the answers and share any concerns with you. Among others, there are sections and questions relating to:
Disputes and 'nightmare neighbours'.
Warranties (e.g. double glazing, roof repairs, etc.).
Flooding.
Planning and building work.
Land boundaries (including party walls).
Parking.
There can be serious consequences for making false declarations. In a landmark case from 2003, a Hampshire couple had to pay £67,500 to their buyer after failing to declare a neighbour dispute.
Fittings and contents form (TA10)
Essentially, this lists what your vendor will be leaving behind when they move. It lists common items on a room-by-room basis. It includes things like bathroom fittings, carpets, integrated white goods, and so on.
There are instructions provided to the vendor about the condition they leave the property in, too. They must not leave rubbish behind, and it must be left in a reasonably clean and tidy condition. If they don't, they could be in breach of contract.
Rubbish includes abandoned furniture. The TA10 form only accounts for 'permanent' items; so while the vendor may include a fitted wardrobe with the sale of the property, they can't leave behind a freestanding one for you to dispose of.
Equally, if they say a fitted wardrobe isn't included (and they leave it behind), you can insist they return to the property and remove it.
Vacant possession
When buying a home (as opposed to an investment property), the vendor will almost certainly be granting 'vacant possession'. This means that the property must be entirely vacated by them and their possessions by the time you collect the keys.
If you arrive and learn they've left items behind, they are in breach of contract. Contact your solicitor immediately.
False details in the advert
Although you are afforded some legal protections if the estate agent has falsely advertised the property, this isn't the case if the vendor has also misled the estate agent.
For instance, they may have made a false claim about the property (e.g. that it includes a parking space, when it doesn't), and this may only become apparent when your conveyancer completes the property searches. By this time, your costs may include a survey and run into several hundred pounds.
Unfortunately, there's nothing legally enforceable until you've exchanged contracts – so you can't pursue legal action. If this happens, you can cut your losses and walk away, or you can try to negotiate a lower price.
Our advice is to be diligent, and ask questions to verify what you've seen in the advert. Check everything for yourself, and get details in writing (even by email) if possible.
All content factually correct at the time of publishing.
Articles on our website are designed to be useful for our customers, and potential customers. A variety of different topics are covered, touching on legal, taxation, financial, and practical issues. However, we offer no warranty or assurance that the content is accurate in all respects, and you should not therefore act in reliance on any of the information presented here. We would always recommend that you consult with qualified professionals with specific knowledge of your circumstances before proceeding (for example: a solicitor, surveyor or accountant, as the case may be).
Lending decisions are subject to an affordability/creditworthiness assessment.
Any property used as security, including your home, may be repossessed if you do not keep up repayments on your mortgage or any other debt secured on it.