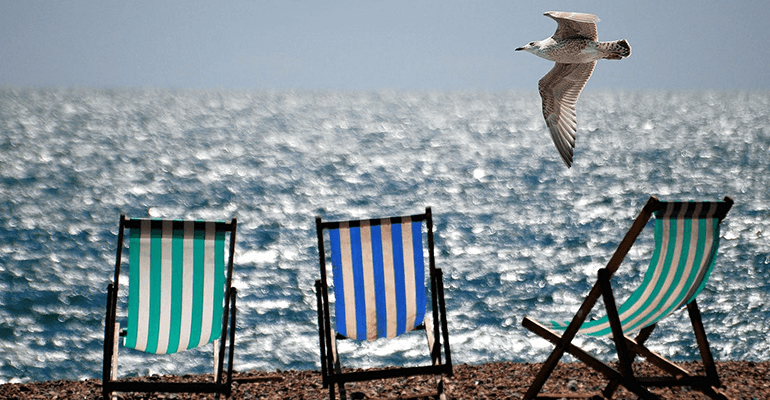 Is it too late to buy or invest in the booming UK holiday scene
.
With Government restrictions placing barriers in the way of overseas travel, an estimated 90% of Brits are expected to holiday in the UK this year – with self-catering set to be the accommodation of choice.
Demand is already beginning to outstrip supply at Airbnb rentals, cottages and campsites across the country, and many restaurants and tourist attractions have begun to see a climb in bookings in the most popular UK hotspots.
As the population gears up to leave the confines of their homes and splurge on a well-deserved break, now seems to be the ideal time to invest in the growing UK tourism scene.
Holiday rental or second home?
We all know that the housing market has seen a boom of late, but according to recent figures, it's not just first-time buyers and movers fuelling the buying frenzy.
A record number of lucky Brits are buying second homes in the most popular UK hotspots, to offer themselves a change of scene in the summer, or possibly even all year round. Hosting management firm Houst said that the last year, coupled with more part and full-time remote working opportunities, could have convinced more people to make the investment than ever before.
The trend could also be part of a more permanent commitment to enjoy the UK's holiday scene, with more Brits anticipating to cut back on air travel well after COVID-19 restrictions come to an end, as sustainability and supporting local businesses jumps up the agenda of many British adults.
The population may also be looking for the kind of holiday they can enjoy whenever the mood takes them. Having been subject to changing restrictions and booking cancellations over the last year, owning your own holiday home does bring with it a greater amount of freedom and flexibility.
If you're in the fortunate position to invest in a second home, you could capitalise on the boom and buy a place you could let out when you're not enjoying it yourself. That's exactly what our customer and property investor Mathew did when he purchased his dream holiday cottage in St Ives this year.
During the last decade, property letting sites such as Airbnb and Booking.com have made it far easier for second homeowners to generate income from their properties when not in use. And because second homes are likely to have room for the whole family, and be safer according to public opinion, bookings from holidaymakers have started to skyrocket. Sykes Holiday Cottages, which lets properties on behalf of their owners, reported a 114% uplift in summer bookings compared with the same time last year.
An agent could help you work out how much a property you own, or one you're looking to buy, could attract as a short term rental – and you can always look at how much other similar properties in the area are charging online.
While you'll need to factor in costs like bills, maintenance, and mortgage repayments, letting out your property when you're not there could prove a successful side hustle. And in more good news, there could still be time to make a saving on your initial purchase – as the current Stamp Duty holiday does apply to those purchasing a second home.
If you're considering using Airbnb's platform to attract the as many guests as possible, then there are a few rules you need to be aware of.
Secured loans for large purchases or renovations
With so many investors jumping on the staycation bandwagon however, it could be well worth spending a bit of money to help your property stand out, and secure those all-important 5-star reviews.
There's a number of ways you could get your property ready to let out if it's a little tired, even if you're on a tighter budget. People want to stay in somewhere that's clean and in good working order, so you should spend the biggest chunk of your money on ensuring appliances, hot water tanks and boilers are up to the task. Anything you have left over could be spent on quality finishes, such as panelling or superior fixtures, to help your property make a good first impression.
If you've got a larger renovation on your hands, or you'd like to spend more on your holiday home to attract a premium price, then you could apply for a secured loan. With so many Brits looking for somewhere special to relax on their staycation, and six in ten intending to spend more than they normally would on their next getaway, creating a desired space could be well worth the investment.
Adding an extension could more than double your capacity, which could see your property in high demand for those hoping to bring their friends and extended family with them on their next break.
You might also consider installing a hot tub, seating area, and possibly even an outdoor kitchen to really give your outdoor space the wow-factor – which could be perfect for romantic getaways, or entertaining the whole family.
More than bricks and mortar
On the other hand, after more than a year spent mainly at home, a large number of Brits are hoping to get as far away from that 'home' feeling as possible – instead opting for a unique, alternative holiday experience.
Rather than investing in a second home, now may be the time to think about financing a camping pod, yurt, or static caravan. As the Government has doubled the length of time temporary structures can be placed on land without planning permission, and popularity continuing to climb, these 'pop-up' glamping sites could present an ideal business opportunity.
And accommodation isn't the only way to take on the booming staycation trend. After all, with the population planning so many UK stays, they'll be needing places to eat and ways to entertain themselves.
A number of tour operators, from well-established adventure specialists to start-ups that have launched since the pandemic, are starting to capitalise on the demand for outdoor day-trips – ranging from bike tours to dog-sledding. The tourist board VisitBritain have also been cautiously optimistic in forecasting a recovery to £61.7 billion in domestic tourism spending in 2021, up 79% compared to 2020.
Restaurants in the country's top tourist hotspots have also seen a huge influx in bookings, with many Brits reserving a table months in advance for their upcoming getaways.
Could we help?
It seems that now could be the right time to get your business idea off the ground, just in time to capitalise on what's set to be a busy summer period for the UK travel and tourism industry.
To learn more about your finance options – whether you're purchasing a buy-to-let property, planning a renovation or large purchase with a secured loan, or looking to start your own business – our team would be more than happy to talk through your circumstances.
All content factually correct at the time of publishing.
Articles on our website are designed to be useful for our customers, and potential customers. A variety of different topics are covered, touching on legal, taxation, financial, and practical issues. However, we offer no warranty or assurance that the content is accurate in all respects, and you should not therefore act in reliance on any of the information presented here. We would always recommend that you consult with qualified professionals with specific knowledge of your circumstances before proceeding (for example: a solicitor, surveyor or accountant, as the case may be).
Lending decisions are subject to an affordability/creditworthiness assessment.
Any property used as security, including your home, may be repossessed if you do not keep up repayments on your mortgage or any other debt secured on it.