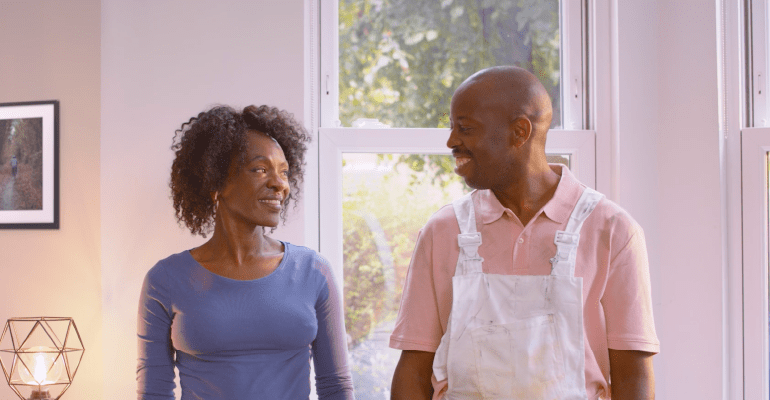 Great House Giveaway: What kind of renovator are you? You're a… hands-on home improver
.
If you enjoy this blog, why not check out the rest of the series?
---
Never far from your trusty toolbox, you're not afraid to get your hands dirty to turn an uninspiring space into the home of your dreams. From upcycling projects you can complete in a couple of hours to reconfiguring floorplans over a matter of months, your hard work always pays off, in aesthetic and added value.
YouTube how-tos are your best friend, and your Pinterest boards are packed full of ideas to fill every weekend with projects. You take pride in a job well done and won't give up until you've got that new skill nailed.
Your focus is always on making a house the perfect home for you, but that's not to say you can't turn your passion for home improvements into a lucrative side hustle if you put your mind to it.
How Together could help you achieve your hands-on home improver potential
Whether you're adding value to your own home or planning to turn your DIY skills into a side hustle, finding the right finance options is key and Together could help find the right product to make your dreams a reality.
#1. Mortgages for first time buyers
Getting a foot on the property ladder can be tough, but Together makes it as easy as possible for first time buyers, with up to 75 per cent LTV and lending decisions based on your individual circumstances, not tick boxes. We're happy to lend on ex-council properties, high-rise flats and those made of non-standard materials, and our team will support you every step of the way.
#2. Mortgages for moving home
However great a renovator you are, sometimes you just can't make a house work for what you need right now. So, if you're ready to move onwards and upwards, you may need a mortgage to support your next move. At Together, we can lend on a range of properties other lenders might not consider, and can work quickly with your personal circumstances to secure the funding you need.
#3. Remortgaging / second charge mortgages
Whether you're looking for a better deal or need to find funds to pay for your next home improvements, remortgaging could help you release the equity in your current property. Or, if you've got a good deal on your current mortgage you don't want to lose, a second charge loan could be the answer. Whatever you choose, our experts will work with your individual circumstances to help make your DIY dreams come true.
Want to know more? Read up on making your ambitions a reality with these blogs:
Feeling inspired? Find out more about mortgage options and get in touch with a Together finance expert now.
All content factually correct at the time of publishing.
Articles on our website are designed to be useful for our customers, and potential customers. A variety of different topics are covered, touching on legal, taxation, financial, and practical issues. However, we offer no warranty or assurance that the content is accurate in all respects, and you should not therefore act in reliance on any of the information presented here. We would always recommend that you consult with qualified professionals with specific knowledge of your circumstances before proceeding (for example: a solicitor, surveyor or accountant, as the case may be).
Lending decisions are subject to an affordability/creditworthiness assessment.
Any property used as security, including your home, may be repossessed if you do not keep up repayments on your mortgage or any other debt secured on it.